Sometimes You Need To Close Your Eyes And Buy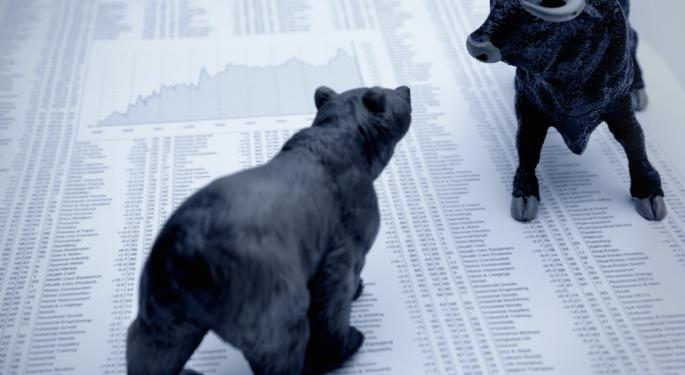 Last Friday, the S&P 500 index futures closed on its lows for the session as well as its lowest level since early August (1894.25). After a brief pop to 1906, it was lights out as the index cratered 93 handles before bottoming at 1,813 on Wednesday morning.
The main catalyst for the decline was the fear of the unknown with respect to the Ebola virus. As additional cases were diagnosed in the United States, along with the chance of proliferation to other regions, panic selling ravaged the markets.
In volatile whipsaw trading on Wednesday, the index poised a stealth rally into the close and it appeared the worst was over. However, the index surrendered all of its gains in after-hours and premarket trading, and the index was once again was staring into the abyss by Thursday's open.
Related Link: The Importance Of After-Hours And Premarket Trading
Banking On A Double Bottom
The redeeming factor of the decline was that it was unable to breach the low from Wednesday's session (1,813). The index instead found support ahead of that level at 1,915.25, providing the bulls a potential double bottom to lean on. In other words, if they opted to purchase the index off the 9:30 a.m. open (1,825), they would have to exit if the 1,813 low was breached. That never happened and the index is approaching last Friday's close at 1,894.25 at time of writing.
This should not be construed as a fool-proof strategy that should be employed on any sharp decline in the market, a strategy that can be ruinous. Instead it should be backed with up with solid risk/reward ratios.
Stocks Punished Despite Delivering Good News
Here are a couple examples that delivered good news to the Street and were annihilated because of the overall market conditions.
On Tuesday, Johnson & Johnson (NYSE: JNJ) posted better than expected Q3 earnings and lifted its full-year forecast. The end result that day, a decline of more than $2.00 from $99.12 to $97.01. The close was nearly $2.00 higher than its intraday low of $95.34. After a test of that level on Thursday, reaching $95.10, Johnson & Johnson was attempting to revisits its Monday close of $99.12.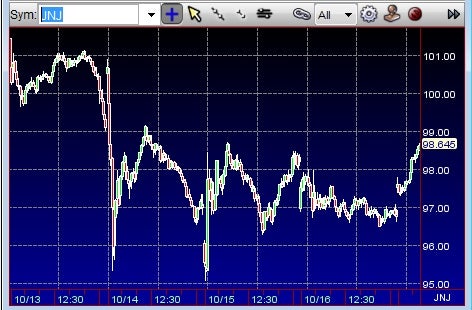 It was a similar story on Thursday with Goldman Sachs Group Inc (NYSE: GS). After reporting stronger than expected Q3 earnings, it declined all the way from $177.24 to $172.59. Once again, brave buyers focusing on Wednesday's low ($171.52), would not have taken much heat as it declined to $171.28 before a minor rebound to end the session at $172.58. In Friday's session, however, it was approaching it pre-earnings close of $177.24.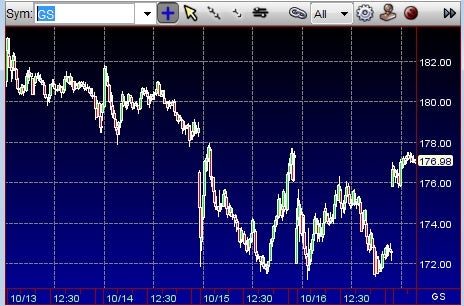 Charts courtesy of Neovest
It is never easy being a contrarian in the current market environment. In this momentum and news driven market, standing in front of a moving freight train will not work in a trader's favor a majority of the time. However, if an investor does their homework and is prepared to take a suitable loss, there may be plenty of more opportunities to capitalize on similar circumstances in the future.
Tune in every morning, Monday-Friday, from 8-9:45 AM EST to hear Joel Elconin and Dennis Dick discuss what's moving the markets and why on Benzinga's #PreMarket Prep.
Posted-In: Technicals Movers & Shakers Intraday Update Trading Ideas General Best of Benzinga
View Comments and Join the Discussion!