A Technical Look At Yahoo! Inc. Ahead Of Alibaba's IPO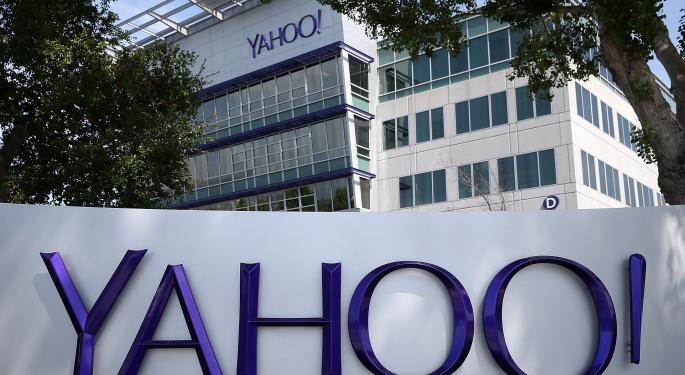 The anticipated IPO of Alibaba Group Holding Ltd (NYSE: BABA) will take place on Friday, September 19. After years of deliberation, the Chinese Internet retailer will finally be trading on the U.S. exchanges.
The timing of the IPO could not be better, as the market is trading at all-time highs and the public's thirst for recent IPOs has been insatiable. With expectations for the market to continue to soar, investors want in on the next tech superstar.
It would be remiss to assess Alibaba without discussing its implications on the share price of Yahoo! Inc. (NASDAQ: YHOO); a large portion of Yahoo's value is embedded in its 22 percent stake in Alibaba.
Related Link: What to Expect When You're Expecting: Alibaba Group Holding Ltd
Recent Rally In Yahoo
As speculation on the pricing of the issue has increased over the past month, so has the value in Yahoo shares. In a very uncharacteristic fashion, it has rallied from $37.00 to $44.00 over the same time period. It briefly traded at $44.00 on Monday, the highest level for the issue since early October 2000 when it traded near the $46.00 level. That is quite a distance from its all-time reach in January of the same exact year at $125.03.
Since making its recent high Monday, it declined to $41.69 the following day but has spent the majority of the week chopping around in the $42.00 handle. It has actually posted four consecutive closes between $42.55 and $42.88 (highest closing price), but is struggling to post its fifth consecutive close in the same area.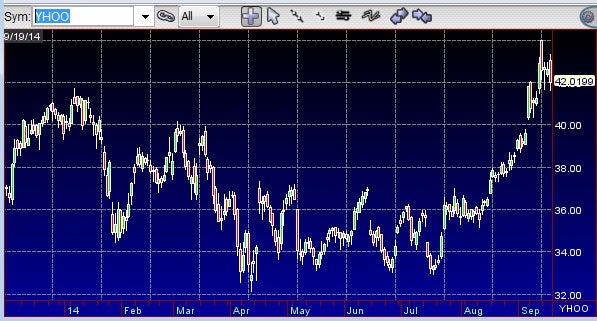 Courtesy of Neovest
Fundamentals To Be Aware Of
Andrew Bary of Barron's outlined three important questions that will ultimately determine the future direction of Yahoo's share price:
What share price of Alibaba is already embedded in the stock?
Will investors sell Yahoo to buy Alibaba , once the pure play becomes available?
Can Yahoo work out a way to sell in a tax-efficient way an estimated $25 billion to $30 billion of Alibaba shares that it will hold after the IPO?
The first two questions will be answered as the trading action unfolds over the next week. The big unknown, however, is whether or not Yahoo will part with some or all of its Alibaba stake. If not, the tax question is a moot point and the lack of liquidity on the sell side may allow the share price of Alibaba to be artificially inflated in early trading.
Major Volume By The Arbitrageurs
Dennis Dick of Benzinga's #PreMarket Prep intends to sit on the sidelines in early trading and let the arbitrageurs fight it out.
"The arb players will be trading Yahoo against Alibaba, since Yahoo owns 22 percent of the company, every $4.5 billion worth of market cap that Alibaba moves, it should be worth a billion to Yahoo stock," Dick said. "Any large buyer or seller that comes into either issue may create a short-term trading opportunity."
Important Technical Levels
In Thursday's afternooon session, Yahoo was drifting under the $42.00 level. Some investors could be booking profits from its historic run over the past month and are preparing to put the cash to work in Alibaba. If Yahoo does indeed pierce the low from September 12, there may not be any minor support until $40.00 and any major support until the level from which it broke out from last month ($37.00).
For investors looking for continued upside in Yahoo, it is paramount that is chews through the remaining stock for sale at the $42.75 area. After that, a breach of the $44.00 high may instigate major short covering and a rally to its October 2000 high ($45.94).
Posted-In: Alibaba Alibaba GroupTechnicals Movers & Shakers Top Stories Intraday Update Trading Ideas General Best of Benzinga
View Comments and Join the Discussion!