How Apple Inc.'s Watch Unveiling Is A Great Example Of Selling The News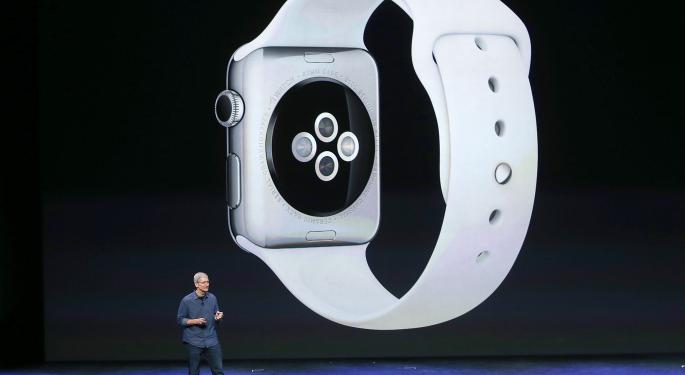 Tuesday was a wild day in shares of Apple Inc. (NASDAQ: AAPL). After peaking at $103.08, it swooned to $96.14 before ending the session at $97.99. Carl Ichan got the rally started and the fireworks commenced before the presentation even began. Apple staged a mini-rally around 12:15 p.m EST. when Trish Regan acted as Icahn's Twitter handle. She first told Bloomberg that Icahn had told her he has recently been adding to his Apple position. She followed up that comment with the following tweets:
.@Carl_C_Icahn to me on $AAPL: I've been adding to my $AAPL position. Where else can you get a growth company at 10x earnings?

— Trish Regan (@trish_regan) September 9, 2014
.@Carl_C_Icahn to me on @tim_cook at $AAPL : I've always been behind Tim Cook, though I did push him on the buyback. He's a good manager.

— Trish Regan (@trish_regan) September 9, 2014
.@Carl_C_Icahn to me on $AAPL: While everyone is worried about the new products today, I just look at the math. #s speak for themselves.

— Trish Regan (@trish_regan) September 9, 2014
This instigated a quick rally over the $100.00 level and kickstarted the issue on its rapid ascent to its eventual high for the day at $103.08.
Related Link: Have We Seen The Market's Top?
No Clear Direction In Early Part Of Presentation
As the presentation began at 1:00 p.m., the issue zigzagged as the company revealed the iPhone 6; with its marginal improvements, that appeared to disappoint the Street as issue came under selling pressure. It began to garner upward momentum, however, as CEO Tim Cook stated his ambition to replace the wallet and unveiled Apple Pay around 1:45 p.m. The rally continued as Cook wowed the crowd with his "we're not quite finished yet" statement and the much-anticipated unveiling of the Apple Watch around 1:57 p.m.
Intraday High As Watch Is Unveiled
Interestingly, the announcement coincided almost to the exact minute of Apple 's high for the session at $103.08. Within four minutes it was more than $1.00 lower as it closed in on $101.88 at 2:02 p.m. Traders and investors that did not take advantage of selling into strength decided to sell into weakness. As the short-sellers began to feast on the herd that bought into the announcement, the pace of the decline accelerated. At first, it was an orderly decline as traders waiting for a pullback to get long supported the issue in the $101.00 handle until 2:23 p.m.; shorter term short-sellers were most likely booking some profits.
Decline Gains Momentum
Once it breached the $101.00 level, however, the selling began to accelerate. By 2:30 p.m. it was trading under the $100.00 level; following a vicious $1.00 rebound, it was under $99.00 by 2:49 p.m.. Within another 19 minutes it was under $98.00.
Related Link: Apple Inc.'s Show-And-Tell Moves Winners And Losers
Once it made a new low for the session, the bottom fell out and longs were throwing in the towel as Apple spiked to its low for the day at $96.13 within a two-minute time span. That level coincided with its August 14 low ($96.04); it rebounded to end the session at $97.99. All in all, a $0.37 loss in an issue with nearly a $7.00 trading range, making the day a basically a non-event from a technical perspective.
Aftermath
Traders and investors that sat out the insane trading action on Tuesday began buying in the issue from Wednesday's opening bell. They allowed it to decline only $0.23 from Tuesday's close, reaching $97.76 before staging a rally that reached $100.71 at time of writing. It should be noted the $98.00 level acted as support for Apple the three days prior to the presentation and will be a key technical level in upcoming trading sessions. Resistance is not as well defined as the rally to $103.08 fell shy of its all-time of $103.74. A few consecutive closes above the psychological $100.00 level could provide a base to reach the all-time high and beyond.
Posted-In: Apple Apple Pay Carl Icahn iPhone 6Technicals Intraday Update Movers Trading Ideas Best of Benzinga
View Comments and Join the Discussion!