U.S. Steel Shares Are Golden In August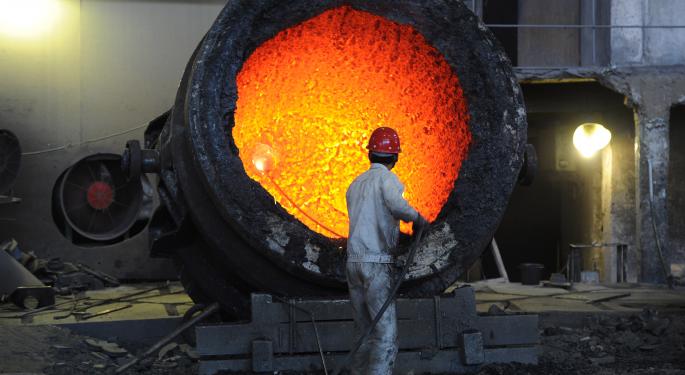 U.S. Steel (NYSE: X) shares have gained more than $11, or 40 percent, since its July 29 close at $27.67, as it trades over $39.
Earnings Beat And Raised Guidance
The initial catalyst for the rally was the announcement of a stellar quarter and compelling guidance on July 31. Not only did the company blow away estimates for GAAP EPS of ($0.12) versus ($0.29), it also topped revenue estimates ($4.40 billion versus $4.21 billion).
Although revenue declined on a quarter-over-quarter basis, management blamed the the weather, higher repair costs and logistical issues for the shortfall. On top of the earnings beat, the company offered upbeat guidance.
"We expect operating income for our reportable segments and other businesses to increase significantly over the second quarter as we return to normal operating levels," U.S. Steel President and CEO Mario Longhi stated.
Upward Movement
U.S. Steel added nearly four points in after-hours and premarket trading, and it added another point and a half during the regular session. The end result: a leap from its July 29 close of $27.07 to $33.03 the following session. After two days of consolidation at the $33.50 level, the march continued, and U.S. Steel was trading above $36.00 only eight trading sessions later.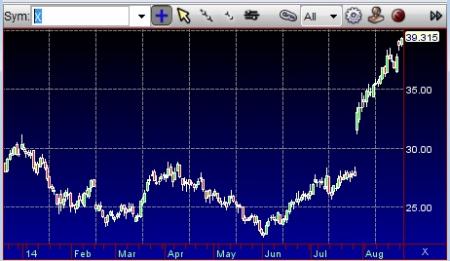 From there, it has worked its way over $39.00 in Tuesday's session. This marks the highest level for the issue since August 2011 when it peaked at $41.04.
Over the course of one month, U.S. Steel transformed itself from a forgotten industrial stock to a momentum darling. Attracting interest from breakout traders and high frequency traders who forced the shorts to pay higher and higher prices to cover their losing positions.
Analysts' Take
Of course, after the earnings beat, U.S. Steel began to attract attention for Wall Street analysts. Immediately following the beat, Nomura made the first move, maintaining its Buy rating and raising its price target from $32.00 to $40.00.
On August 4, Deutsche Bank and Key Banc upgraded the issue from Hold to Buy, and Deutsche Bank upped its target from $28.00 to $40.00.
The latest rating change came from Credit Suisse on August 25, who upgraded the issue from Underperform to Outperform, and slapped a street-high price target for U.S. Steel at $50. On that same day, Compass Point maintained its Outperform rating and $42.00 price target.
Historical Perspective
Some may say U.S. Steel has gone too far too fast, but if one examines the charts from June 2008, one will notice that it made all-time high of $196.00.
During the financial crisis, U.S. Steel swooned to $16.66 in February 2009. U.S. Steel made its low for the entire move in April 2013 at $15.80 and traded for months around the $17.00 level from mid-2012 through mid-2013.
From a technical perspective, U.S. Steel has a long ways to go to recover 50 percent of the loss from its all time high of $196.00 to its April 2013 low of $15.80, which is way up at $106.00. Keep in mind, it was severely overpriced at $196.00 and severely undervalued at its lows, so it is hard to determine how high the issue will go. At this time, any investors who purchased the shares prior to August 2011 and did not average down still have a ways to go before they are back in the money.
Posted-In: Technicals Movers & Shakers Intraday Update Trading Ideas General Best of Benzinga
View Comments and Join the Discussion!