Finding An Entry Point For Twitter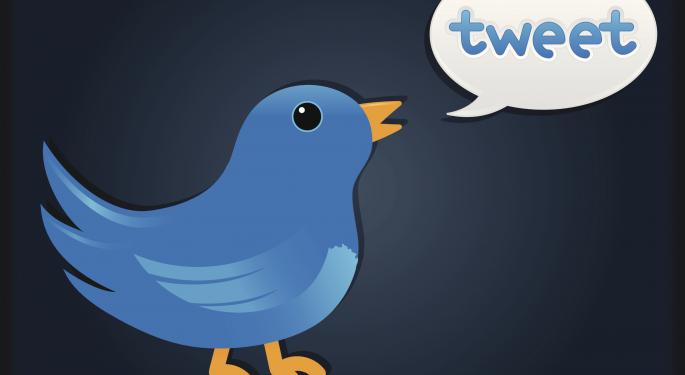 It has been a wild ride for shares of Twitter (NYSE: TWTR) since its IPO last November.
After debuting at $45.00, it saw a quick decline to less than $40.00, skyrocketed to $74.72 and plummeted to $29.51. It's now churning in the $43.00 area.
After its post-earnings close of $46.30 on July 30, it has trickled down to the $43.00 level and posted five consecutive closes between $43.00 and $43.83. It's poised to close in this area for the sixth consecutive day, as it has dipped under $43.00 to $42.91.
The monster rally on July 30 was instigated by an earnings beat of $0.03 ($0.02 vs. -$0.01), as well as a solid beat on the revenue front ($312 million versus $282.2 million). Although the intraday high for that day was $48.00, Twitter actually reached $52.50 in the after-hours session, before some investors could not ignore the huge windfall and began to take some profits. By the time it opened for the regular session it worked itself down to $47.00; after a brief pop to $48.00, it began to drift lower.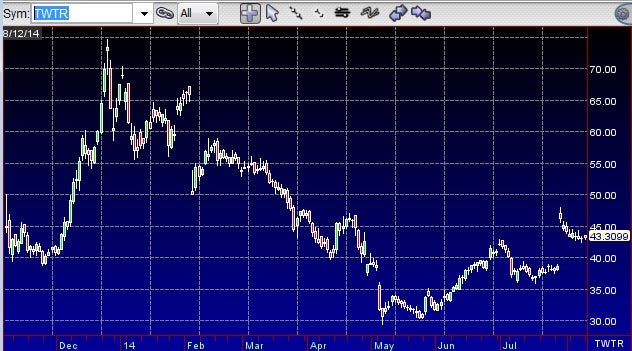 Related Link: CEO Reed Hastings Rallies Netflix With Facebook Post
The decline from these elevated levels, however, has been slow and gradual. It's much different than the declines seen in pharmaceutical or biotech sectors after positive announcements on the development front.
For example, MannKind (NASDAQ: MNKD) spiked Monday to $11.18 in premarket trading following the announcement of a deal with Sanofi for Afreeza, its inhaled insulin treatment for diabetes.
After reaching that level, its highest since June 30 when it peaked at $11.48, MannKind has shed roughly 20 percent. This is a much more significant decline than Twitter's descent of roughly 10 percent that has taken place over the course of the past seven trading sessions.
Filling The Gap
On many occasions, when an issue has a precipitous decline from an elevated level and posts several lows and or closes, it signifies some large investor or institutional buying interest. Not only has Twitter posted several closes in the same area, but it has also put in four consecutive lows between $42.51 and $42.89.
The buyers seem to be making a stand at this level. The sellers have not been able to overtake them and bring the issue back to $38.00 level, where it compiled several closes prior to its earnings beat.
Better known to technicians as "filling the gap," Twitter would need to reach $38.44 to fulfill this widely followed technical analysis technique. At the rate it's going, it could be quite some before Twitter retreats to that level. Not all gaps are filled, however, so investors may want to an alternative plan for an entry in the issue if this scenario does not come to fruition.
Different Approaches
For investors that desire to have shares of Twitter in their portfolio, there are a few different ways to approach the issue.
For those that just want in and have a long-term time horizon, one could price out some longer-term leap call options on the issue, put them in a portfolio and forget about them. The daily fluctuations in the issue would not have a dramatic effect on one's overall portfolio. More importantly, risk is clearly defined to the price paid for the option; the upside is unlimited if Twitter returns to its all-time high and beyond before the options expire.
If one prefers to own the issue outright, they may want to nibble with the big boys in the $43.00 area and be prepared to commit more funds to the issue if it returns to its pre-earnings level of $38.00. Of course, a stop-loss that corresponds to a trader's average price and risk tolerance is paramount if Twitter cannot continue to meet or exceed future earnings estimates.
The riskiest way to play the issue would be to sell around the money puts, if one is content to own the issue at the strike price minus the premium taken in from the sale of the put.
Two problems with this strategy is that it requires capital to cover the future cost of the purchase. A major downdraft in the issue may also lock one into a much higher price than where the issue is trading in the event of a huge decline.
The one advantage to this strategy is that if Twitter goes nowhere before the put expires, the proceeds from the sale can be used to purchase shares of the issue.
Posted-In: Technicals Movers & Shakers Intraday Update Trading Ideas General Best of Benzinga
View Comments and Join the Discussion!