CEO Reed Hastings Rallies Netflix With Facebook Post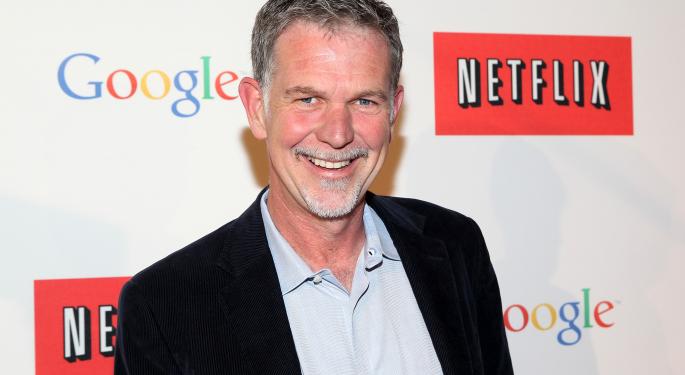 Shares of Netflix (NASDAQ: NFLX) on Thursday gained nearly 20 points, jumping from $430.30 to $449.67.
That is significant news akin to an earnings announcement, ratings change, or the hiring or firing of key executives.
The catalyst for Thursday's rally may have been a Facebook post by the company's CEO Reed Hastings.
On Wednesday, Hastings posted:
Netflix, which had posted a solid gain of nearly eight points in Wednesday's session, was already poised for a rally. It added five points in Thursday's premarket trading to reach $435.00, which coincided with its previous day's high of $434.90. Traders who may have taken Netflix home short as the issue closed five points were immediately under water.
Related Link: Will General Motors Rebound?
After tacking on another three points in the first 15 minutes of Thursday's session, it was off to the races. Netflix added another 10 points in straight-up fashion and ended the session just off its high for the day ($449.45) at $449.67. What makes the move more impressive is that occurred despite weakness in the overall market.
It should be noted that the price increase for the issue was off it largest gains since it added $55.00 on January 23, following a much better than expected earnings report.
An issue rallying $55.00 on a positive earnings report seems to make more sense than rallying nearly $20.00 on a Facebook post.
As evidenced by the chart, there has been significant follow through from the earnings beat, while Netflix has already surrendered almost $5.00 so far in Friday's session.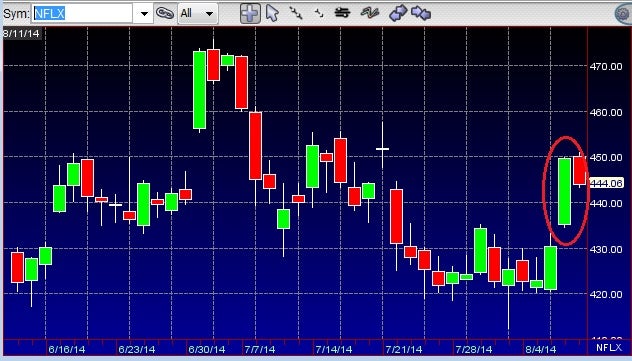 Analysts' Take
Netflix had worked itself lower from the $450.00 area following its earnings release and formed major support at the $420.00 area, but was searching for a catalyst to rebound. Hastings provided that catalyst, not one of the usual players.
The last six ratings changes on July 22 were Maintains and price target increases. Goldman Sachs, which has a $590.00 price target on Netflix, hasn't been talking up the issue. Jefferies, which has Netflix at Underperform, raised its modest target from $300.00 to $350.00. The Street low price target remains with Michael Pachter of Wedbush Securities at $245.00.
With Netflix back at its pre-earnings level, the bull and the bears may decide what the next move will be.
If it can recapture the $450.00 level, it may be on its way to test its all-time high of $475.87. If that fails to materialize, however, Netflix may return to the $430.00 level, where it was trading before Reed pumped it back up.
Posted-In: Facebook HBO NetflixTechnicals Movers & Shakers Intraday Update Trading Ideas General Best of Benzinga
View Comments and Join the Discussion!