Will General Motors Rebound?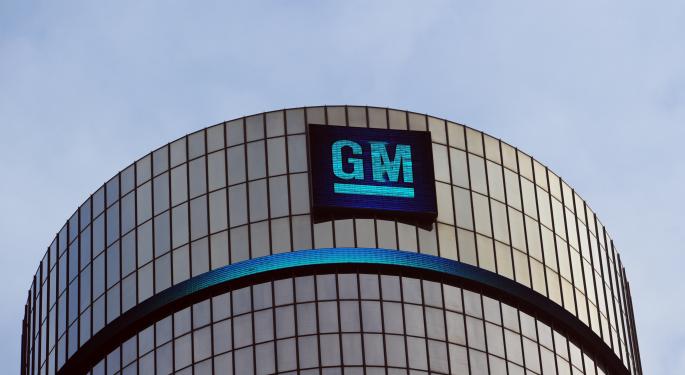 It has been a difficult few months and even more difficult last few weeks for General Motors (NYSE: GM).
Embroiled in massive recalls, an earnings miss has the issue trading under $34.00 for the first time since late May.
During most of the recall controversy, GM traded between $33.00 and $38.00, the one outlier being in mid-April when it traded at the $32.00 level for few days, but quickly recovered. That price action interestingly coincided with CEO Mary Barra's testimony before Congress on the controversial topic.
GM had been flirting with a major breakout to the upside above the $38.00 level in early to mid-July. However, when the company announced disappointing earnings on July 24, it quickly faded from that key technical level.
Related Link: ITT Educational Services Investors Get Schooled
Despite missing Street estimates by only $0.01 ($0.58 versus $0.59), investors chose to focus on the revenue shortfall ($39.6 billion versus $40.59 billion) and punished the issue from its $37.41 close on July 23 to $35.74 on July 24.
The carnage did not end that day, as GM shed another two points over the next eight trading sessions for its lowest close since May 20 ($33.07) on August 4 at $33.36.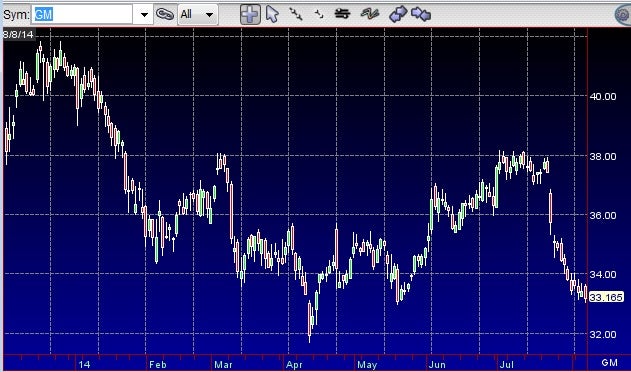 Chart courtesy of Neovest
Analysts Weigh In
The disappointing earnings report prompted two Wall Street firms to downgrade the issue. CLSA downgraded the issue from Buy to Outperform, and Deutsche Bank downgraded the issue from Buy to Hold, but maintained its $41.00 price target. Other firms such as Citigroup and Bank of America had lowered their price targets back in April after GM beat the Street on EPS, but posted a revenue miss of $1.03 billion.
GM has actually missed revenue estimates in each of the last four quarters after delivering better than expected revenues in the four prior quarters. Successive quarters of declining revenues are certainly not the recipe for an issue to rally off.
Federal Problems
In addition to the recall controversy, GM has been under some scrutiny from the U.S. Government concerning its subprime lending practices, which could have major implications for the the entire industry.
The company on Monday was served with a subpoena by the U.S. Department of Justice. The DOJ directed GM to produce certain documents relating to its and its subsidiaries' and affiliates' origination and securitization of subprime automobile loan contracts since 2007.
This comes on top of an investigation by the Department of Justice in contemplation for potential violations of the Financial Institutions Reform, Recovery and Enforcement Act of 1989.
Bleak Future?
The triple whammy of the massive recalls, declining revenues and government investigations may keep the selling pressure on GM shares. Overall market sentiment, which is beginning to turn negative, may also impede any sharp rebounds in the issue.
From a technical perspective, GM is attempting to find support at the $33.00 level, as its has made two consecutive lows in this area on Tuesday ($33.15) and Wednesday ($33.23). GM reached this area in Thursday's session, but the rebound has been muted.
Investors attempting to pick a bottom in the issue at the $33.00 level may want to prepare for a test of its April 11 low ($31.70) if this level is breached. So far, the earnings slide has continued and the slight pause in this area could simply be a consolidation period in the downtrend instigated by its latest earnings announcement.
Shares of GM traded at $33.15 at the time of publication.
Posted-In: Autos General MotorsTechnicals Movers & Shakers Intraday Update Trading Ideas General Best of Benzinga
View Comments and Join the Discussion!