How To Play Defensive Issues On Big Down Openings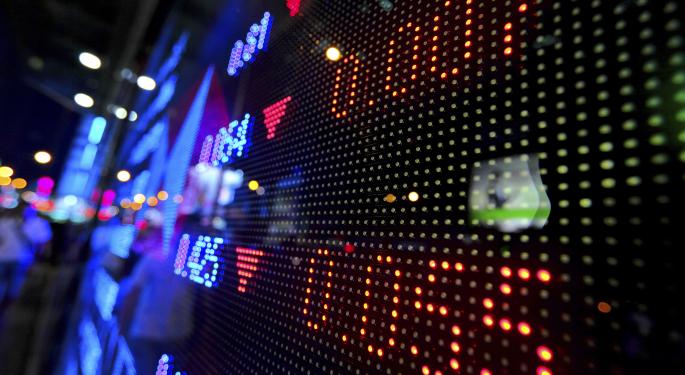 It's not very often that the market has huge down openings.
In fact, it has been months since we had an open similar to the one on Thursday.
Unless you are a brave contrarian, it can be very difficult to step in front of a moving train off the open. However, if you employ a sound strategy with good risk-reward ratios in certain issues it can be quite rewarding.
Do Not Mess With Mo-Mo Stocks
As if these issues are not volatile enough, a huge gap down opening further increases the unpredictability of these issues for one primary reason: shorter-term day and swing traders may have taken the issue home long overnight, and may be looking to exit immediately if they did not exit during after-hours or premarket trading.
Related: How General Motors Is Using The Recall Debacle To Its Advantage
And if you are using Wednesday's trading action as an example, the market ended on a very strong note, closing near the highs for the session. But when this does not come to fruition, many traders will take their losses off the open and move on to another trade.
Sell-stops May Exacerbate The Decline
With this extended bull market, many investors attempt to lock-in profits by placing sell-stops beneath the market. When these are triggered, they become market orders and, with limited liquidity off the open, these orders may be executed quite some distance from the intended price. Sell-stop limits may mitigate some of the slippage, but investors face the risk of not exiting if the market continues lower.
Also, a series of sell-stops at one particular level, may trigger another group of stops at a lower-level and intensify the selling pressure.
Money Is Going To Move Around
If there is one thing traders have learned from this bull market, it's that money is always moving around. If fund managers are selling out of one issue or sector, they are putting it to work somewhere else.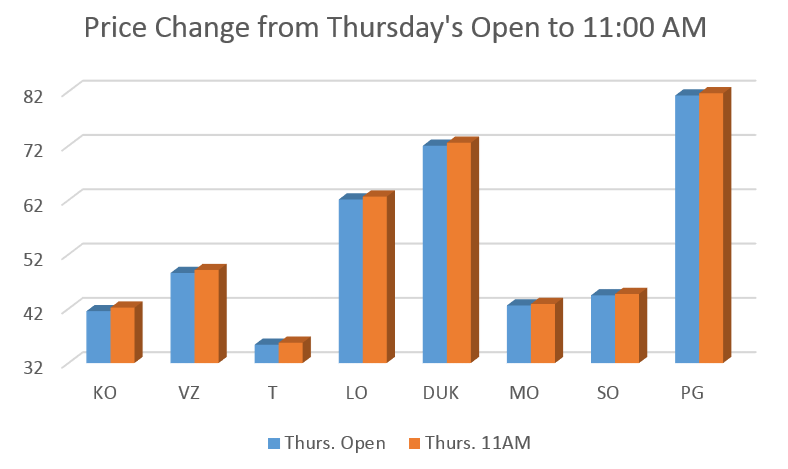 Best Defense Is A Good Offense
So if a trader is tempted to get dirty off a huge down opening and is are shying away from the momentum stocks, what are the highest probability issues to purchase? In short, defensive issues.
Many of these issues have a low-beta and tend to have a mind of their own on select down openings. These issues, which many pay a good dividend, tend to attract investors looking for a more stable returns over the long run, as opposed to the big hit or miss associated with momentum stocks.
Thursday's Open And Follow-Through To The Upside
Keep in mind, this does not hold true for all defensive issues all of the time, especially if the market opens lower and continues to plunge. Although the market did rebound Thursday, that is not always the case.
Therefore, it is important to monitor the S&P 500 index futures activity off the open to determine your exit strategy. On many occasions, if these positions are not almost immediately in the green, they are not going to be. Using a tight stop may therefore mitigate some of your losses if the strategy fails.
If one is not inclined to play the opening print, another popular strategy is wait for the issue to open. If it immediately declines, but comes back through the opening print, it may signal a buy entry, with a stop being placed at the low of the initial spike down.
Targets
If employing this strategy, there is no guarantee the issue will rally for the remainder of the session. Depending on the issue, the previous day's low or closing price may be a place for a potential exit. Also, employing a trailing stop may enable a trader to ride the trend for as long as possible, and only exit if the issues reverses course.
So when these infrequent huge down openings do occur, do not fret. Instead, have a basket of defensive issues and corresponding support levels that may come into play. By placing, limit orders instead of market orders. you will only enter at your price or lower off the opening print. Of course place, on your own risk-reward ratios, a stop at the corresponding level and sit tight.
If you see some green on the screen within seconds, chance of success significantly increase the longer the opening stands as the low for the session.
Posted-In: down trading market declines markets sell-stop limitsEducation Technicals Trading Ideas General Best of Benzinga
View Comments and Join the Discussion!