IBM - Dow Jones' Lone Loser In 2013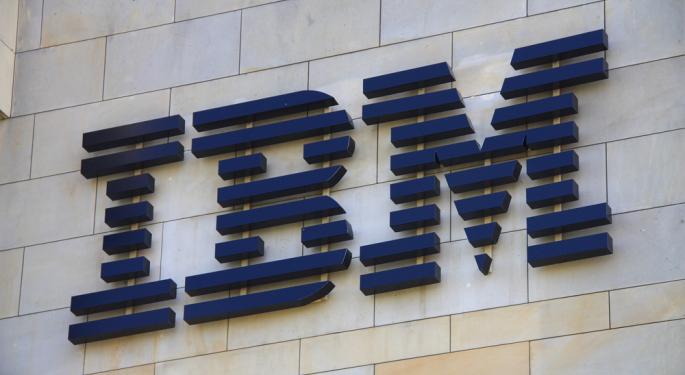 By: Joel Elconin
Not all stocks in Dow Jones Industrial Average participated in the monster rally of 2013.
In fact, the DJIA's worst (and only) negative performer was International Business Machines (NYSE: IBM), which closed the year down two percent.
Since making a new all-time high in March (215.82), the issue has declined 13 percent to (188.00) and as much as 20 percent at its October low (172.57).
Despite Warren Buffett's disclosures of a large stake in the computer company, IBM was ignored by investors for the most of the year. On many occasions, loyal followers flock into his stocks, which usually adds momentum to the up move.
For example, Exxon Mobil (NYSE: XOM) shares surged six percent after Buffett announced his large stake in November. IBM made a similar move when the "Oracle of Omaha" announced his original stake (first quarter of 2011), but has failed to respond in the same fashion as his additional purchases were disclosed.
While Buffett's stake has attempted to be the positive catalyst, a slew of downgrades plagued the issue during the second half of 2013.
Goldman Sachs was the first to downgrade the issue on July 9 (when trading at 195) from Buy to Neutral and lowered its price target from 220 to 200. Although the issue did briefly revisit 200, it was for only one day. From there, IBM drifted lower until bottoming at 172.57 in October, a two-year low.
During the latter half of the year, IBM was the recipient of five downgrades in contrast to only one upgrade. The Barclays downgrade in October from Overweight to Underweight was issued with a lower price target at 190 compared to Goldman Sachs' at 200.
IBM, which sports a two percent dividend, has paid consecutive quarterly dividends every year since 1916 and trades at an acceptable 12.80 price to earnings ratio (PE).
In addition, IBM has approximately $20.6 billion available for its stock repurchase program as of November 1. Furthermore, the company expects to request additional share repurchase authorization at its October 2014 board meeting.
Cantor Fitzgerald, who initiated IBM with a Buy rating and a 220 price target in September, noted a shift away from the more commoditized areas of IT spending will result in accelerated innovation, attractive margin expansion and sold EPS growth.
Over the last seven trading sessions (including Monday), IBM has been range bound between 183.50 and 188.00. Perhaps a resolution to this consolidation will determine the direction of IBM's stock price in 2014.
Posted in: Technicals Intraday Update Movers Trading Ideas Best of Benzinga