Like He Did With Apple, David Einhorn Wants GM To Create 2 Share Classes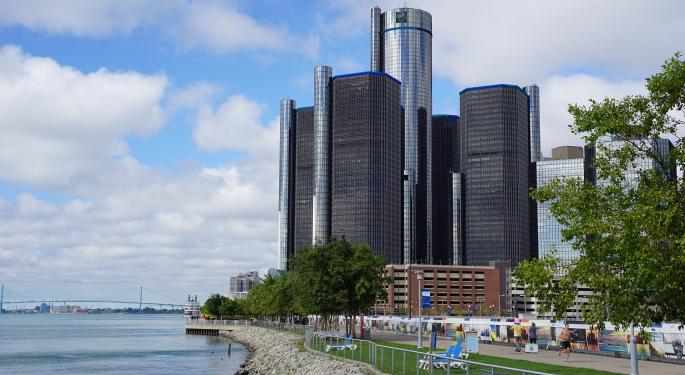 General Motors Company (NYSE: GM) shares spiked Tuesday after Greenlight Capital activist investor David Einhorn released a new report pressuring GM management to take measures that Einhorn believes would boost the stock's share price.
According to the report, Einhorn wants GM to create two different classes of common stock and separate the company's dividends from the rest of its earnings.
GM currently pays a 4.2 percent dividend yield and trades at a PE ratio of only 5.9. Einhorn believes his plan would help unlock some of the intrinsic value of GM shares based on the company's impressive cash flow.
"Despite fundamentally strong operations, the stock trades at a significant discount to intrinsic value," Einhorn writes, noting that GM's PE ratio is the lowest in the entire S&P 500.
"GM's investor base has a suboptimal combination of yield-oriented and value-focused shareholders with divergent investment objectives," he says.
Related Link: Coattail Investing: How To Trade Like David Einhorn
Einhorn's proposed solution is for GM to issue a tax-free distribution of what he calls "dividend shares" to current GM investors. The dividend shares would trade separately from the current class of GM common stock and would receive all the current dividend payments. The current shares ("capital appreciation shares") would be entitled to excess company earnings and would be the vehicle of choice for growth-oriented value investors.
Einhorn's plan for GM is similar to the plan he proposed to Apple Inc. (NASDAQ: AAPL) back in 2013. Einhorn called for Apple to crease a class of dividend-paying shares called "perpetual preferred shares" to help unlock value.
By separating and appropriately valuing GM's dividend yield and its capital appreciation potential, Einhorn believes the two stock classes could be priced in the market at a combined $52.11 per share, roughly 50 percent higher than GM shares currently trade.
When asked if GM's current valuation frustrates him compared to Tesla Inc (NASDAQ: TSLA), Einhorn told Benzinga in an email, "Today Is about GM. We think it is dramatically undervalued." He said today's proposals give GM a "chance to address" any apparent valuation discrepancies versus Tesla.
As of Q4 2016, GM was one of Einhorn's three largest holdings, representing roughly 10 percent of Greenlight's total stock portfolio.
Posted-In: BZTV David Einhorn Greenlight CapitalHedge Funds Top Stories Exclusives Trading Ideas General Best of Benzinga
View Comments and Join the Discussion!