Serious As A Heart Attack: EMT Believes In AEDs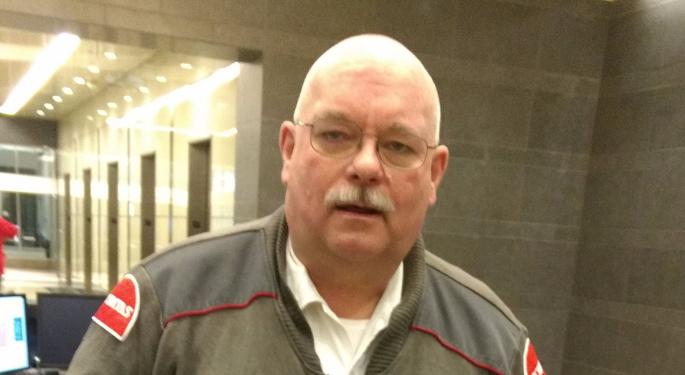 Russell Dalziel wields a portable defibrillator like a good-hearted gunslinger. In his 42 years as an emergency medical technician, he's pressed the electrodes to the chests of three people suffering cardiac arrests. He was zapping them within minutes.
"I wasn't known for being slow," said the affable EMT, who trains others in CPR and automatic defibrillator use and works the 17 floors of the bustling One Campus Martius office building in downtown Detroit. "It was all textbook stuff."
Dalziel, 59, is a big believer in the automatic external defibrillators (AEDs) that began popping up in office buildings, gyms, apartment complexes, sporting venues, jetliners and all sorts of places where people may suffer sudden cardiac arrest, the world's leading killer.
The Glasgow, Scotland, native, who began his EMT career as a 16-year-old ambulance drive, has only had to use an AED three times. One patient had a cardiac arrest in a restaurant and another in a shopping mall, and thanks to Dalziel's quick and efficient responses both survived.
The father of three, who collects vintage emergency-care medical devices and owns a classic 1971 Cadillac ambulance, was working as a public safety office in a juvenile lockup in 2001 one when a teen collapsed during a game of basketball.
He said he was on the 18-year-old in a flash. He kept administering shocks — 14 in all — but the young man remained unresponsive. He died, and an autopsy revealed the youth had a congenital heart defect.
"There was nothing I could have done," he said.
He is a believer in the concept of public-access defibrillation.
"I could teach you to use this one in five minutes," he told a Benzinga reporter, showing off a LIFEPAK 1000 by Physio-Control, Inc., which was acquired by the Kalamazoo, Michigan-based Stryker Corp. (NYSE: SYK) last year.
Related Links:
Shocker: Life-Saving Portable Defibrillator Movement Plagued By Malfunctions
'Spider-Man' Glenn King Hopes His Potential Stroke-Saving Arachnid Molecule Makes It To Market
Image Credit: Russell Dalziel, taken by Mark Fritz and used with permission.
Posted-In: AEDs Automatic external defibrillators Russell DalzielHealth Care Exclusives Tech Interview General Best of Benzinga
View Comments and Join the Discussion!