'Spider-Man' Glenn King Hopes His Potential Stroke-Saving Arachnid Molecule Makes It To Market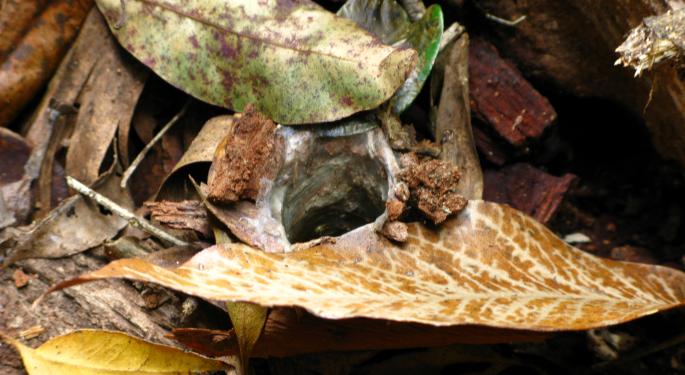 The journey is just beginning for Glenn King, a researcher whose team found that the world's most poisonous spider could provide fast treatment for stroke victims and stop their brain cells from burning out.
The initial findings were presented this week in the journal Proceedings of the National Academy of Sciences. Media coverage has been huge in Britain and King's homeland, Australia, while U.S. attention has been scant.
To investors, this is biotech at its most basic; the discovery process, something happening in a distant laboratory. The years-long route from lab rats to FDA drug approval will be painstaking, exacting, and not necessarily successful.
"We've been down this road dozens and dozens of times," Dr. Larry Goldstein, professor and chairman of the Department of Neurology at the University of Kentucky and past chair of The Stroke Council of the American Heart Association, told Benzinga.
"It is certainly a novel approach and looks interesting," he said of King's research. "Whether it pans out is complete conjecture."
A Deadly Creature's Hidden Gift
King, a scientist at the University of Queensland Institute for Molecular Bioscience, experiments with the venom of scorpions, centipedes and spiders to find treatments for a variety of diseases, from chronic pain to erectile dysfunction. His lab is filled with 50 types of venom and the living things that supply it.
"He has one of the biggest, if not the biggest, collections of venom in the world," said Frank Bosmans, a Johns Hopkins University physiologist who has collaborated with King on other venom projects.
See Also: And Along Came A Spider...With Potential Benefits For Stroke Victims
The current star of the menagerie is the Fraser Island funnel-web spider, which some experts describe as the world's deadliest. It can cause death in 15 unpleasant minutes.
King student Sandy Pineda found a molecule in the spider that King's crew ultimately discovered slowed the death of brain cells in stroke-induced rats. It was a "eureka" moment.
"If clinical trials (of the medication) are successful, this would dramatically change the way in which stroke is managed," he told Benzinga. "This should diminish the mortality from stroke and provide much better outcomes for those that survive as more brain function will be retained."
Time is of the essence with stroke victims.
"When stroke patients arrive at a hospital their brain must first be imaged to decide what type of stroke it is so the treatment can be tailored to suit," King said. "During this time the brain neurons affected by the stroke are continuing to die."
The Road Map To Clinical Trials
The most promising aspect of the drug? The speed with which it could slow the degradation of brain cells.
"The drug could be given in the ambulance to most stroke patients before hospital arrival, maximizing the number of neurons that can be saved," said King, 55.
The active ingredient — a peptide molecule called Hi1a — has a long way to go before it comes to market. King outlined the process:
Do more rat studies.
Make sure the medication is safe.
Figure out the dose.
See if it works on people.
"It is an exciting study in rodents because the drug they use, a peptide that blocks the acid-sensing ion channel 1a, has a very strong effect, even eight hours after stroke," said Marion S. Buckwalter, MD, a neurologist and neurosurgeon at Stanford University Medical Center. "Dosing a person with a stroke within eight hours is clinically feasible and there are currently no drugs that do something like this for people. So it will bear watching to see if these results can be replicated in the future in other animal stroke models, and in humans."
Pick Your Poison
There are currently six FDA-approved drugs derived from venom peptides or proteins, with another 10 in clinical trials and several more in various stages of preclinical development. Perhaps the most famous is Byetta, a treatment for Type 2 diabetes that is derived from venom of the Gila Monster lizard. Byetta is produced by AstraZeneca plc (ADR) (NYSE: AZN).
Par Pharmaceutical Companies, Inc. (NYSE: PRX) produces Capoten, a hypertension medication derived from snake venom. Prialt comes from a venomous snail and is marketed as a painkiller by Jazz Pharma (NASDAQ: JAZZ).
"They (venom molecules) are becoming more popular," said Bosmans. "They are becoming more recognized by the pharmaceutical companies."
The value, he said, is that single molecules in venom toxins can more precisely target a particular malady with fewer side-effects than chemical compounds.
But for every toxin molecule that makes it to market, there are hundreds of others that find the journey fraught with failure, Goldstein said.
"A lot of work needs to be done," he said of King's study.
_______ Image Credit: "Funnel Web Spider burrow found on Mount Glorious, Queensland, Australia" By shannon mccoll (Own work) [GFDL (http://www.gnu.org/copyleft/fdl.html) or CC-BY-SA-3.0 (http://creativecommons.org/licenses/by-sa/3.0/)], via Wikimedia Commons
Posted-In: American Heart AssociationBiotech News Health Care FDA Exclusives Interview General Best of Benzinga
View Comments and Join the Discussion!