Health Care And Biotech Sector Looking Sick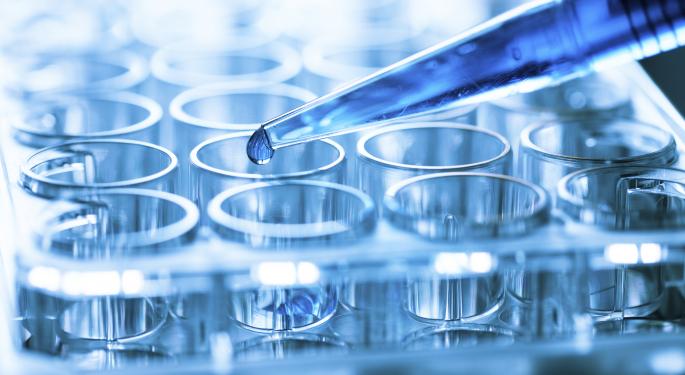 As the broad market charges to new all-time highs, not all stocks and sectors are participating. Two sectors that are going in the exact opposite directions of the market are issues in the healthcare sector and biotech sector.
Free-Falling Now
The charts of the iShares NASDAQ Biotechnology Index (ETF) (NASDAQ: IBB) and the Health Care SPDR (ETF) (NYSE: XLV) are ugly. IBB has cascaded from December 19's high ($319.14) to $292.64 and is attempting to rebound. XLV, which peaked on December 8 ($71.42), declined to $67.80 and is attempting to stabilize as well.
While XLV is maintaining above its low from last week, the IBB has pierced that level by $0.33 and rebounded, thus making Tuesday's low ($292.64) a key level that could determine the health of the index in the days and months ahead.
Related Link: AbbVie Takes A Bite Out Of Gilead Sciences' Hepatitis C Market Share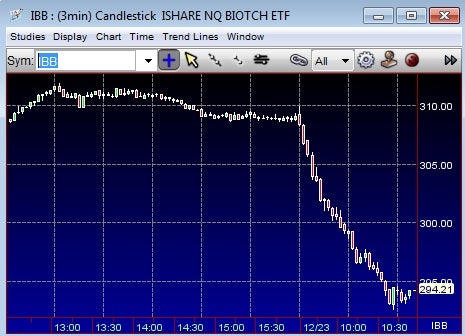 Identifying Catalysts
While it is hard to determine the exact catalyst for issues such as Merck & Co., Inc. (NYSE: MRK), Pfizer Inc. (NYSE: PFE), Eli Lilly and Co (NYSE: LLY) and Bristol-Myers Squibb Co (NYSE: BMY), one catalyst in particular comes to mind: profit-taking. All of the aforementioned issues have had mind-boggling rallies of the their Ebola-induced October lows. It is not that unreasonable for investors with huge gains since that time to want to ring the cash register in these usually slow-moving and stodgy issues.
One issue that may have a fundamental reason for its decline is Merck. With the company going on a huge acquisition spree in 2014 (and paying some hefty premiums), some investors may want to wait on the sidelines and see how the numerous acquisitions will boost the bottom line in 2015.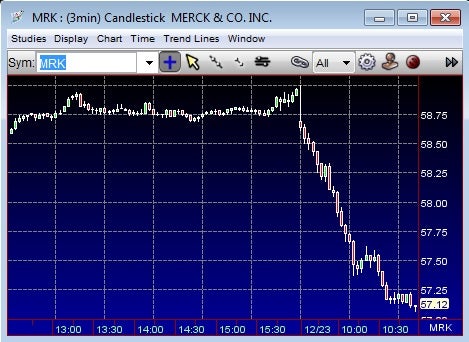 The wreck in the biotech sector may be related to the collapse in the share price of Gilead Sciences, Inc. (NASDAQ: GILD). It shed more than $23.00 since December 18's high ($109.49) to $85.95 in Tuesday's session. Since making the low, it has reclaimed the $88.00 level.
Fundamental news was the catalyst for its decline when Express Scripts Holding Company announced on Monday a deal with AbbVie Inc to provide them with a lower-cost treatment for Hepatitis C patients.
Related Link: 3 Pharma Companies Investing In Cannabis Related Treatments
Wall Street Analyst Adds Fuel To The Fire
As a result of the decrease in revenues, Bank of America has already lowered earnings estimates and price targets for Gilead Sciences. On Monday, Bank of America downgraded the issue from Buy to Underperform and slashed its price target from $130.00 all the way down to $87.00.
The carryover into the other high-flying biotech issues such as Biogen Idec Inc (NASDAQ: BIIB), Celgene Corporation (NASDAQ: CELG), Amgen, Inc. (NASDAQ: AMGN) and Regeneron Pharmaceuticals Inc (NASDAQ: REGN) may be based on the fear of impending price war in the sector.
That was the primary reason for the Bank of America downgrade of Gilead Sciences, and AbbVie may set in motion a dynamic that will force all the other biotech companies to lower their prices in order to retain current business or attract new customers.
Looking Forward
Once issues in these sectors get going in one direction, it is hard to stem the tide. As evidenced by their huge runs from the October lows and subsequent sharp declines over the last few sessions, a shift in momentum has arrived.
Investors may want to take note if the recent move by AbbVie to reduce drug prices is a one-off, or the beginning of a longer-trend that may have a devastating effect on the shares prices of issues in the related sectors.
Posted-In: Bank of America biotechnology EbolaHealth Care Technicals Movers & Shakers Trading Ideas General Best of Benzinga
View Comments and Join the Discussion!