4 Ebola Researching Biotech Companies For Your Portfolio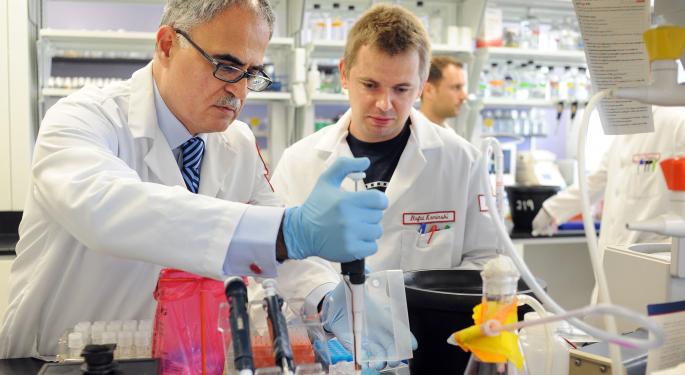 With the death toll from West Africa's Ebola outbreak reaching close to 1,000, serious interest is being taken into researching compounds that could both prevent outbreak and help those infected.
Until recently, Ebola was a pretty rare disease, Dr. Jim Wilson told Benzinga, and the healthcare sector is very market-driven.
Wilson is the executive director of Ascel Bio and director of the Ascel Bio National Infectious Disease Forecast Center. He said that in the past, more attention has been given to research on illnesses like Malaria and Cholera.
Ebola death toll rises; 932 confirmed, World Health Organization says. http://t.co/VWk1DrTheb

— CNN Breaking News (@cnnbrk) August 6, 2014
The current Ebola outbreak is a category six on the Infectious Disease Impact Scale, Wilson said, which means it could have maximum social disruption.
"In modern society, Ebola is the archetype of an infectious disaster," he said.
In response, many companies are reviving or starting brand new research campaigns for ways to combat the Ebola virus.
"This could be a big win for the company that has a drug for it [Ebola]," MLV & Co. analyst Dr. George Zavoico told Benzinga.
Related Link: 3 Big Companies That Dominate The Organic Foods Market
Here are a few to watch in the upcoming weeks:
BioCryst Pharmaceuticals Inc. (NASDAQ: BCRX)
This Durham, North Carolina-based biotech company has a market cap of close to $1 billion. There are four compounds in BioCryst's pipeline, including Peramivir, an influenza treatment legal in Japan and Korea, and BCX4430, a "broad-spectrum" treatment for a number of viruses.
While BioCryst is not currently responding to media requests and will not say whether Ebola is one of the viruses that BCX4430 could treat, Forbes and analysts say that it might work as an Ebola treatment.
"They have said that they are working on the compound for a bunch of different viruses, and Ebola could be one of them," MLV & Co. analyst Vernon Bernardino told Benzinga.
BioCryst stock has slowly risen above the $10-level since the beginning of June and is currently sitting at $12-13.
NanoViricides Inc. (NYSE: NNVC)
NanoViricides announced earlier this week that it will restart its anti-Ebola virus drug development program. This nano-biopharmaceutical company is based out of West Haven, Connecticut, and has a market cap of about a quarter billion dollars.
NanoViricides originally began researching an anti-Ebola drug about four or five years ago, CEO Eugene Seymour told Benzinga. He said the drug will end up being much better than if it had been developed back then because of the advancements in technology and research.
The company's stock went from $3 a share to almost $5, but is now hovering right around the $4 mark.
Tekmira Pharmaceuticals Corp (NASDAQ: TKMR)
Tekmira is listed both in the United States and on the Toronto Stock Exchange. This British Columbia-based biopharmaceutical company has a market cap of a little more than $300 million.
Its pipeline includes TKM-Ebola, an anti-Ebola viral RNAi theraputic. In March of this year, according to Tekmira's website, the U.S. Food and Drug Administration (FDA) granted the company a Fast Track designation to expedite the review of drugs so they can be put to use faster.
Tekmira's stock jumped to $30 a share in March but has since dropped down to the $14-level. It experienced a pop to almost $16 earlier this week but has fallen below $14 since.
NewLink Genetics Corporation (NASDAQ: NLNK)
While most companies are working on treatments, NewLink just received a $1 million contract from the U.S. Defense Threat Reduction Agency to conduct studies for an Ebola vaccine. This Ames, Iowa-based company has a market cap of more than $600 million.
Through its wholly-owned subsidiary, BioProtection Systems Corporation, NewLink is able to conduct studies that will bring an Ebola vaccine closer to human clinical trials.
Although NewLink's stock has been falling from $50 from earlier this year to the $20-level, it jumped from $20 per share to almost $24 since the news of its government contract came out this week.
View Comments and Join the Discussion!
Posted-In: BioCryst Pharmaceuticals biotech sector EbolaBiotech Health Care Tech Trading Ideas General Best of Benzinga