Left Behind In The Rally: Pfizer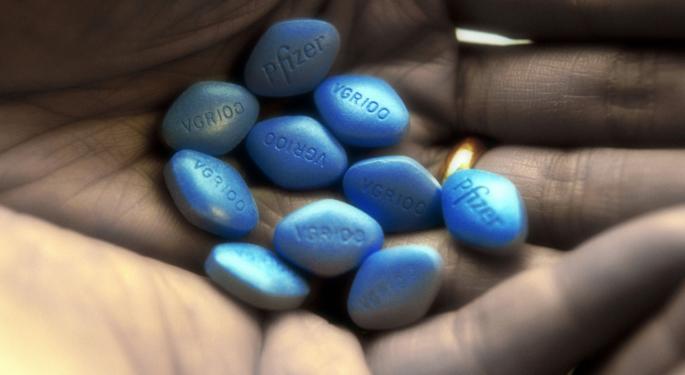 The broad market seems to be making new all-time highs every day. However, not all stocks have participated in this seemingly endless upward climb.
Some issues such as Pfizer (NYSE: PFE) are not only off recent highs, but Pfizer is quite a distance from its all-time high ($50.04).
Since peaking year-to-date at $32.96 on March 5, Pfizer has had a bit of a rough patch. Trading in a not so typical pattern for the issue, it has encountered sharp declines followed by quick rebounds only to retreat once again.
Volatility Resulting From The Pursuit of AstraZeneca
Its latest run-up and subsequent meltdown can be attributed to one event -- its attempt to acquire AstraZeneca (NYSE: AZN). At first, the move was applauded by the Street as the issue spiked from $29.50 to $32.35 on the possible synergies of the deal.
Related: How Long Can Tesla's Rally Continue?
But as the deal progressed, with Pfizer upping the ante, the Street became cautious on the issue perceiving it may be overpaying for AstraZeneca. The higher the bid went, the lower Pfizer went, shedding nearly one point from April 28 to May 1 ($32.04 to $31.15). Interestingly, May 1 is when AstraZeneca reached its highest level ($82.68) before talks started to collapse.
Those expecting a rebound in the shares when the deal was called off were disappointed. When the deal was finally rebuffed on May 2, Pfizer closed lower on the session falling from $31.15 to $30.75.
Revenues Miss Riles Up The Street
Pfizer's earnings release on May 5 added to the downward momentum for the issue. Despite a penny beat on EPS, revenue came in at $11.4 billion, well below the estimate of $12.13 billion. Coupled with sales being down 16 percent year-over-year, this resulted in nearly another one point loss from $30.75 to $29.96 during the following session.
From that level, the issue drifted lower until bottoming on May 9 at $28.77. Since that time, Pfizer recovered to $29.99 before falling back to the lower $29.00s. It has actually built a solid base above the panic low, as it has put in place 27 consecutive lows between $29.20 and $29.63 from late May through Tuesday.
On many occasions, this is an indication of institutions loading up on the issue for a rebound. Short sellers may also be looking to lock in profits from Pfizer's uncharacteristic decline from $32.96.
Get Paid While Waiting For The Rally
Perhaps the buyers at these current levels may be content with Pfizer's dividend yield of 3.5 percent or a stable return if the issue holds steady and a realistic expectation of some principle appreciation. Pfizer's attractive dividend also provides for a cushion (nearly one point of downside protection) if the issue breaches its major support.
With Pfizer being a pharmaceutical company, there is always the wildcard that the company could be the recipient of favorable results from any new drug trials.
Recent Trend Of Buying The Laggards
Finally, during the latest stage of the broad markets rally, the Street has been bottom fishing, picking up former momentum stocks and other issues that have fallen from grace. Many of the former momentum stocks, such as Facebook, Twitter, Netflix and Tesla Motors have risen from recent lows. The 3D printing sector has also come to life, along with the volatile solar sector.
The less glamorous but more stable banking sector, which still provide nice yields, has also attracted buying interest as of late.
Without knowing when this bull market will ever end, it is getting harder and harder to find stocks that offer favorable risk/reward ratios. In view of its sharp decline from multi-year highs to a clearly defined support level, coupled with a solid dividend, Pfizer may be one issue that still has some upside in this extended bull market.
Posted-In: Health Care Technicals Movers & Shakers Intraday Update Trading Ideas General Best of Benzinga
View Comments and Join the Discussion!