Meet The 28-Year-Old Immigrant Behind An App Helping Blue-Collar Workers Find Decent Jobs Quickly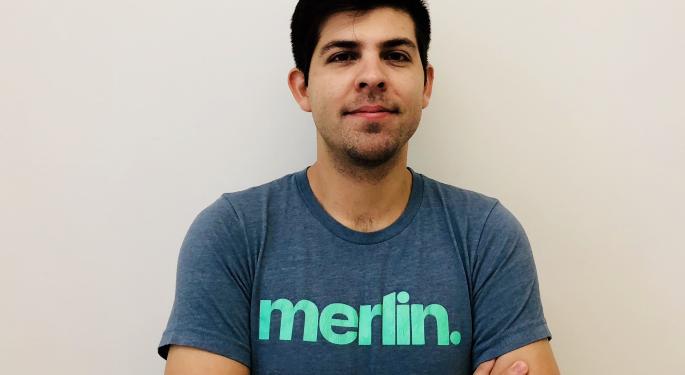 New York City has been a great home to Güimar Vaca Sittic, co-founder and co-CEO at Merlin, but he knows that isn't the case for many hourly workers getting by in the Big Apple.
"Gentrification has become such a big problem in New York that many workers commute for hours every day. What's even worse, they commute a lot more than what they could if they only had a more convenient job. It's brutal and inefficient."
Born in Argentina and college-educated in Chicago, Güimar combines unique attributes. He's a mixture of the archetypal technology entrepreneur and the socially conscious youngster who made it in the U.S. and often wonders: how does one build a big business while benefiting society?
This ideal has often led his more than 100 investments as an angel investor and venture partner at FJ Labs, a global, marketplace-focused venture capital fund. Vaca Sittic has backed companies like Rappi, Flexport, Reverb and many others.
The Birth Of Merlin
'Technology is deflationary by nature, and a great way to generate value is to help startups scale by giving them support and funding," Vaca Sittic of startup investing. This mission led the venture capitalist and his partners, Borja Moreno de los Rios and William Guillouard, to found their own company, Merlin.
Merlin is a jobs platform that matches hourly talent with employers like-big name clients like Burger King, Starbucks Corporation (NASDAQ: SBUX) and Sherwin-Williams Co (NYSE: SHW).
As New York City's leading mobile app for hourly employment and the fastest-growing mobile job board for blue-collar talent, more than 500,000 candidates and thousands of companies have found each other on Merlin in less than two years. Merlin serves tens of thousands small- and medium-sized businesses that depend on the app's talent pipeline to operate.
"Merlin is a magical way for New York's blue-collar talent to find better jobs faster. Merlin's technology connects qualified candidates with hiring employers in less than a day," Vaca Sittic said.
Emerging Companies, Emerging Markets
A large portion of Merlin's technology operations are located in Colombia, a South American nation booming with tech investments.
Why did Merlin choose to operate from Colombia?
The company's entire engineering, design and product teams are working from Bogota, Vaca Sittic said.
"We had great experiences in the past with offshore engineering teams and wanted to replicate the same with Merlin.
Merlin's Bogota office.
"Bogota also afforded us with the opportunity to build a full-fledged engineering team with more structure and resources. Additionally, it's in the same time zone [as New York], and a 5-hour non-stop flight [away]."
And it's not a minor detail that two of Merlin's co-founders are native Spanish speakers.
"We've been incredibly fortunate to find amazing and committed talent that has helped us scale the office to 50 people," the co-CEO said.
On The Hour
Why did Vaca Sittic and his partners create a hiring platform only for hourly talent?
"At Merlin, we are committed to helping the 100 million hourly workers in the United States," he said, quoting figures from the U.S. Bureau of Labor Statistics that indicate that 66 percent of workers are blue-collar.
Merlin's founders wanted to create an effective hiring tool that brought the same focus that's traditionally applied to salaried jobs, he told Benzinga.
"For example, historically candidates in this space have turned to sites like Craigslist, where they spend hours sifting through irrelevant job postings or unqualified candidates," Vaca Sittic said.
"Our matching algorithm makes the job hunt hassle-free so candidates can spend more time applying for the job they want, not on crafting lengthy cover letters and resumes while employers only review applicants who are qualified and live a reasonable distance from the job."
View Comments and Join the Discussion!
Posted-In: Entrepreneurship Top Stories Success Stories Startups Small Business Tech Interview General Best of Benzinga