Daymond John Tells Detroiters How To Become 'Sharks'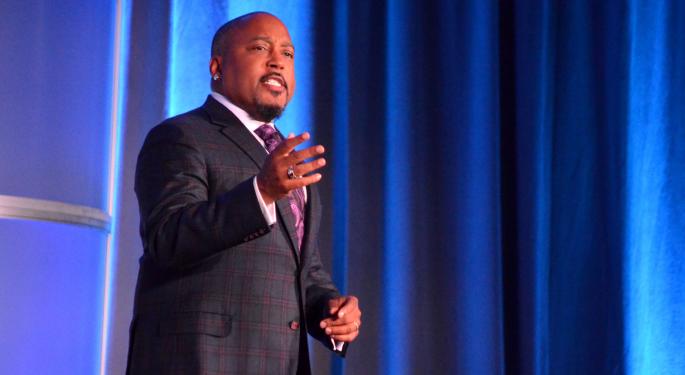 When he's not turning down pitches on "Shark Tank," businessman, investor and author Daymond John motivates and mentors aspiring entrepreneurs around the world.
On Tuesday, John presented a keynote address at JPMorgan Chase & Co. (NYSE: JPM)'s Chase For Business Conference in Detroit. His energetic presentation, attended by hundreds of metro Detroit entrepreneurs, provided a closer look into his self-made success.
John outlined five specific instructions to become a "shark."
Set A Goal
"If you don't control the goals you set, you let others set them for you," John said.
John declared the importance of taking inventory, not as a business, but as an individual, and gave examples of his own strategy for transparency.
"Anybody can achieve that state of mind. When we would launch clothing lines later on in our careers, instead of going to get $60,000 to $100,000 worth of the product line to start it, we would take one shirt, slap a logo on it and put it in a video. We'd see if the phone rings. If the phone doesn't ring, we saved a year of developing and thousands of dollars and we'd realize if we should move on or not," he told Benzinga after the speech.
"We would also go and acquire other brands that already had a big customer base. Instead of thinking you know everything and trying to recreate the wheel, go out and be a partner, buy and acquire, or take small steps to launch new brands."
Related Link: The American Dream In One Minute: 'Shark Tank' Casts A Net For Entrepreneurs In Detroit
(Do Your) Homework
"Do homework and research about everything, and take interest in your clients," John said.
The importance of research is often overlooked, the "Shark Tank" star said. John encourages entrepreneurs to focus on every business endeavor, every client, every customer —everything. When discussing the characteristics common to every successful business, John shared what piques his interest on "Shark Tank."
"Someone who absolutely knows their customer. They know who their customer is, why their customer is taking action, what separates their customer, what makes their customer talk to other people about them," John told Benzinga.
Conversely, the entrepreneur said he quickly recognizes red flags: "Somebody who assumes the size of the market and assumes that they'll get lucky because the market is a certain size. Also, somebody who thinks that money can solve everything. Money only highlights your weakness in a company."
Amor
"I loved what I was doing. If you do it for money, you'll blow it," John told the business conference.
When John first experienced success, he said he was an absent father: he'd travel most of the year, then party with rappers and colleagues when he returned to New York. His wife claimed to see him more on TV than in person, John said, and he relied on phone calls to console and bond with his two daughters. This experience completely altered John's outlook, he said.
Every entrepreneur should ask themselves "why am I doing this in the first place?" John said — with the answer being that they're focused on improving the lives of the people they love.
On "Shark Tank," John told the crowd, "we do not invest in companies, we invest in people."
Remember, You Are The Brand
John asked the Detroit entrepreneurs: "What are people saying about you? Can you put yourself in two to five words?"
John's thoughts on representing oneself and a business are twofold.
"It's not all about looking people in the eyes and shaking hands anymore. A lot is in technology. People are always watching you and your two to five words," he said.
When asked about his favorite underrated marketing strategy, John reverted back to basics.
"Word of mouth. Shaking hands. Standing there as long as I can. Those little things that you do for your customer, whether it's a person or your brand. For example, you get someone on social media who says they went to McDonald's Corp (NYSE: MCD) and hated it. Well, if McDonald's calls them, they have a fan for life."
Related Link: The Important Lesson Kevin O'Leary Learned From His Mother's Trading Portfolio
Keep Swimming
"Life is too short to be afraid," John said.
Failures are merely chances to learn, in the entrepreneur's view. By sharing personal triumphs, co-stars' successes, and even accomplishments from strangers he's met, John encouraged the crowd to consistently search for opportunities.
Those opportunities might be closer than one would think.
"This city has the potential for anything. It has a skilled workforce, it's a major hub, it has everything," John said of Detroit, telling Benzinga it's one of his favorite cities.
Photo: Daymond John of "Shark Tank" speaks at the Chase for Business Conference in Detroit on Tuesday, Aug. 14. Photo by Dustin Blitchok.
View Comments and Join the Discussion!
Posted-In: Daymond John DetroitEntrepreneurship Top Stories Success Stories Exclusives Interview General Best of Benzinga