Coca-Cola And Three Other Major Companies That Are Helping Entrepreneurs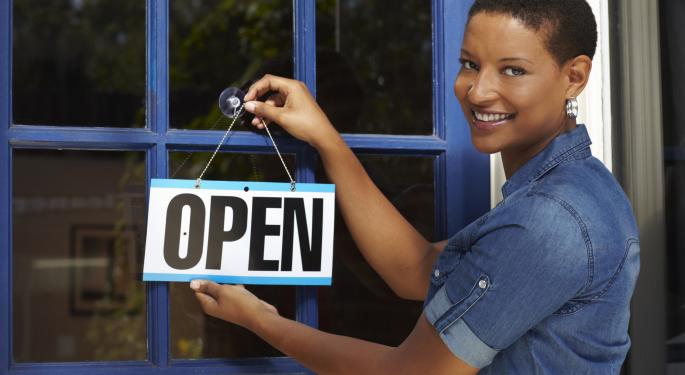 Last week, The Coca-Cola Company (NYSE: KO) announced a new program, Coca-Cola Founders, designed to help entrepreneurs take advantage of the global company's massive reach and resources. The announcement came at Fast Company's Innovation By Design Conference.
As David Butler, Coke's vice president of Innovation and Entrepreneurship, told Fast Company, the program will allow fledgling startups a leg up in one of the hardest areas of creating a new business from scratch: scale.
Coca-Cola is active in 207 countries, selling literally billions of products every day. The idea is that Coke will allow certain, select startups access to that economy scale.
Related Link: McDonald's Risky New Social Campaign And 3 Times Hashtags Backfired
With the new program, Coke will reach out to chosen entrepreneurs and invite them to join what they are calling their Co-Founder Network. Every Co-Founder team will then form a new company that it will own entirely, and Coke will provide that business with assets and a senior manager who will function as an adviser.
As the process is described on the program's website, "This structure creates an 'inside' connection to Coca-Cola while maintaining the flexibility and speed required to build a startup. We act as a 'launch partner' from Day 1."
Of course, Coke isn't the only major company that helps entrepreneurs take the startup leap.
Disney
Back in February, The Walt Disney Company (NYSE: DIS) announced it would be launching its own startup accelerator program, funding 10 new companies with $120,000 each.
The three month program, which was conducted in partnership with the Colorado-based startup accelerator Techstars, came to fruition last week, with the 10 chosen companies demonstrating their products and services on October 14 at Disney's Burbank studio.
At the event, Bob Iger explained that the 10 startups were given "access to our vast resources, our executives and our businesses." Moreover, he stated that the company intends to continue the program beyond the current round of 10 companies.
Several of the companies, not surprisingly, announced partnerships with Disney. Sidelines, which is developing a content marketing platform, demonstrated how its product will offer clients like ESPN the ability to harness user discussions as native ads. Another one of the startups, Naritive, demoed how it can connect brands and companies with users on Snapchat. Among those brands were Radio Disney and Pretty Little Liars, a show on ABC Family.
Wells Fargo
In August, Wells Fargo & Co (NYSE: WFC) announced a startup accelerator of its own, with some noticeable differences from Disney's.
Instead of Disney's 10 companies in 3 months, the bank's accelerator will take 10 to 20 startups in 6 month blocks. In addition, each company will receive a variable amount of direct investment, between $50,000 and $500,000, unlike Disney's fixed $120,000.
Last, though it may just be a symbolic departure, Wells Fargo's accelerator will not have a demo day like Disney's. Instead, each company will be assessed at the end of the program and receive their direct investment based upon their assessment.
Goldman Sachs
In 2009, Goldman Sachs Group Inc (NYSE: GS) launched a $500-million program called 10,000 Small Businesses to give select small businesses access to business support, education services and of course, capital.
Despite its name, the program currently has 2,519 participants receiving guidance and resources from Goldman Sachs. The minimum requirements for eligibility are that a company has existed for more than two years, and that it has at least four employees.
According to Goldman, six out of every 10 participating companies saw increased revenue within the 6 months after graduating. Moreover, four out of every 10 companies created new jobs in the same period.
Beyond these four companies, many more are actively encouraging entrepeurnership and startups. In the era of Facebook Inc, Twitter Inc and all the other startups that have exploded into financial powerhouses in the last few years, lots of companies want to have a hand in creating the next big thing.
View Comments and Join the Discussion!
Posted-In: Coke disney startupsEntrepreneurship Startups General Best of Benzinga