3 Reasons Why Crowdfunding Is The Investment Tool Of Millennials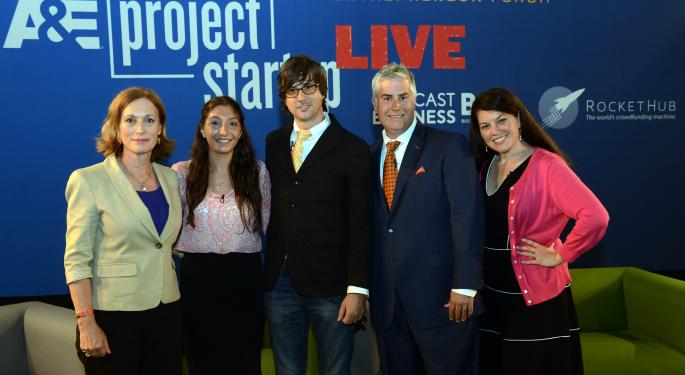 In case you haven't heard about the vast amounts of money raised online for Pebble, Oculus Rift or potato salad, Internet crowdfunding is kind of a big deal.
Both the Internet and the JOBS Act, a law passed slightly more than two years ago that eased certain security regulations to facilitate funding of small businesses, have made crowdfunding significantly easier and more accessible.
Web sites like RocketHub have become a wildly popular investment tool for millennials. RocketHub CEO Brian Meece was recently a guest on Benzinga's #PreMarket Prep, where he gave some insight as to why.
"#Crowdfunding ... allows our supporters to be part of the adventure in some way" - http://t.co/VBBQAo5Hm1

— RocketHub (@RocketHub) March 26, 2014
It Thrives On Gen-Y Forms Of Outreach And Connectivity
Internet use has almost doubled since the turn of the century. Pew Research says that 87 percent of American adults use the Internet, and 97 percent of Internet users are between the ages of 18 and 29. In addition, 89 percent of 18-to-29-year old Internet users are on social media.
Crowdfunding websites are taking advantage of millennials' overwhelming using these new technologies. "Crowdfunding is the idea of using communities on the Internet and social media to fund and share ideas," Meece said.
Related Link: Banana Republic Creates 'Startup Guy' Look
Not only is RocketHub present and active on social media websites, but you can also directly share funding projects to sites like Facebook (NASDAQ: FB), Twitter (NYSE: TWTR) and Pinterest directly from a crowdfunding project's page.
It Attracts Startups And Small Businesses
Meece said that RocketHub is seeing a lot of activity in the entrepreneurial space.
"The fastest growing segment now on our site now is entrepreneurs, startups and small businesses that are looking to launch products, launch their companies and grow their companies," he said.
Most entrepreneurs are between the ages of 45 and 54, according to the Kauffman Foundation. That number is closely followed by those ages 20 to 34, meaning millennials make up the second-largest group of entrepreneurs.
Related Link: This Detroit Startup Could Change The Pasta Industry
Meece said he finds crowdfunding to be especially effective for startups at the seed stage. Although the average age of entrepreneurs seeking funding at that stage can vary greatly, seed accelerator Y Combinator says that the average age of of the people it funds is 26.
Even if a millennial isn't the founder of a startup, studies show that the younger a company is, the younger its employees are. If a startup's CEO doesn't know about crowdfunding, social media or the Internet, it's more than likely that his or her employees do.
There's Plenty Of Education Available
While millennials might not have an MBA or the industry experience to go through the typical funding route, there's a bevy of easily accessible information on how crowdfunding works and ways to successfully utilize it.
RocketHub even has its own success school, which Meece said really helps people who are new to the model learn how to use crowdfunding and whether or not it's right for them, as well as basic do's and don't's. "As a result, we have got a lot of activity in the college and university market," he said.
Check out the full interview:
Posted-In: Brian Meece crowdfunding millenialsEntrepreneurship Startups Small Business Interview General Best of Benzinga
View Comments and Join the Discussion!