SLIDESHOW: 13 Major Tech Founders and Innovators That Are 'Smitten With The Mitten'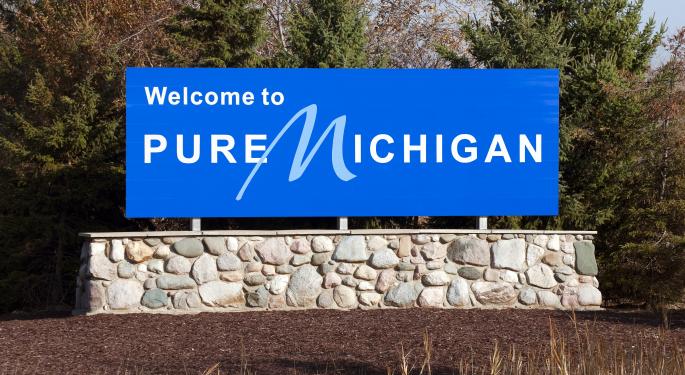 Technology companies are often synonymous with Silicon Valley or other tech hubs, but many of the founders of the major publicly traded tech companies come from a place that hasn't exactly been known for innovation in the last 30 years: Detroit.
Encompassing the entire Metro Detroit area as well, the city has received a lot of flack lately from its debt downgrades, crime problems, political dysfunction and a slew of other woes. Despite this, Detroit boasts an impressive list of founders and key executives at major companies around the United States - specifically in the tech space. This list serves as a testament to the innovative culture of the city and the potential it has.
Let's get it started.
Larry Page

A native of East Lansing, Larry Page grew up just a little over an hour outside of the Detroit metro area. After graduating from East Lansing High School, he attended the University of Michigan for undergrad, and then headed to Stanford for grad school.

Page met Sergey Brin soon after enrolling in Stanford's Phd program for computer science, where Sergey oversaw his dissertation: an effort to categorize the information on the internet.

This project became the first version of the algorithm that powers Google (NASDAQ: GOOG), and the rest, as they say, is history.

(Image source: Wikimedia commons)

Jim Buckmaster

A native of Ann Arbor Michigan, a city just outside the metro Detroit area, Jim Buckmaster attended the Virginia Tech and the University of Michigan before joining the Craigslist team.

Shortly after coming aboard, Buckmaster was promoted to CEO, and has run the company ever since. Often criticized for not seeking to monetize Craigslist more effectively, he has often stated that he does not wish to become a billionaire, and has significantly contributed to philosophy that leads to Craigslist's minimal revenue model and bare bones design of the site.

(Image source: Wikimedia commons)

Dick Costolo

Raised in metro Detroit, Dick Costolo graduated from the University of Michigan. Following graduation, he went into improv comedy briefly before working with Andersen Consulting for 8 years.

Following his term there, Costolo founded and sold a series of companies, including feedburner, which was acquired by Google. Shortly thereafter, he joined Twitter as its COO, and was later promoted to CEO temporarily while then CEO Evan Williams was on paternity leave. This position eventually became permanent and Costolo went on to lead Twitter until present day.

(Image source: Wikimedia commons)

Steve Ballmer

Raised in Farmington Hills Michigan, a suburb just outside of Detroit, Steve Ballmer attended Harvard where he first met Bill Gates, who lived down the hall from him.

Upon graduation, he joined Procter & Gamble as an assistant product manager before leaving to attend Stanford Business School. Ballmer ended up dropping out of business school to join Microsoft as the company's 30th employee and first business manager. He later assumed the role of CEO in 2000.

(Image source: Wikimedia commons)

Dave Barger

Another prestigious graduate of the University of Michigan, Dave Barger got an interest in the airline industry from his father, who was a pilot for 37 years with United Airlines.

Barger gained extensive management experience in the airline industry with a slew of companies before joining the founding team of Jetblue in 1999, where he served as COO.

In May 2007 he was promoted to the role of CEO, and holds the position until this day.

(Image source: Wikimedia commons)

Eric Lefkofsky

Born and raised in Southfield, Michigan, Eric Lefkofsky got his start within 15 minutes of downtown Detroit.

After graduating high school, he attended the University of Michigan where he met Brad Keywell. The two went on to found a series of companies including InnerWorkings, Echo Global Logistics, before launching his largest endeavor, Groupon.

(Image source: Wikimedia commons)

Brad Keywell

Brad Keywell is another notable founder and executive from the Detroit area. Hailing from Bloomfield Hills, about half an hour North of the city, he attended the University of Michigan for undergrad before getting his Juris Doctorate.

Keywell went on to found Starbelly with Eric Lefkofsky, which was acquired shortly before the dot com bubble burst by HA-LO. Following Starbelly, he co-founded Echo Global Logistics with Lefkofsky, before finally launching, and eventually IPOing, Groupon.

Keywell is also currently a member of the board of trustees of Equity Residential .

(Image source: Bradkeywell.com)

Kevin O'Connor

Born and raised in Livonia, Michigan, a suburb just South of the city, Kevin O'Connor received his Bachelor's degree from the University of Michigan.

Post-graduation, O'Connor went on to work for Intercomputer Communications Corporation, which was acquired by DCA in 1992, where he became CTO and VP of R&D.

In 1995 to capture the growth of the internet, he left his position to found DoubleClick, which was sold for $1.1 billion to private equity firm Hellman & Friedman, and later bought by Google for $3.1 billion.

(Image source: eecs.Umich.edu)

Bill Joy

Born and raised in Farmington Hills, Michigan, a suburb just North of Detroit, Bill Joy studied electrical engineering at the University of Michigan. He went on to get his masters in electrical engineering and computer science from the University of California Berkeley.

In 1982, 6 months after its founding, Sun Microsystems brought Joy in with full co-founder status, where he was a driving force behind the creation of the Java programming language.

After a long career with Sun, Bill left the company in 2003 to pursue other interests. Sun Microsystems was later acquired in 2010 by Oracle for a sum of $7.1 billion.

(Image source: Wikimedia commons)

Bill Hewlett

A native of Ann Arbor, Michigan, Bill Hewlett attended Stanford for his undergraduate studies, moving on to MIT to earn a masters of science in electrical engineering.

Along with his friend David Packard, he founded Hewlett Packard in 1939. The company officially incorporated in 1947, and went on to IPO in 1957.

Known for creating the "HP way", Bill Hewlett was instrumental in creating a culture that encouraged employee nurturing and development, years before similar efforts in Silicon Valley.

(Image source: Wikimedia commons)

Roger Penske

Born in Shaker Heights, Ohio, Penske got his start as an entrepreneur at a young age, buying older cars, repairing them, and selling them while he was a teenager.

He eventually went on to focus on racing, founding a series of successful racing teams, and relocated to Detroit.

In 1990, his company acquired United Automotive Group, and changed the name to Penske Automotive Group, which is headquartered in Bloomfield Hills Michigan, just north of Detroit.

A Detroit legend, Penske is a corporate director on the board of General Electric, and was previously on the board of Home Depot and Delphi Automotive before leaving them to chair the Detroit Super Bowl XL committee.

(Image source: Wikimedia commons)

Dan Gilbert

What list of Detroit business moguls and entrepreneurs would be complete without city's real estate and mortgage tycoon, Dan Gilbert.

Born in Detroit, Gilbert attended Michigan State University for undergrad, and then Wayne State for Law school.

Shortly after graduating, he founded Rock Financial, a mortgage originator, which was eventually sold to software maker Intuit in 2000.

In 2002, Gilbert and a group of private investors purchased Quicken Loans from the company, and proceeded to grow it exponentially, eventually moving it to downtown Detroit in a landmark move to help the city rebuild.

While the company is in the mortgage origination space, Quicken prides itself on heavy use of technology to improve efficiency and effectiveness of its team.

(Image source: Benzinga.com)

Gregg Kaplan

After graduating from the University of Michigan, Gregg Kaplan had a career that took him from one end of the business world to another, eventually landing as an executive with McDonald's.

McDonald's went on to fund Redbox, an company built around DVD vending machines, that Kaplan founded.

After the company was acquired by Coinstar in February 2009, he became President and COO of the company.

(Image source: alumni.hbs.edu)
View Comments and Join the Discussion!
Posted-In: Bill Hewlett Bill JoyNews Entrepreneurship Management Success Stories Tech General Best of Benzinga