Here Are 14 Yearbook Photos of Business Big Shots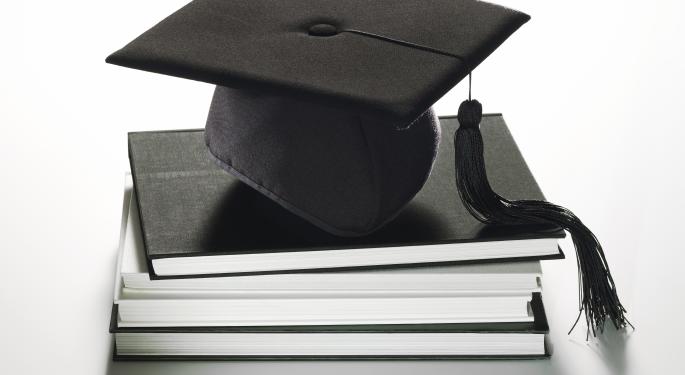 When we think of the business titans of our age, we often associate their likeness with private jets, cash flows in the millions, intense board room meetings and bold leadership.
Yet, the humble beginnings of the CEOs, co-founders and chairmen of some of America's top companies are often overlooked.
Benzinga compiled a collection of high school yearbook photos from some of the biggest names in the business and finance sectors today.
Which high school version of a current business big shot would you hang out with if you could? Let us know in the comments.
Brian Moynihan is the CEO of Bank of America.

Moynihan was the youngest boy in a family of nine, and would wear his older siblings' hand-me-downs. "I had the smallest [sweater] and then I grew into the next and the next and the next. I had to wear them all,"

Moynihan told Brown Alumni Magazine

. (Photo: Brown Daily Herald).

David Tepper is the head of Appaloosa Management, a hedge fund that grossed $2.2 billion last year -- the most of anyone in 2012.

When Tepper was 4 or 5 years old, his older sister brought him to school as the topic of her show-and-tell project. David showed up off his advanced multiplication and addition skills to the class. (Photo: Bloomberg TV).

Donald Trump is the Chairman and President of the Trump Organization

Born in Queens, Trump was sent to the New York Military Academy by his parents, beginning at age thirteen. (Photo: Yearbook Library).

Rex Tillerson is the Chairman and CEO of Exxon Mobil.

Tillerson credits his childhoood experience in the Boy Scouts for his values and leadership skills. He would eventually become a pack leader and serves on the Boy Scouts' national board. (Photo: University of Texas).

Jeff Bezos is the CEO of Amazon.com.

Bezos displayed an incredible level of mechanical aptitude as a child. When he was a toddler, he attempted to dismantle his crib. (Photo: Yearbook Library).

Lloyd Blankfein is the Chairman & CEO of Goldman Sachs.

As a boy, Blankfein worked as a concession vendor at Yankee Stadium. (Photo: Harvard Yearbook, 1975).

Oprah Winfrey is the Chairwoman and CEO of Harpo Productions.

After a rough childhood, Winfrey blossomed in high school. She became an honors student, was voted Most Popular Girl, joined her high school speech team at East Nashville High School (placing second in the nation in dramatic interpretation) and won the Miss Black Tennessee beauty pageant at age 17 before securing a full-ride scholarship to Tennessee State University. (Photo: Yearbook Library).

Jamie Dimon is the CEO of JPMorgan Chase

In Last Man Standing, a friend claims Dimon "majored in his girlfriend" senior year and earned the nickname "Mad Dog." (Photo: Gawker).

Daniel Loeb is the Founder & CEO of Third Point LLC, a New York-based hedge fund with $12.9 billion in assets.

After being threatened by bullies at Paul Revere Junior High School in Los Angeles, he paid a friend 25 cents a day to serve as his bodyguard. (Photo: Dealbreaker).

Larry Page is the CEO and co-founder of Google.

Shortly after this photo was taken, Page created an inkjet printer (line plotter) made of LEGO bricks at the Univesity of Michigan. (Photo: Yearbook Library).

Bill Gates is the Chairman of Microsoft.

Gates wrote his first computer program using BASIC on his school's GE computer. He was 13, and he developed an implementation of tic-tac-toe that allowed users to play games against the computer. (Photo: Yearbook Library).

Tim Cook is the CEO of Apple.

Cook came from humble beginnings, raised in Robertsdale, Alabama, not far from Mobile. His dad was a shipyard worker and his mom was a homemaker. (Photo: todaysiphone.com).

Ben Bernanke is the Chairman of the Federal Reserve.

When Bernanke was in high school and college, he worked a construction job at a local hospital and waited tables at South of the Border, a restaurant in his hometown of Dillion, South Carolina. (Photo: Dealbreaker).

Jim Cramer is the host of CNBC's Mad Money.

OK, not a yearbook photo, but still worth sharing. This is Jim Cramer in a 1997 Frontline interview when he still worked for his hedge fund. Check out those curls!

Born near Philadephia, one of Cramer's first jobs was selling ice cream at the now-extinct Veterans Stadium during Phillies games. (Photo: YouTube)
View Comments and Join the Discussion!
Posted-In: Ben Bernanke Bill GatesNews Entrepreneurship Rumors Success Stories Media General Best of Benzinga