How Did Donald Trump Get Rich?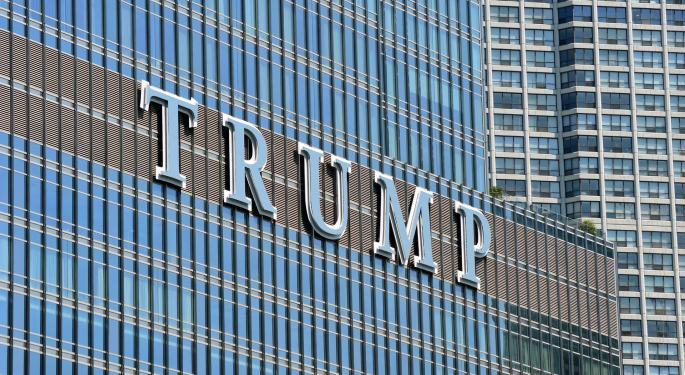 When Donald Trump took over the Oval Office in 2017, he became the richest president in history — by a landslide. While the president reported a $10-billion net worth during his campaign, Time has refuted the amount, noting that the president is worth roughly $3.1 billion.
"The first thing I'm going to do is tell you that if I'm elected president, I'm accepting no salary, OK. That's not a big deal for me," Trump announced during a town hall meeting in 2015. A study by Politico reported that Trump donates $100,000 of his salary to government agencies every few months.
So, how did Trump become the country's first billionaire president?
Trump Family Fortune
Donald Trump's father Fred was an acclaimed real estate developer who built and sold middle-class housing for families in New York City during World War II. Once Donald graduated college, he joined the business and began making connections in New York City.
Rather than middle-class housing, Donald focused his development on lavish developments in Manhattan. With millions of dollars in loans, as well as other financial guidance from his father, he was able to purchase his first big piece of real estate, the Commodore Hotel.
From there, Trump developed famous projects such as the company's headquarters, Trump Tower, an apartment and retail building, Trump Plaza, as well as famous casino hotels like the former Trump Taj Mahal.
The company met a financial crisis in the early 1990s that eventually led to the relinquishment of numerous properties. The development aspect of Trump's business career resulted in six corporate bankruptcies, including those from the Trump Castle Hotel & Casino and Trump Entertainment Resorts. Despite the bankruptcies, Trump's name was rising in prominence.
Real Estate Holdings
Trump's numerous real estate holdings are by far the most lucrative aspects of his career, along with branding and licensing deals.
According to a study by Forbes, Trump's New York City real estate holdings total roughly $1.5 billion, while non-New York City real estate accounted for $500 million. Club facilities and residential properties provide additional lofty income.
Trump generates over $70 million in condo sales and $40 million in rental income every year. Some of his completed estates include the historic estate Mar-a-Lago, Trump Park Avenue and the Trump International Hotel Las Vegas.
Trump also owns several golf courses, a Trump Winery and operates the Wollman Skating Rink and the carousel in Central Park. Many of his holdings are international.
Branding And Licensing
Trump's name is on numerous buildings he doesn't own. Developers pay to license Trump's name around the world, and this endeavor contributes $180 million to Trump's net worth, according to Forbes.
Some of these branding deals include the Trump SoHo, Trump Palace and the Trump Parc condominiums in Manhattan. These buildings span across the entire U.S., along with properties in Indonesia and Turkey.
The words "you're fired!" became a common catch phrase in the 2000's with the airing of "The Apprentice." On this NBC show, Trump interviewed driven contestants for a managerial position at one of his companies. According to a report from The New York Times, Trump reported that he pocketed a total of $213 million over the show's 11-year run.
Trump has become more than a household name and far more than a celebrity; he has become a brand.
Related Links
Trump Turns 71: Here Are 17 Of His Strangest Business 'Ventures'
View Comments and Join the Discussion!
Posted-In: Donald Trump ForbesEducation Politics Top Stories Success Stories General Real Estate Best of Benzinga