Trade Wars Aside, First Half Of 2018 Sees Highest Value Of Cross-Border M&A In A Decade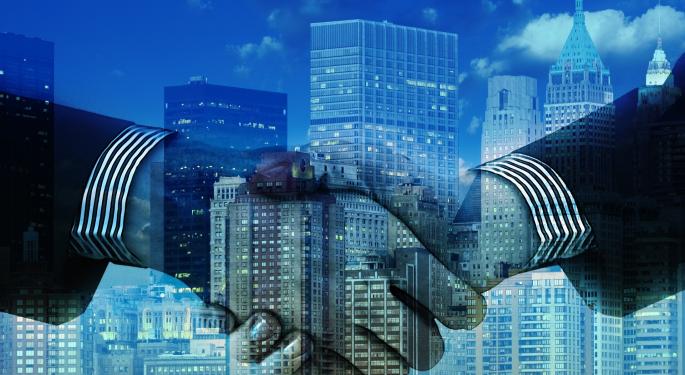 Boeing Co (NYSE: BA)'s new 80-percent stake in Embraer SA (ADR) (NYSE: ERJ)'s commercial jet business extends a theme that defined deals in the first half of 2018.
The period saw more than $2.5 trillion in mergers announced worldwide — a 61-percent year-over-year increase that puts 2018 on track to set an annual record beyond $5 trillion.
The rise in value was largely driven by a pop in international deals.
Trump Slows Sales, Not Deals
Unhindered by a complex tariff game and the threat of trade wars, announcements of cross-border mergers and acquisitions nearly doubled from the same period in 2017, according to The New York Times. At $1.036 trillion, that's the second highest value ever, just behind 2007's rate of $1.044 trillion.
Notably, no year in the decade between achieved more than $626 billion.
Altogether, 2018's cross-border deals represent more than 40 percent of total global disclosures. They included Walmart Inc (NYSE: WMT)'s majority stake in Flipkart, Sanofi SA (ADR) (NYSE: SNY)'s purchase of Bioverativ and Laboratory Corp. of America Holdings (NYSE: LH)'s sale of Covance Food Solutions to Eurofins Scientific.
Americans Still Major Participants
It's a veritable feat considering rising regulatory risk, particularly for deals involving U.S. parties.
President Donald Trump blocked the $117-billion sale of U.S.-based QUALCOMM, Inc. (NASDAQ: QCOM) to Singapore-based Broadcom Inc (NASDAQ: AVGO) on national security grounds, and some consider the move a daunting precedent.
"While every auction used to see at least one Chinese participant, now people are questioning their ability to deliver and are conscious of the political pushback that Chinese bidders could face," Johannes Groeller of PJT Partners Inc. told CNBC in March.
Nonetheless, foreign purchases of American companies increased 48 percent to $206 billion in the last half.
Related Links:
Caution Remains On Wall Street Even As Concern Eases On Foreign Investment
Telecom M&A Poses No Near-Term Threat To Netflix, Says Bullish Pivotal Research
View Comments and Join the Discussion!
Posted-In: CNBC The New York TimesM&A Education Media General Best of Benzinga