'TrumpMania' Looks At The President's Relationship With WWE, Vince McMahon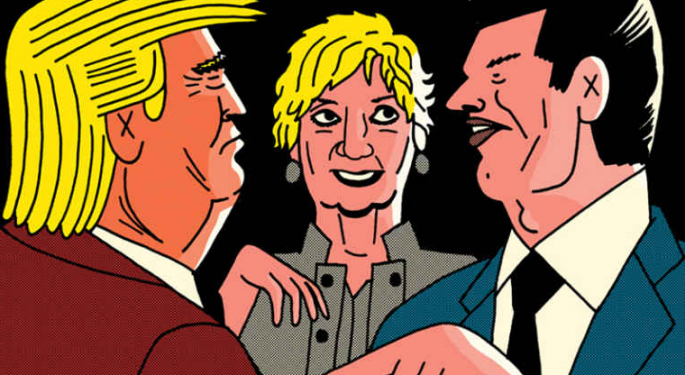 "The Battle of the Billionaires" wasn't just World Wrestling Entertainment, Inc. (NYSE: WWE)'s highest-grossing event of all time; it was the culmination of a professional and personal friendship built over the previous two decades.
Donald Trump and Vince McMahon first worked together during WrestleMania 4 in 1988, which took place near Trump's casino in Atlantic City. The event would return one year later. Then, in the buildup to their WrestleMania 23 confrontation in 2007, Trump occasionally appeared on WWE programming.
"You are a rich guy. I am a richer guy," Trump told McMahon at the time. "I'm taller than you. I'm better looking than you. I think I'm stronger than you, and I am here to challenge you to a match."
While these two didn't do any actual wrestling that night, the money was made. Author Lavie Margolin lays out all the details of these pop culture icons in "TrumpMania: Vince McMahon, WWE and the Making of America's 45th President."
"TrumpMania" is a quick read, at 194 pages, that gives a thorough breakdown of their relationship over the years — and how the spectacle of pro wrestling may have helped shape Trump as a politician. (Remember Trump's entrance at the Republican National Convention?)
Benzinga: What prompted you to write this book?
Margolin: Like many families, my wife and I watched the Trump campaign in fascination. Firstly, for entertainment purposes and later for concern. While watching, it was impossible to miss the various tropes that had been borrowed from professional wrestling.
Although I hadn't been much of a voter, Trump's win was disheartening to me. In mentioning a few book ideas to a friend, I was talking with him about Trump's long history in professional wrestling and how what he learned was helpful in his victory. My friend got so excited about the idea that it sparked my interest further and I was off and running.
BZ: What's your background as an author?
Margolin: Generally, I've been actively writing for professional purposes for 10 years. This was focused in the career development space, as I would place articles on salary negotiation and interviewing on my website. That turned into books, as I've published over 10 print and e-books in that space.
I had always been a big wrestling fan. More of the business side than the creative (especially currently). I'd written book reviews and articles on the business over the last several years. I even have a piece that was published in a wrestling anthology. My earliest "formal" work was a co-author of a marketing study on WWF (at the time) consumers in the early 2000s.
BZ: What are your final thought's on the Trump-McMahon relationship?
Margolin: Trump and McMahon at various points have been perceived by the public as various things, often at the same time: Successful business people, beneficiaries of family businesses, great leaders, overbearing and demanding, respected. It is clear that McMahon and Trump have a great deal of respect for the other, and even when public perception was not on their sides, they've validated each other.
Related Links:
Analyst: WWE's Stock Is Worth A Buy Ahead Of WrestleMania Weekend
25 Biggest Moments In WWE's Wall Street History
Image credit: Box Brown.
View Comments and Join the Discussion!
Posted-In: Donald Trump Lavie Margolin TrumpMania Vince McMahon WrestleManiaEducation Reviews General Best of Benzinga