Esports Continue To Become More Mainstream And a Bigger Part Of The Gaming Industry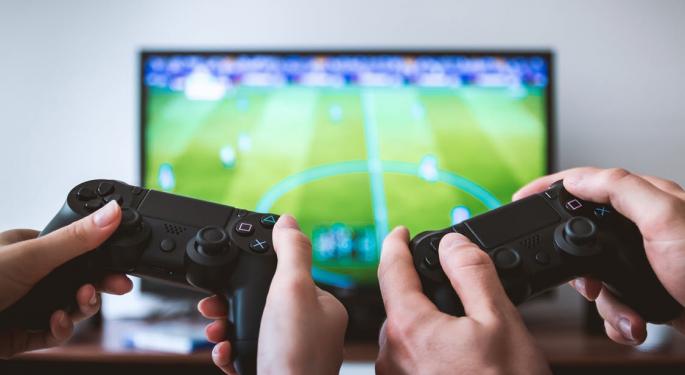 There are a lot of mixed opinions on esports, competitive video game tournaments held in venues all over the world.
For the skeptics, you might be surprised to learn that there are 2.2 billion active gamers in the world and 1 billion of them spend money on consoles, games, digital subscriptions, and in-game and in-app purchases, according to market intelligence firm NewZoo's 2017 Global Games Market Report. That means roughly 30% of the world's population plays video games.
This week, the 2018 Game Developer's Conference (GDC) kicked off, which brings together more than 26,000 industry professionals to "shape the future of the industry," as GDC puts it.
All of this serves as a good reminder that esports and video games are big business, and the industry could warrant closer examination if you're researching potential investment opportunities.
Esports Are Becoming More Mainstream
Esports are still a smaller sliver of the overall global games market, which Newzoo estimates will grow to $115.8 billion in 2018; whereas it estimates the global esports economy will reach $905.6 million in 2018, a 38% year-over-year increase. Esports revenue is comprised of sponsorships, advertising, media rights, game publisher fees, merchandise and tickets—similar to traditional sports.
Beyond the numbers, there are plenty of other signs that esports are becoming more mainstream. They will be included at the upcoming 2022 Asian Games and the International Olympic Committee (IOC) is evaluating them for potential addition to the Olympics. After a meeting in October, the IOC said "competitive esports could be considered as a sporting activity, and the players involved prepare and train with an intensity which may be comparable to athletes in traditional sports."
Not only are esports being recognized by major sporting events, they're also being recognized by overseas governments. Japan will grant athletic visas to esports competitors from foreign countries. And Hong Kong recently set aside HK$50 million ($6.37 million) to "create spaces for video game competitions," according to the South China Morning Post. A small sum by government standards, but it's significant that they're investing in developing the city as a destination for the growing number of international tournaments.
Industry Events: A Starting Place to Learn More
There are many different events and conferences to consider keeping an eye on if you want to learn more about trends in esports and video games. This list includes some of the major ones in order of when they occur throughout the year:
CES: Video games and related products are just a part of the Consumer Electronics Show, but this is another place to see the latest products from some of the biggest companies in the industry. CES typically takes place in early January in the U.S.
GDC: The 2018 Game Developers Conference takes place in the U.S. in mid to late-March. The event brings together industry professionals to "exchange ideas and shape the future of the industry."
E3: The Electronic Entertainment Expo is the major trade event for the video game industry that takes place in the U.S. and it's usually held in early to mid-June. New hardware, technology and games are showcased by some of the biggest companies in the industry.
gamescom: This is the biggest video game trade event in Europe and typically takes place in mid-August in Germany. Last year's event had 919 companies from 54 countries presenting their latest games, software and accessories, according to gamescom.
Tokyo Game Show: Also known as TGS, it is one of the largest gaming events in Asia, typically held in mid to late-September. Japanese video games are the main focus, but over the years there have been a growing number of international exhibitors presenting hardware and games.
BlizzCon: This video game convention is held by Blizzard Entertainment, part of Activision Blizzard, Inc. (NASDAQ: ATVI). The event takes place in the U.S., usually in early November, and it promotes Blizzard's different gaming franchises. The event also brings together its gaming community for tournaments.
A Lot of Big Companies Are Involved in Gaming and Esports
If you're optimistic about potential investment opportunities for esports and gaming in general, you may want to spend some time doing your research.
There are the obvious companies that are directly involved and generate almost all of their revenue from gaming:
Activision Blizzard, Inc. (NASDAQ: ATVI)
Electronic Arts Inc (NASDAQ: EA)
Nintendo Co., Ltd (ADR) (OTCMKTS:NTDOY)
TAKE-TWO INTERACTIVE SOFTWARE INC (NASDAQ: TTWO)
You may also want to look into major companies that are involved in gaming to some degree, or that offer gaming-related products:
Advance Micro Devices, Inc. (NASDAQ: AMD)
Alphabet Inc (NASDAQ: GOOGL)
Amazon.com, Inc. (NASDAQ: AMZN)
Apple Inc (NASDAQ: AAPL)
Microsoft Corporation (NASDAQ: MSFT)
NVIDIA Corporation (NASDAQ: NVDA)
Sony Corp (ADR) (NYSE: SNE)
Tencent Holdings Ltd (OCTMKTS:TCEHY)
This is by no means an exhaustive list, but intended to highlight some of the many companies involved in the industry that could serve as starting points for your research. As you identify companies that meet your investment criteria, be sure to consider your risk tolerance. Along with the broader market, a lot of these companies are trading close to all-time highs, so it might be prudent to tread cautiously.
TDAInformation from TDA is not intended to be investment advice or construed as a recommendation or endorsement of any particular investment or investment strategy, and is for illustrative purposes only. Be sure to understand all risks involved with each strategy, including commission costs, before attempting to place any trade.
Posted-In: TD Ameritrade The Ticker TapeEducation Markets Tech General
View Comments and Join the Discussion!