Women's Wealth Gap: Some Solutions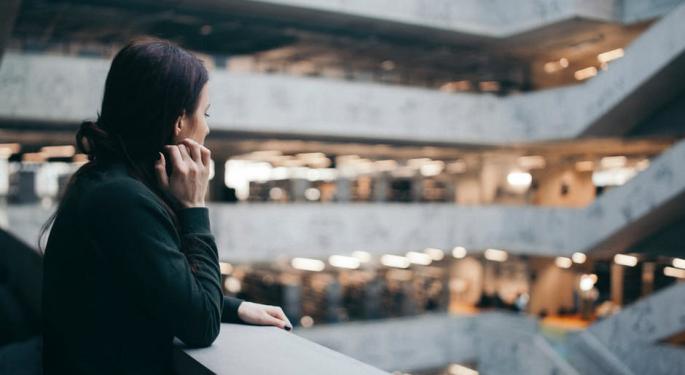 Benzinga is proud to introduce the Benzinga Women's Wealth Forum, a space where women can learn how to empower themselves through financial technology and be inspired by the stories of powerful women in finance.
This is the fifth in a series of articles that describe the extent of women's wealth gap, why it matters, and what companies can do about it. Click the following links to read part 1, part 2, part 3, part 4 and part 5.
While some of the solutions to the problem of women's wealth gap require policy changes on a national level that are beyond the scope of any one employer, there are actions that individual companies can take to close the gap. These include hiring and payment practices as well as benefit offerings.
Ensure Pay Equity
A good place to start is simply conducting an internal analysis to determine whether a pay inequity problem exists. To date, only 6 states (Alabama, Mississippi, North Carolina, South Carolina, Utah, and Wisconsin as well as the District of Columbia) have failed to pass legislation mandating equal pay for equal work. And even those states have general 'no discrimination' laws. Despite the rollback of the federal requirement for large companies to report salary data by gender and race, more state and local governments are passing pay equity laws that require contractors to either provide data or certify that male and female employees are paid equally. And as more employees at all levels use sites such as Payscale and Glassdoor to research salaries in preparation for negotiation, it's becoming harder to keep this information secret. Millennial employees in particular expect pay equity, and aren't afraid to talk about it. Not only do employees expect equity, so do customers. More importantly, so do shareholders.
Encourage More Women To Apply For Middle-skill Roles
The Institute for Women's Policy Research recommends that women in low income, dead-end jobs look to move into middle-skill level jobs that don't require a 4-year college education, in fields such as construction, manufacturing, information technology, and transportation/logistics. While they may require some additional training beyond a high school diploma, these jobs typically have high projected job openings with only 3% of women currently filling positions, and offer a median annual income of $35,000. Gender integration of these 'good jobs' could both reduce skill shortages and improve women's economic security at the same time.
Stop asking for salary history during the application process
Because women and especially women of color are already likely to be undercompensated, asking for previous salary as a basis for determining compensation in a new position perpetuates wage inequality and discrimination from job to job. A woman's previous salary may have no relationship to the skills, knowledge, experience, or abilities she brings to a new role. And, while asking about salary history is not generally illegal in and of itself, it can create the foundation for a claim of discrimination, if an applicant's previous salary is used to perpetuate previous pay discrimination. Although the legal landscape is still evolving, the Equal Employment Opportunity Commission, several federal courts, and an increasing number of cities and states are prohibiting employers from basing compensation on an employee's salary history.
Provide Workplace Flexibility Without Penalty
With advances in technology, most people can be connected to their jobs and work productively, even as part of a team, anytime and from anywhere. Successful companies are offering workplace flexibility as a way for all employees to have better work/life balance. Instead of penalizing individuals, especially parents, for choosing flexible work options, savvy companies will allow movement among different work styles over the course of an employee's career. Having employees fully engaged in part-time work for a period of time is better than their remaining full-time while being distracted at work, or leaving the job altogether, especially considering the associated costs of turnover in upper level positions. And workplace flexibility is one of the most attractive benefits companies can offer for hiring and retaining top employees—female or male.
Offer Financial Wellness As An Employee Benefit
More companies are offering financial wellness programs as part of a total wellness benefit. According to Aon Hewitt's most recent annual survey, employees' financial well-being beyond just retirement is the top HR initiative for the third year in a row. Seventy-two percent of employers reported committing to creating or implementing their strategy in 2017. Because women's financial needs, level of financial literacy and confidence, and available resources are likely to differ from male employees', a one-size-fits-approach to financial wellness is not likely to be effective. Personalized education combined with some form of coaching has been shown to be the most effective approach to changing financial behaviors.
Women's economic opportunity should not be restricted on the basis of gender. Helping women close the wealth gap isn't just the right thing to do; it's also good for business. A failure to address existing gender discrimination will continue to disadvantage half the population and put American businesses and the US economy at risk. As Apple CEO Tim Cook observed in a recent interview:
"I think the U.S. will lose its leadership in technology if this doesn't change. Women are such an important part of the workforce. If STEM-related fields continue to have this low representation of women, then there just will not be enough innovation in the United States. That's just the simple fact of it."
Lack of innovation is not limited to STEM-related fields. Providing equitable pay, along with the resources and tools women need to achieve financial wellness, can help reverse the 'brain drain' of talented women from the workforce generally and benefit a company's bottom line.
To hear from traders, financial experts or authors like Martha Menard, be sure to grab a ticket to the Benzinga Women's Wealth Forum March 21.
Posted-In: Benzinga Women's Wealth Forum Women's Wealth GapEducation Personal Finance General
View Comments and Join the Discussion!