Women's Wealth Gap: The Income Gap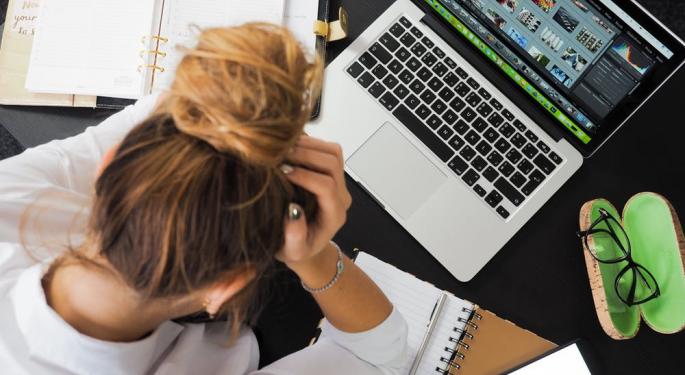 Benzinga is proud to introduce the Benzinga Women's Wealth Forum, a space where women can learn how to empower themselves through financial technology and be inspired by the stories of powerful women in finance.
This is the second of a series of articles that describe the extent of women's wealth gap, why it matters, and what companies can do about it. To read the first part, click here.
One of the most persistent obstacles women face in achieving financial security is the income gap. The work that women do is still not valued equally compared to the same work performed by men. Over 50 years after the Equal Pay Act of 1963 and Title VII of the Civil Rights Act of 1964 made wage discrimination illegal, an earnings gap for women remains in effect.
In spite of increased levels of education, women in 2016 were still paid only 80.5 cents for every dollar paid to men, a meager improvement over the 79.6 cents observed in 2015. The .9 cent increase is the first statistically significant increase since 2007.1 The American Association of University Women estimates that at the current glacial rate, women will not reach income parity for more than a hundred years, until 2119. Women of color face an even larger income gap. In 2016, black women earned 63 cents to the dollar and Hispanic women earned only 54 cents.
The income gap continues to persist for multiple reasons. These include the devaluation of work when it is performed by women, the unpaid work of caring, and the penalties incurred from salary history bias. The consequences for women's financial security are enormous. The income gap translates into an estimated loss of $418,800 in lifetime income over a 40-year period, according to the National Women's Law Center.
Looking at this gap another way, the typical woman needs to work an additional 10 years more than a man to reach the same level of accumulated income. The situation is even worse for women of color. Over a 40-year career, black women typically lose $840,040, Native American women typically lose $934,240, and Latinas typically lose more than $1 million compared to white, non-Hispanic men. To close these lifetime wage gaps, black women would have to work 23 years longer, Native American women would have to work 29 years longer, and Latinas would have to work 34 years longer. In other words, black, Native American, and Latina women could conceivably have to delay retirement beyond their life expectancy.
In the next article in this series, I'll discuss in more depth the factors that contribute to women's wealth gap.
Click here to continue on to part three. And to hear from authors like Martha Menard, be sure to grab a ticket to the Benzinga Women's Wealth Forum March 21.
Posted-In: Benzinga Women's Wealth Forum Women's Wealth GapEducation Topics General
View Comments and Join the Discussion!