Women's Wealth Gap: Why Everyone, Especially Employers Should Be Concerned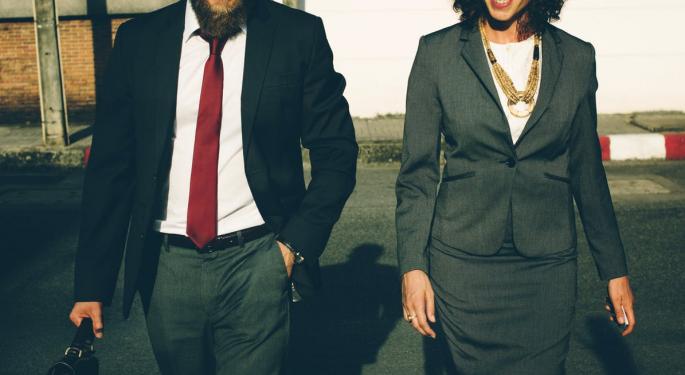 Benzinga is proud to introduce the Benzinga Women's Wealth Forum, a space where women can learn how to empower themselves through financial technology and be inspired by the stories of powerful women in finance.
This is the fifth in a series of articles that describe the extent of women's wealth gap, why it matters, and what companies can do about it. Click the following links to read part 1, part 2, part 3 or part 4.
While every woman should understandably be concerned about her own likely wealth gap, every business owner or CEO should be too. Women's participation in the workforce is gradually falling, from approximately 60 percent in 1999 to 58.6 percent in 2010, and it is projected to drop even further, to 57.1 percent in 2020, according to the US Bureau of Labor.
Woman Workforce
A 2017 study released by the Pew Research Center projects that the female share of the labor force will slow to 47.1 percent in 2025 and then taper off to 46.3 percent by 2060. While overall participation trends for both men and women are showing a decline, women's lack of participation is a particular cause for concern.
Many economists believe that improvements in the nation's standard of living depend on labor force participation to drive productivity. The rapid increase in the numbers of women entering the labor force between 1950 and 2000 also correlated with increased American living standards, as measured by gross domestic product (GDP) per person. The decline in female participation since 2000 has worked to the opposite effect, depressing U.S. economic growth. If more women remained in the workforce and achieved economic parity by the year 2025, they could add $4.3 trillion dollars to the country's GDP.
The Boss Of It All
At the same time that women are leaving the workforce, the US is facing a widening skills gap and labor shortage. Employers in industries with large numbers of middle skill jobs, such as health care, mechanical maintenance and repair, construction trades, and transportation/logistics, could especially benefit, as these industries face a growing shortage of skilled workers and many employers are having a hard time filling open positions. The Institute for Women's Policy Research recommends that efforts to recruit more women to fill these jobs could help both women seeking better-paying jobs and employers seeking to fill them.
In higher level and managerial roles, the value of gender diversity that women bring lies in their different perspective, emotional intelligence and empathy, listening skills, ability to quickly synthesize different perspectives, and a collaborative work style that promotes teamwork. These skills, particularly empathy, are increasingly valuable in an era where women make 85 percent of brand purchase decisions. Women generally have an edge when it comes to product innovation and human centered design, where empathy is critical to success, according to digital product designer Daniel McKenzie:
Empathy and the human connection is so fundamental to understanding our audience that without it, no amount of analysis, documentation, engineering or management will save us...In the world of business and design, the ability to acutely recognize areas of pleasure or friction could be the difference between a successful product and a bomb." Emotional intelligence and working well as part of a team are especially useful skills in today's complex technology and business environments.
Imbalanced Balances
Research also documents that companies with larger numbers of women in senior management positions are more profitable. In a widely-publicized 2016 study that surveyed 22,000 firms globally, the authors found that lack of gender diversity hurt a company's bottom line, while companies with more women in senior roles were associated with a one-percentage-point increase over the average net margin of 6.4 percent, and were typically 15percent more profitable. In an article for the Harvard Business Review, the authors explain why:
We believe that there are at least two channels through which more female senior leaders could contribute to superior firm performance: increased skill diversity within top management, which increases effectiveness in monitoring staff performance, and less gender discrimination throughout the management ranks, which helps to recruit, promote, and retain talent. Because gender-biased firms do not reward employees with responsibilities commensurate with their talent, they lose out to rivals that do not discriminate.
A recent Gartner report estimates that the longer a company waits to close the gender gap, the more they stand to lose financially. Companies with more gender diversity in senior leadership roles showed a 27 percent higher return on equity (ROE) and a 42 percent higher ratio of dividend payments. Fortune 1000 companies with female CEOs also outperformed the common benchmark of S&P 500 companies, with a 103.4 percent average return compared to only 69.5 percent over the same time period.
If it's in their own best financial interest when companies act to close the wealth gap, then what's taking so long? Steps that companies can take will be suggested in the next and final article of this series.
To hear from traders, financial experts or authors like Martha Menard, be sure to grab a ticket to the Benzinga Women's Wealth Forum March 21.
Click here to continue on to part six. And To hear from traders, financial experts or authors like Martha Menard, be sure to grab a ticket to the Benzinga Women's Wealth Forum March 21.
Posted-In: Benzinga Women's Wealth Forum Women's Wealth GapEducation Personal Finance General Best of Benzinga
View Comments and Join the Discussion!