The Dilemma Of CNBC's Courtney Reagan: Dinner Or Sleep?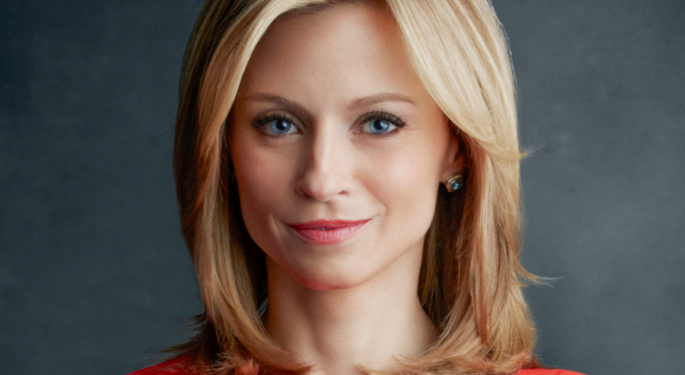 CNBC's Courtney Reagan keeps her sanity through a well-organized Google Drive.
"I am a person actually that loves routine, but I've chosen the wrong job if that's what I love," the retail reporter told Benzinga.
A Day In The Busy Business Life
To call her schedule "irregular" would be an understatement.
Some days start at 6 a.m., but on the afternoon of Benzinga's interview, she was preparing to dash home for bed before a 2 a.m. wakeup. The next day, she'd get to her desk at 3 a.m. for a 5 a.m. appearance on "Worldwide Exchange."
"Literally as soon as we're done with this phone call I'm running home," she said. "Maybe I'll eat, maybe I won't. Sometimes I have to make that call — dinner or should I just go right to bed?"
Ever on-the-go, Reagan fuels twice a day at the CNBC cafeteria ("the hottest meal in town for me") and snacks at her desk. This sustains her through a mileage-amassing trek bringing her between Nasdaq, the Englewood Cliffs studio, 30 Rockefeller and peripheral sites.
"We're presumably available for any and all of the shows between 5 a.m. and 6 p.m. for a variety of locations," she said. "...It's a lot of running around. I usually have on gym shoes that you can't see under my dress or suit because it's frankly just easier to commute in and walk up and down our stairs than wearing high heels."
The demands make for 10- to 12-hour days, which can be undoubtedly difficult.
"It definitely wears on you, but we do our best to be available for everyone," said Reagan, who even received a marriage proposal from now-husband Jared Baker on live television.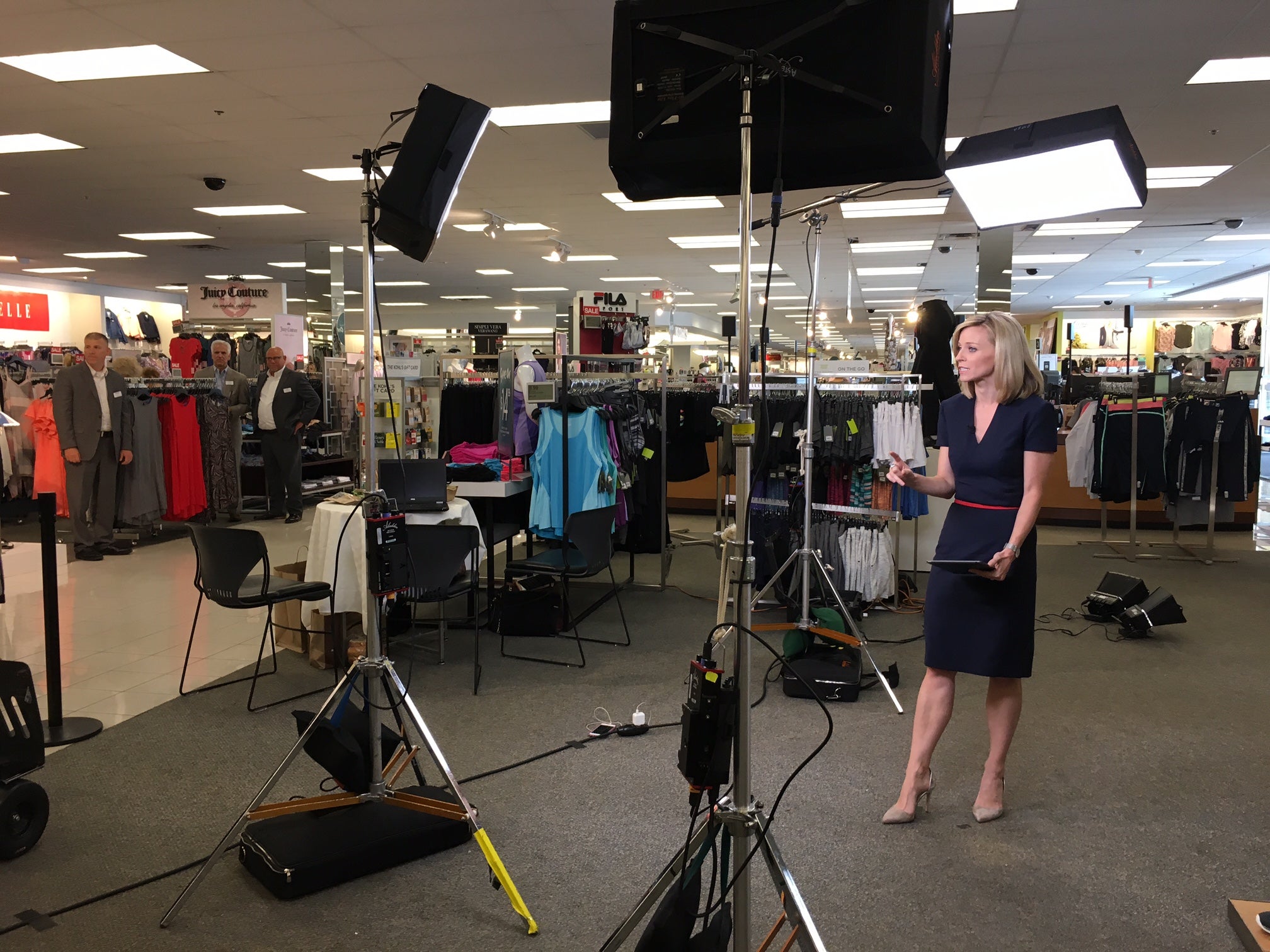 Photo courtesy of CNBC.
Things Have Been Easier
It doesn't help that the retail year's lost its cyclical groove. The industry used to see heavy fourth quarters and lighter summers, but that isn't really the case anymore.
"Now it's not quiet at all ever," Reagan said. "I never feel like it slows down. I love news, but sometimes it would be nice to not feel so anxious when you get up to go to the cafeteria because you're so afraid you're going to miss something."
Life hasn't always been this way, and it won't always be this way. Retail just happens to be in vogue.
"I think there was a period in time when a tech reporter was just hardly sleeping at all," Reagan said.
How Else The Gig Has Changed
Industry aside, Reagan's position has certainly changed in the six years she's covered retail.
The way she communicates has morphed from traditional storytelling to looser, more discussion-based reporting. She has also been expected to specialize and to become an expert in retail content, which nowadays also requires expertise in intersecting sectors.
Being a retail reporter isn't just about product sales and brand rivalries. Retail reporters are also tech reporters, concerned with the rise of AI and internet standards. They're political reporters covering the trade implications of NAFTA renegotiations and tax reform.
More research, more reporting, and more dinner-less nights.
Spencer White contributed to this article.
Related Links:
Keeping Up With Fast Money: A Day In The Life Of CNBC's Melissa Lee
A Chat With CNBC's Ever-Active Polymath Michelle Caruso-Cabrera
Posted-In: A Day In The Life CNBCEducation Top Stories Exclusives Media Interview General Best of Benzinga
View Comments and Join the Discussion!