Poet Laureate Of Corporate America On The Role Of Art In Business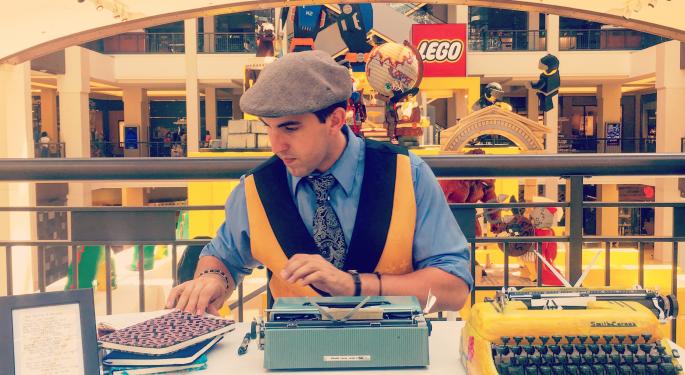 Somewhere in the midwest, Brian Sonia-Wallace rides an Amtrak — an antiquated experience suitable for an artist of a dying breed. Typewriter in tow, he's documenting, in poetry, the lives of characters encountered.
Sonia-Wallace won Amtrak's writer-in-residence contract in 2016 and officially began his sponsored travel last week, after having finally found a "journey worth going on." Two June events beckoned him to the midwest: this week's Mall of America residency, and a subsequent gig in a secret poetry tent — he imagines patrons enter through a hidden refrigerator — at Michigan's Electric Forest music festival.
Poet-For-Hire
Corporate America has taken notice of this poet-for-hire, whose previous contracts include Dollar Shave Club, Wedgewood Real Estate LLC, Alphabet Inc (NASDAQ: GOOGL) and an investment banking conference. He'd like to penetrate other sectors, but not everyone is sold on the arts investment.
"I'm getting a lot of people reaching out to me now, which is great, but it's still something that I kind of have to paint the picture for people of how this fits into what they're doing," Sonia-Wallace said.
Essentially, he infuses the cold world of business with the warmth of humanity.
"In a capitalist society, where the bottom line and creating value for shareholders is god, how do we bring empathy back in? How do we bring that human side back in?" he said. "I think that's so it."
See Also: 5 Books Bill Gates Wants You To Read This Summer
Avenues For Arts Infusion
The rise of marketing and sales proves a promising opportunity for the arts to penetrate the standard business model.
"It's about desire, it's about empathy, it's about how do you understand people and get them kind of on your side, and right now, we're doing that in service to selling stuff," Sonia-Wallace said. "I'm interested in how all of those marketing and sales jobs can start turning into theater and poetry and dance. They're really I think one step removed, and it's just about taking that extra step."
Millennial demands are giving it the extra push. The generation's cynicism toward advertising has required more subtle approaches to brand promotion, such as Chipotle Mexican Grill, Inc. (NYSE: CMG)'s emotional, Pixar-esque short films marked by nothing but a closing logo. Amtrak similarly developed its writer-in-residence program as a way to expose its services to different audiences, spokesperson Kimberly Woods said.
"I think companies are getting wise to this idea that, in an age where we're so saturated with advertising, people are going to respond to adding human value to their lives and then appreciate it if you're a corporate entity that sponsored that, rather than needing to be hit over the head with, 'Doritos! Doritos! Buy Doritos!'" Sonia-Wallace said.
Related Link: How One Detroit Artist Overcame Stuttering To Go On A Beatboxing Quest
At the same time, companies can capitalize on the various emotional experiences individuals associate with their brands.
The poet recalled a Google engineer who detailed a post-breakup ex-sighting in Chipotle. "Heartbreak in Chipotle" was the poem's theme.
"Our lives are so mediated by brands and by commercial spaces, and this is one of the things I'm really interested in exploring in the Mall, is how our human stories happen with this as a backdrop," Sonia-Wallace said. "For him, it's not just heartbreak. It's a very specific kind of heartbreak. It's heartbreak and Chipotle, and how is the burrito a metaphor for your broken heart at that moment. There's just something awesome about that."
Outside of marketing strategies, he imagines art's capacity to enhance communication or corporate records. Perhaps capture the emotion and full experience of a meeting with lyrical minutes.
The Psycho-Social Reprieve
Sonia-Wallace has also found a place for art in intra-office maintenance.
Many tech organizations, for example, offer artist residency programs or culinary experts to foster Google- or Facebook Inc (NASDAQ: FB)-like community cultures.
"How do you create a community, so rather than just having co-workers, you have people who are working together on a deeper level?" he said. "One of the most amazing things or touching things that happens when I'm doing live writing for folks is often I'll be writing about stuff that's very personal to them, and I'll see them go and share that with their co-workers. So it becomes this really interesting kind of icebreaker where there is someone else there to kind of facilitate you in talking about what's actually important to you and in connecting."
His shifts have also doubled as psychological or socioemotional services for corporate employees. After all, "artists are just budget therapists," he said. But rather than asking clients about their deepest, darkest problems, he just asks what they want to express in poetry and tries to capture that feeling.
"You ask people kind of what they want, but you also have a sense of what they need, and so there is a little bit of that fortune-teller, crystal-ball gazer feeling of, 'You've asked for a poem about this, but it seems like what you really are asking for is this,'" he said. "It seems that what you really need is this kind of feel."
Not only that, but he can prompt personal exploration of priorities, of what makes life fulfilling beyond the paycheck, of the satisfying balance of work and play.
"Some of those deeper questions that are really kind of vital to having people who are functioning in the corporate world that we're addressing kind of piecemeal," Sonia-Wallace said. "So I think the arts can be a way of bringing those front and center and really prioritizing them and finding a different way to do that."
Posted-In: arts Brian Sonia-WallaceMovers & Shakers Psychology Top Stories Exclusives Interview General Best of Benzinga
View Comments and Join the Discussion!