How Does Canada Goose Compare To '80s Fashion Stalwart Triple F.A.T. Goose?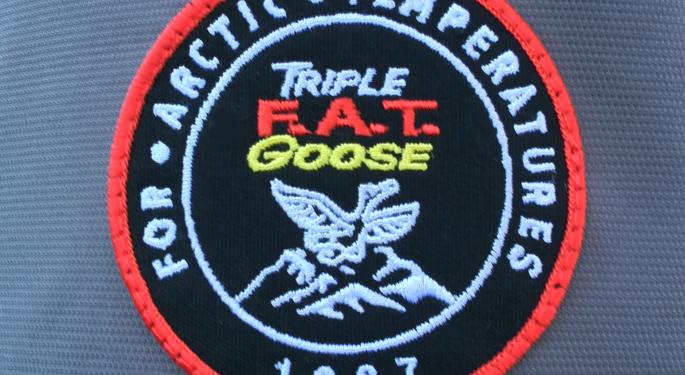 For an older generation of investors, recent IPO Canada Goose Holdings Inc. Subordinate Voting Shares (NYSE: GOOS) may be bringing back memories from way back in the 1980s. Why? Because rival clothing retailer Triple F.A.T. Goose was one of the top fashion brands of the decade. In fact, was named one of the 80 greatest '80s fashion trends by Complex back in 2012.
In fact, the superficial similarities between Canada Goose and Triple F.A.T. Goose go beyond the simple name. Both companies specialize in jackets. Triple F.A.T. Goose's Triple Fat Goose Down Jacket was recently named one of the 20 coolest jacket styles in hip hop history. NYMag.com named Canada Goose's jackets the hottest winter coat of 2015.
Using Animal Pelts And Feathers Ruffles PETA
Of course, for better or worse, the word "goose" is no coincidence. Both Canada Goose and Triple F.A.T. Goose use real goose down as insulation in their clothing. Although Canada Goose has taken a lot of heat in recent months due to its use of real coyote fur, People for the Ethical Treatment of Animals has also criticized the company for use of goose down as well.
"Ducks and geese suffer as well," the PETA website reads. "Those used for the down stuffer into Canada Goose jackets are violently killed for both their feathers and meat, and some even have their throats slit while they're still conscious and able to feel pain."
Triple F.A.T. Still A Triple Threat?
While there's no question that Triple F.A.T. Goose has forever cemented a place in fashion history, the iconic brand has also recently made a comeback push in the retail world as well. The Triple F.A.T. Goose brand was retired in the 1990s, but CEO James Chung said the company recently decided to rekindle the brand due to overwhelming customer demand.
"The great thing is a lot of people remember the brand and have stories that bring smiles to their faces," Chung said in a 2015 interview.
In fact, a quick glance at Triple F.A.T. Goose's website reveals just how remarkably similar its modern styles of winter coats are to Canada Goose's popular styles.
Of course, one major difference between the two retailers is price. Triple F.A.T. Goose's popular styles range in price from around $350 to nearly $600, making Canada Goose's luxury offerings roughly twice as expensive.
Related Links:
PETA Buys Canada Goose Stock, Plans To Push For An End To Use Of Real Fur
March Malls: Urban Outfitters Vs. Victoria's Secret Vs. Old Navy
_______
Image Credit: By Imidamate (Own work) [CC BY-SA 4.0 (http://creativecommons.org/licenses/by-sa/4.0)], via Wikimedia Commons
View Comments and Join the Discussion!
Posted-In: Complex PETA Triple F.A.T. GooseEducation Topics Top Stories Trading Ideas General Best of Benzinga