Prison Stocks Spike After DoJ Reverses Obama's Decision On Private Prisions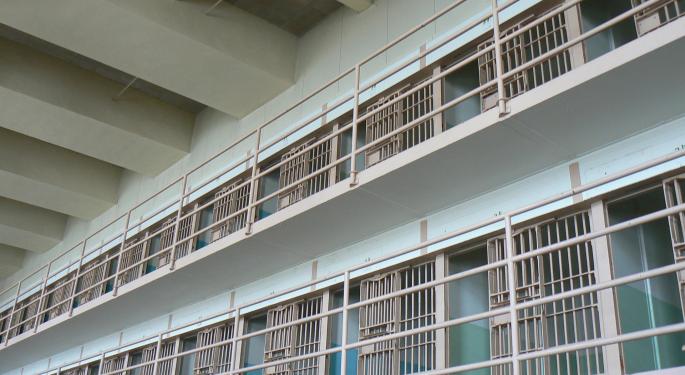 Corecivic Inc (NYSE: CXW) and The GEO Group Inc (NYSE: GEO) spiked higher in Thursday's after-hours session.
Attorney General Jeff Sessions reversed the Obama-era Department of Justice efforts to reduce use of private prisons. Sessions memo says the Obama policy "impaired the Bureau's ability to meet the future needs of the federal correctional system."
BREAKING: Attorney General Jeff Sessions reverses Obama era DOJ efforts to reduce use of private prisons. pic.twitter.com/kgu7KhfyYC

— Paula Reid (@PaulaReidCBS) February 23, 2017
In a note earlier this week, Deutsche Bank analysts said they believe the Trump administration's focus on immigration would benefit the private prison industry. Their preference of CoreCivic over Geo Group is due to the higher exposure of the former (28 percent compared to 23 percent for the latter) to ICE.
Deutsche Bank is of the view that CoreCivic's fourth-quarter earnings beat was primarily due to higher than expected occupancy at ICE facilities even before President Trump was inaugurated. The firm noted there is potential for higher occupancy rates in ICE facilities due to Trump administration's policies.
CoreCivic closed at $34.75 and traded up about $0.75 in the after-hours session, while GEO Group closed at $47.47 and was up about $0.63.
In a statement to Benzinga, GEO Group said:
"Our company welcomes the memorandum by the Attorney General reinstating the continued use of privately operated facilities, which has been long-standing practice and policy at the Federal level. We believe that the decision made last August was based on a misrepresentation of the report issued by the Department of Justice, Office of Inspector General.
The OIG report actually demonstrated that privately run facilities are at least as equally safe, secure, and humane as publicly run facilities and often more so. Furthermore, the OIG found that privately operated facilities experienced lower rates of inmate deaths, lower rates of guilty findings of inmate on inmate sexual assault, lower rates of allegations of staff against inmate sexual assault, lower rates of positive drug tests, and lower rates of inmate grievances.
We are proud of our long-standing partnership with the Federal Bureau of Prisons and our strong record of providing safe, secure, and humane care to the men and women entrusted to us. We believe that we are at our best as a company when helping those entrusted to our care re-enter society as productive and employable citizens."
A spokesperson for CoreCivic also released a statement:
The Attorney General's announcement validates our position that the Department's previous direction was not reflective of the high quality services we have provided to the federal government for decades.
We look forward to continuing to serve our federal government partners by helping them address our country's most pressing correctional challenges.
View Comments and Join the Discussion!
Posted-In: Barack Obama Donald TrumpNews Politics Exclusives After-Hours Center Movers General Best of Benzinga