Stocks That Could Graduate To Big Gains On Betsy DeVos' Confirmation As Education Secretary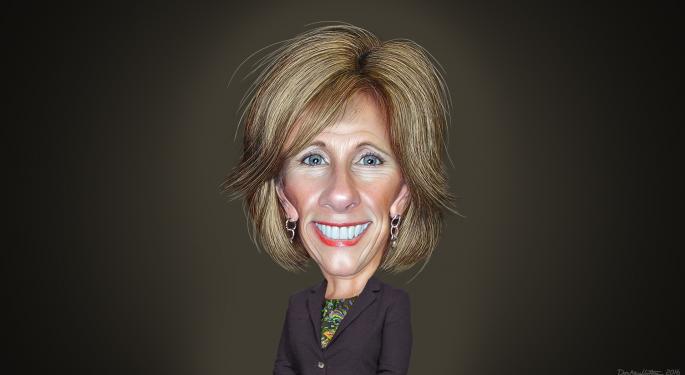 Just as President Donald Trump and his policies are creating a ruckus, so are his nominations for his cabinet. Billionaire and noted political campaign contributor Betsy DeVos has been confirmed as the 11th U.S. Secretary of Education but not before a considerable amount of drama.
After Trump announced in November last that he would nominate DeVos for the post, her nomination was approved by the Senate Committee on Health, Education, Labor and Pensions. Her nomination was subsequently sent to the Senate Floor and it required Vice President Mike Pence's vote to break a 50–50 deadlock, the first time a vice president had to step in for a cabinet nomination.
Role Of Secretary Of Education
Before looking at the controversies behind the confirmation and its ramifications, it may be worthwhile to know what the role and responsibilities are of a Secretary of Education.
The U.S. Secretary of Education is the head of the U.S. Education Department. The role calls for advising the president on federal policies, programs and activities related to education. The secretary is assisted in her role by an advisory committee called the National Advisory Committee on Institutional Quality and Integrity, which advises him/her on matters related to accreditation and eligibility and certification process for institutions of higher education.
The DeVos Drama
There was stiff opposition among the lawmakers to DeVos' nomination, as she has no prior experience with public schools. She is seen as a supporter of charter schools. She has also been championing the cause of virtual schools. The Democrats were hellbent on opposing her nomination and were engaged in a 24-hour debate in the Senate over the nomination.
The Michigan Democratic Party cautioned against her, highlighting the point that she opposed the public school system and its teachers for the sake of profits of investors in charter schools.
When questioned on the poor performance of virtual schools, DeVos said in a written reply that high quality charter schools provide valuable options to families, especially those living in rural areas.
Misleading Data
The four-year cohort graduation rate touted by DeVos was termed as erroneous and was supposedly pulled out of the website of K12 Inc. (NYSE: LRN), a for-profit company, which manages the virtual schools DeVos listed. The rate is the number of students who graduate in four years with a regular high school diploma divided by the number of students who form the adjusted cohort for the graduating class.
Responding to the allegation, K12 had said the four-year cohort graduation rate it calculates takes into account only those who are enrolled in the ninth grade and remained enrolled until the 12th grade. Thus, it ignores all students who transfer out or drop out and therefore is a misleading number.
Stocks That Could Trade Up Following The Confirmation
K12.
Pearson PLC (ADR) (NYSE: PSO), which runs Connections Academy and Advanced Academics.

Image Credit: By DonkeyHotey - Betsy DeVos - Caricature, CC BY-SA 2.0, via Wikimedia Commons
Posted-In: Betsy DeVos Donald TrumpEducation Politics Top Stories Trading Ideas General Best of Benzinga
View Comments and Join the Discussion!