Here's What Alibaba's Recent Acquisitions Suggest About The Future Of The Economy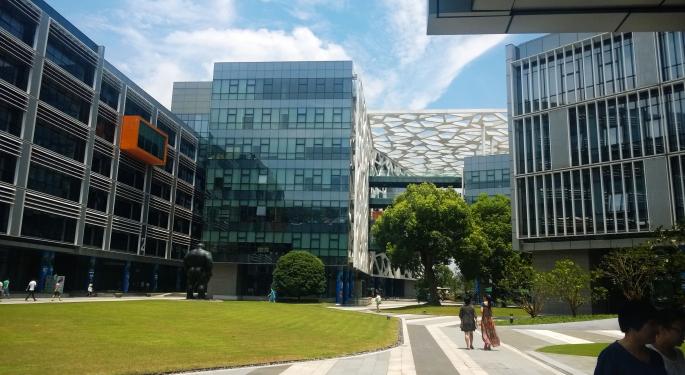 Alibaba Group Holding Ltd (NYSE: BABA) has been in the news recently, thanks to its stellar December quarter results. The third-quarter results revealed that it has a cash hoard, with $4.9 billion in non-GAAP free cash flow and $5.4 billion in operating cash flow.
The rich cash flow position keeps the company on track to pursue growth opportunities, including acquisitions. A peek at the its recent history shows that the company has been a fan of inorganic growth or growth via acquisitions.
Timeline Of Recent Acquisitions
January 2015: Alibaba bought into online marketing company AdChina.
February 2015: Alibaba announces acquisition of a $590 million minority stake in the Chinese smartphone maker Meizu.
April 2015: Alibaba clinched a deal to buy cinema-ticketing software provider Yueke Software for $134 million.
October 2015: Alibaba announced its intention to enter the video market through its planned buy of Youku Tudou for $3.5 billion. The target company is akin to Alphabet Inc (NASDAQ: GOOG) (NASDAQ: GOOGL)'s YouTube.
December 2015: Alibaba bought South China Morning Post and other media assets of SCMP Group. The same month, Alibaba bought 33 million shares of Groupon Inc (NASDAQ: GRPN), corresponding to 5.6 percent stake.
March 2016: Alibaba struck a deal to buy Hong Kong's AGTech Holdings for $308 million in a bid to get back to the lottery business. It was forced to wind up its lottery business in 2015, forced by government restrictions.
April 2016: Alibaba inked a deal to buy Lazada, an e-commerce platform in Southeast Asia, for $1 billion. This is seen as a move to reduce its over-reliance on the domestic market, with the company's founder and chairman Jack Ma articulating the resolve to get at least one-half of its revenues from overseas.
July 2016: Alibaba acquired Android app store Wandoujia, with reports estimating the deal value at $200 million.
November 2016: Alibaba's Lazard subsidiary negotiated a $30 million to $40 million deal to buy Singapore-based RedMart. The union was supposed to beef up its position in Singapore ahead of Amazon.com, Inc. (NASDAQ: AMZN) launching its Prime e-commerce service and grocery deliveries here.

January 11, 2017: Alibaba along with the founder of Chinese department store and mall operator Intime announced an agreement to buy it for 2.4 billion euros, with the deal financed through internal cash and external debt financing. Alibaba already has a 27.82 percent stake in Intime, while Intime's founder Shen Guo Jun owns 9.17 percent stake.
What You Can Glean From This Acquisition History
Going by these acquisitions, it is apparent that a mere one-trick pony cannot survive for long in the current competitive landscape. Companies that sense opportunities in integration (vertical/horizontal) or diversification into lucrative avenues and grab them with both hands are likely to emerge as standout performers.
Alibaba had gone about a buying binge in 2014 surrounding its U.S. listing. At that time, the quest was for investing heavily in mobile, a key emerging growth area for the company.
In China, the wide array of acquisitions Alibaba had made make it a sine-qua-none for an average Chinese resident. Not content with its dominant online presence, the company had forayed into brick-and-mortar store operations with its Lazada buy, giving choices to customers. The global economy is evolving as a consumer-centric one, with customers driving companies to adapt and change to their taste, convenience and preferences.
Entertainment is another area raking in money for Alibaba. The recent quarterly results revealed that revenues from this business rose 273 percent, although accounting for a mere 8 percent of the total revenues. In February 2016, Alibaba picked up a 4 percent stake in South Korea's S.M. Entertainment, which boasts of artists such as EXO and Girl's Generation. The South China Morning Post buy marks the company's entry into traditional media. The company has also made a splash in the social networking space.
Alibaba's success with all these bloating up reflects the success of tech-driven consumption. Consumer spending is beginning to drive growth in China, as the economy moves away from exports to domestic-demand driven.
Image Credit:By Danielinblue, designed by HASSELL (architects)[1] (Own work) [CC BY-SA 4.0], via Wikimedia Commons
View Comments and Join the Discussion!
Posted-In: M&A Education Emerging Markets Top Stories Markets Tech Trading Ideas General Best of Benzinga