The Verdict Is In: December Quarter Showings Place Alibaba Head And Shoulders Above eBay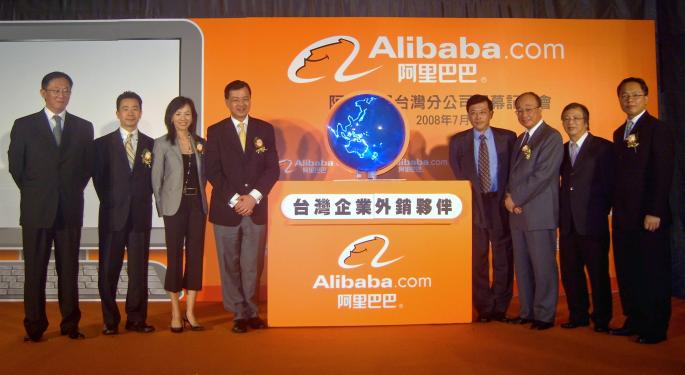 Online market places Alibaba Group Holding Ltd (NYSE: BABA) and eBay Inc (NASDAQ: EBAY) reported their December quarter financial scorecard this week. Investor reaction to both the earnings were similar, with Alibaba settling up over 3 percent at near a three-month high on Tuesday in reaction to the results, while eBay is indicated to open higher on Thursday, being up about 7 percent in pre-market trading.
Fundamentally, a look at the numbers show a chasm of difference, with the Chinese company coming up trumps against its U.S. peer. Alibaba reported double-digit growths on major numbers, but eBay scraped through to keep its 2016 numbers just ahead of the previous year's figures. That settles the question of superiority at least for now. Alibaba, the Chinese e-commerce juggernaut, takes the crown, as its U.S. rival has a lot of catch up to do in terms of its financial performance.
EBay's Bottom Line Pales Before Alibaba
Alibaba reported third-quarter non-GAAP earnings of 9.02 yuan per share, up from 6.52 yuan per share in the year-ago quarter. This represents year-over-year growth of 38.3 percent. Non-GAAP income rose 36 percent to 22.49 billion yuan.
In comparison, eBay's fourth-quarter non-GAAP net income from continuing operations climbed to $0.54 per share from $0.50 per share last year, 8 percent year-over-year growth. Non-GAAP net income was almost flat at $601 million, suggesting that the increase in the earnings per share had come from a reduction in the number of outstanding shares.
Alibaba Boosts Revenues By One-Half Vs. eBay's Low-Single Digit Growth
The Chinese company's revenues were up 54 percent to 53.25 billion yuan or $7.70 billion from $34.54 billion yuan in the same period last year. Meanwhile, eBay saw 3 percent revenue growth to $2.40 billion.
Core e-commerce revenues accounting for 87 percent of Alibaba's total revenues rose 45 percent to 46.58 billion yuan. Digital media and entertainment turned in a stellar showing, accounting for 8 percent of the revenues and seeing revenue growth of 273 percent. Cloud Computing revenues jumped 115 percent and contributed to 3 percent of the revenues.
Alibaba said it had another record-breaking Singles' Day performance, with gross merchandise value of 120.7 billion routed through its Alipay. Mobile transactions accounted for 82 percent of the total.
Meanwhile, eBay's net transaction revenues rose 3 percent to $1.88 billion, with market place accounting for $1.6 billion of the revenues. The international segment contributed to 62 percent of the market place revenues. Total marketing services and other revenues were up 3 percent at $519 million.
Margin Growth Vs. Contraction
Operating margins of Alibaba rose to 39 percent from 36 percent but adjusted EBITDA margin slipped to 51 percent from 55 percent. Its U.S. peer reported non-GAAP operating margin of 31.9 percent, down from 34.4 percent last year.
Key Industry-Specific Metrics
Among the key metrics, for Alibaba, annual active buyers rose 9 percent to 443 million and monthly mobile active users, or MAUs, were up 25 percent to 493 million. The number of paying customers for its Cloud business swelled 100 percent to 765,000.
EBay's global active buyer number came in at 167 million by virtue of a 2 million addition in the fourth quarter. Gross merchandise volume was at $22.3 billion, up 2 percent on a reported basis.
Alibaba's Cash Flow Superiority
Alibaba had operating cash flow of $5.4 billion, notably higher than eBay's $620 million. Non-GAAP free cash flow of Alibaba stood at $4.9 billion, while eBay's free cash flow from continuing operations was at $484 million.
Going by eBay's showing versus its Chinese peer, Trump's America has a lot of work to do if it has to live up to his promise of "Making America Great Again." Until then Jack Ma can stay smug about the company he founded and has been shepherding successfully.
At Last Check
Alibaba shares were down 1.03 percent at $102.99.
Shares of eBay were up 5.34 percent at $31.84.
Image Credit: Rico Shen [CC BY-SA 4.0-3.0-2.5-2.0-1.0], via Wikimedia Commons
Posted-In: AliPayEarnings News Emerging Markets Markets Movers Tech Trading Ideas Best of Benzinga
View Comments and Join the Discussion!