High Tech Or Old School: Finding The Tools To Improve Your Financial Well-Being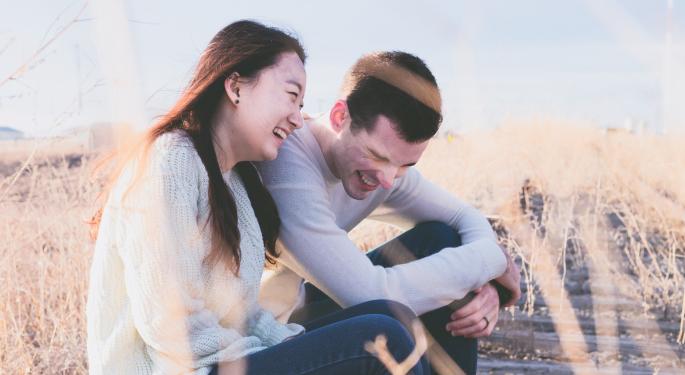 In a 2014 research paper released by the Academy of Financial Services on fiscal self-efficacy and financial stress, researchers linked a personal sense of financial helplessness with feelings of stress, negative emotion and, in some instances, depression. The perception of not having control of your budget or of not having a budget at all can manifest serious detrimental consequences in your life.
That is one of the many reasons why good financial planning and budgeting are essential to your future well-being, both monetarily and holistically. Because of this, you should take stock of what you know about financial planning and consider what steps you can take to make certain your life isn't overtaken by money worries.
Knowing The Facts
The Consumer Financial Protection Bureau conducted a 2015 survey asking consumers from different sexes, age ranges and cultural makeup what they viewed as the behavior, knowledge and personal traits of someone who possesses a good financial well-being. The paper defined financial well-being as such:

The study found that many people are aware of the common characteristics that can lead to financial well-being, like effective budgeting, knowing resources for financial information, living within one's means and using credit responsibly. Below is a chart from that study showing a general breakdown of how respondents viewed the circumstances and attitudes influenced an individual's financial well-being.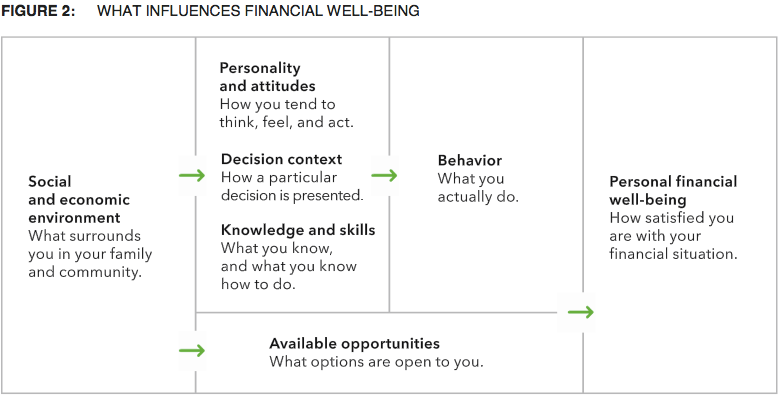 What the chart shows, and what the study also supported, was that knowledge of financial planning skills alone was not enough to produce financial harmony.
For one, various factors, such as age and personal circumstances, play a huge part in determining the scope of your financial goals. While younger participants in the study emphasized savings and the ability to afford non-essential purchases as hallmarks of financial well-being, older respondents were more focused on capitalizing on the resources available to maximize their financial decisions and avoid financial anxiety.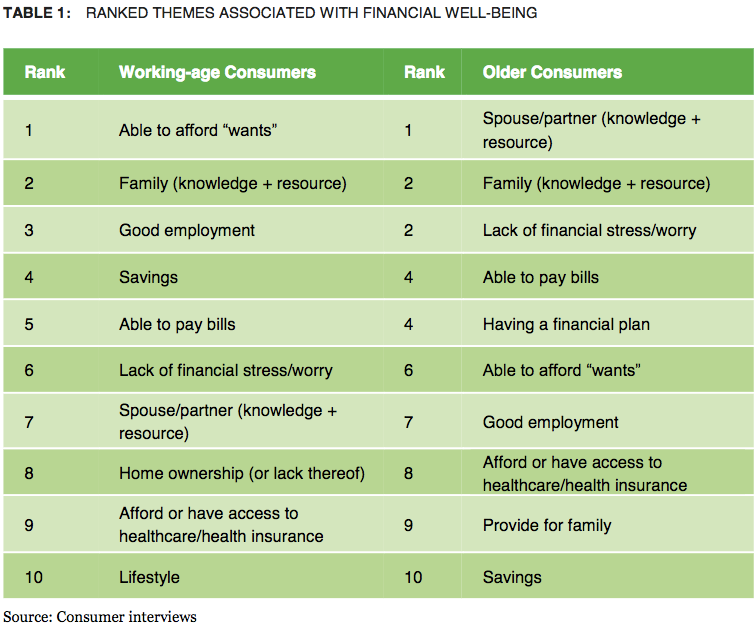 However, the most important factor in feeling confident in your finances is, above all else, your behavior in tracking and managing your finances.
Taking Action
Among the behaviors that the Consumer Financial Protection Bureau found most respondents viewed as critical to financial well-being were effective budgeting and establishing financial goals and plans to achieve those goals.
With that in mind, here are a few tips and resources that can help you better manage your finances or begin to wrest control of your finances from unconsidered spending.
Notebooks And Spreadsheets
The simplest and most intuitive approach toward taming an unruly budget is to track where your money is going by compiling any instance of cash flow with a pen and a spiral notebook or a straightforward spreadsheet program.
After every purchase and bill payment, as well as every bit of money you receive, log how much is coming in and going out. To get a broader breakdown of those expenses, you can also color code those expenses and credits by category.
In a few weeks, your diligence will produce an extended overview of how you are spending your money.
Budget Apps
Similar to the previous methods of budgeting, there are applications you can access to effectively track all of your expenditures. The benefit of applications like Mint and GnuCash is that they can be easily tailored to subdivide your budget and are more easily accessible. This can allow you to reference you budget goals and set limits on your spending.
Categorizing Your Cash
If after establishing a habit of tracking your spending you still feel as though you don't have enough control over where your money goes, consider moving away from card purchases for some of your spending and focus on managing your money as cash.
Using actual currency, and categorizing that money by how you plan on spend it, will allow you a tangible understanding of how much money you actually have.
Finally, be sure to take advantage of whatever resources of financial knowledge you can find. The best way to do this is to pay a visit to a financial planner to discuss which aspects of your budget can be improved to maximize your sense of financial well-being.
Posted-In: Academy of Financial Services Consumer Financial Protection Bureau financial stress financial well-beingEducation Topics Personal Finance General Best of Benzinga
View Comments and Join the Discussion!