Millennials, Shopping Addictions And The Holiday Hype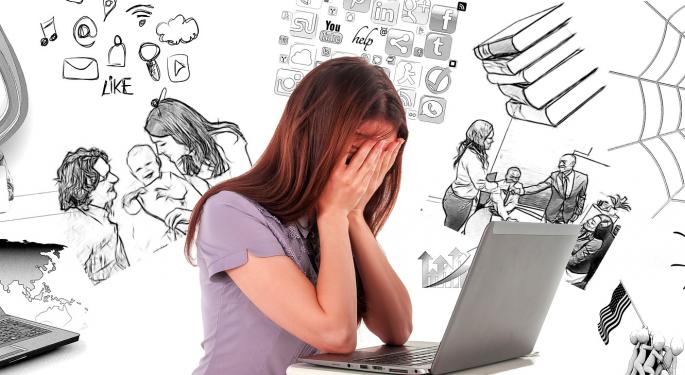 The holiday shopping season is officially underway, as the big kick-off events of Black Friday and Cyber Monday have passed. With the misconceptions, suppositions and generalizations constantly abuzz surrounding millennials and their money, it is important to address one under-reported concern: addiction.
Spending addictions — sometimes referred to as shopping addictions, compulsive buying or by the more medical term oniomania — in millennials often go unchecked.
Here's why: For one, the disorder is not recognized by the American Psychiatric Association as its own distinct issue. Instead, it is frequently lumped together with general anxiety disorders or compulsive behaviors. Secondly, the stereotypes of millennials as being tightwads and savvy online shoppers undermines the real issue of compulsive buying habits.
What Is Oniomania?
As explained by Letty Workman and David Paper in their Journal of Business Inquiry research, "These consumers are similar to substance abusers because they are unable to control their buying behavior, and they experience 'a high' by buying merchandise."
The researchers summarized the situation succinctly, stating, "Over the years many jokes, expressions, and sales of specialty merchandise have made light of consumers who shop and buy frequently e.g. 'When the going gets tough, the tough go shopping,' 'I need some Retail Therapy,' or 'I am a Shopaholic.' Yet, for 18 million Americans suffering from compulsive buying, the process of shopping and buying has caused their lives to literally go out of control."
Who Is The 'Average' Shopping Addict?
While the demographical makeup of the "average" compulsive shopper is inconclusive, there have been studies that suggest younger women are more frequently found to have the tendencies denoted by the compulsive disorder. As stated by Workman and Paper, "Findings relative to age and compulsive buying have also been inconclusive. Consistent with the work of Moschis and Churchill (1978), O'Guinn and Faber (1989) and Dittmar (2005) found that compulsive buyers tend to be younger […] Several studies have suggested that the age onset of compulsive buying disease appears to be in the late teens or early twenties."
Workman and Paper surmised, "Thus, while research has indicated mixed results in linking compulsive buying to other demographic variables, there is strong support that there exist more female compulsive buyers than males."
Reasons Behind Shopping Addictions
As alluded to previously, the cause of shopping addictions, much like any other compulsive or anxiety disorder, is not completely understood. From general anxiety to cultural reactions, experts have only theorized why individuals experience a shopping high and in turn repetitively seek out or fight against themselves to avoid subsequent highs.
One theory, explained by U.S. News' Kimberly Palmer as paraphrased in Millennial Magazine is that the American culture encourages such behaviors, as our culture "glorifies materialism and dignifies deriving one's self-worth from acquiring possessions."
Signs And Symptoms
As compiled by Health Line and Millennial Magazine, the following are frequent signs and symptoms of a bigger issue than just the "shopping bug" many experience around the holidays:
Obsessing over purchases more than once a week on a consistent basis.
Using shopping, even window shopping/online browsing, as a coping mechanism.
Credit card usage: Frequently purchasing things on a card versus using cash. Opening multiple cards/maxing out cards while still carrying a balance on other cards. Spreading purchases across multiple cards.
Feeling guilt or shame regarding purchases or shopping habits.
Frequently finding yourself justifying or explaining away purchases.
Outright hiding purchases from loved ones.
Not budgeting, ignoring a budget.
Spending more than you can afford/more than you have budgeted for.
Using credit cards as a way to purchase things you do not have the money for.
Cyclical indebtedness.
Buying things that are unnecessary, will go unused.
Feeling elated upon purchases and deflated shortly after.
The Shulman Center for Theft Addictions and Disorders compiled the following checklist to help identify shopping addictions as well.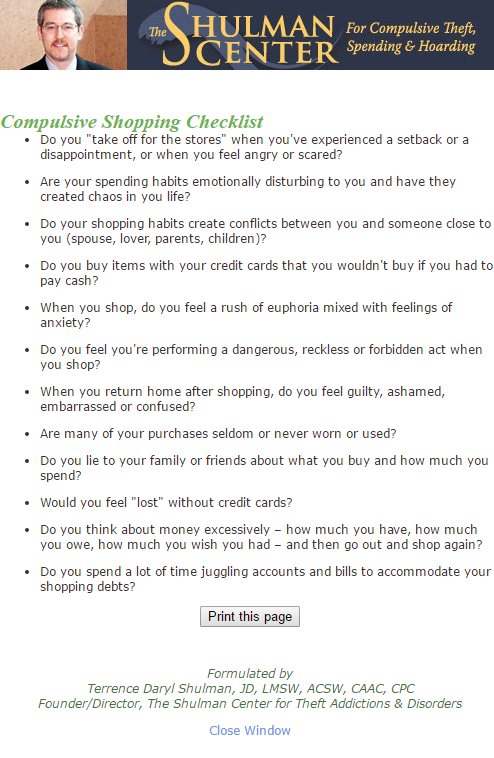 What You Can Do
Because it is not understood fully, getting effective treatment can be very difficult. "Despite the prevalence of oniomania, it's still often mistakenly attributed to selfishness, a mere lack of self-control and overall poor character," Kyle Jenkins wrote in Millennial Magazine. "Skeptics reduce a legitimate psychological and spiritual malady down to a simple decision to choose right over wrong and to say 'yes' rather than 'no.' However, what said folks don't realize is that, even though shopping addiction doesn't render its host physically dependent upon the exchange of a bill or the swipe of a credit card, it does render the very self-worth and soul of the host dependent upon that just not quite satisfying 'thrill of the buy.'"
There are resources available, beyond talking to your financial advisor and family about getting help and breaking the cycle. Below are just a few:
View Comments and Join the Discussion!
Posted-In: compulsive buying compulsive shopping compulsive spending David PaperEducation Topics Personal Finance General Best of Benzinga