Planning Your Funeral: Dying's Not Cheap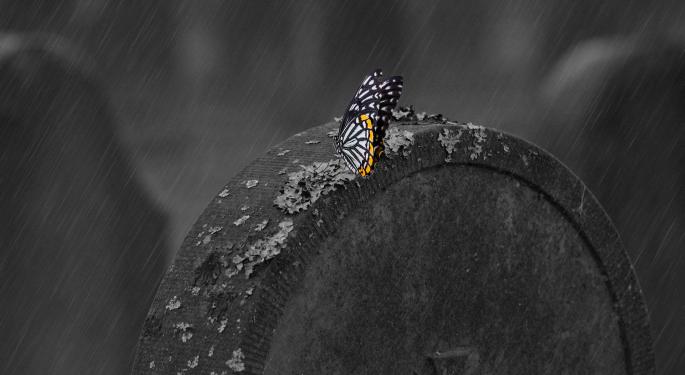 For an event so universal no person in recent history has escaped it, death remains one of the most shrouded, taboo and euphemized issues. Couple that with the "impolite" conversation topic of finances, the negative reputation the funeral industry has received and the rampant emotions among those left to mourn, funerals and finances are far from fun fodder.
However, not confronting death (and the money matters related to dying) can be more devastating than many would ever imagine.
For just a moment, consider the unthinkable. The phone rings and it's the worst news imaginable. A loved one — be it a spouse, child, parent, close friend or acquaintance — has died. No mincing words. Someone whose entire relationship to you has been based on the undeviating and shared experience that is this so-called life has abandoned the one thing you would always have in common. Regardless of what other circumstances came your way, beyond all obstacles and all distance, someone who you shared life with no longer is.
Now, add to those emotions the burden of paying for what happens after.
Why Pre-Planning Is So Important
Shifting gears now, realize that while it is impossible to ease the pain your loved ones will feel when you die, you can do something today to help in the aftermath. There's no monetary value for facing death's inevitability head on and planning for the nitpicky details that could nickel-and-dime your family at the funeral home and beyond. No dollar amount could embody that avoidable financial strain.
Amber Carvaly, licensed mortician at Undertaking L.A., explained, "If you want to avoid being in a situation where you feel pressured […] you should plan ahead! No one likes to have these discussions, but I can promise you the discomfort now will be nothing compare[d] to what you will experience later."
Cost Breakdown

It's Still A Business
It's easy to overlook the fact that funeral home/mortuary employees are there to provide a very needed service, not out of just the goodness of their hearts, but as employment.
They provide these services in exchange for monetary compensation, which helps them provide a life for themselves and their families.
The funeral industry is held to Federal Trade Commission regulations, just as other businesses are, and the pressure to make a profit can undoubtedly spoil a few apples in the barrel. However, with oft-undeserved negative reputations and the emotionally charged environment, the best course of action is preparation. As explained by Carvaly, "[P]eople believe the current funeral industry operates like non-profit. This is unfortunately not true. A funeral home is a business. In general, people seem — understandably — to be pretty upset about spending any amount of money on a disposition, feeling that the funeral home should be there just to help people, not make money. But the fact of the matter is that it's incredibly expensive to run a funeral home and cemetery. Overhead and labor alone can set a home back a staggering amount."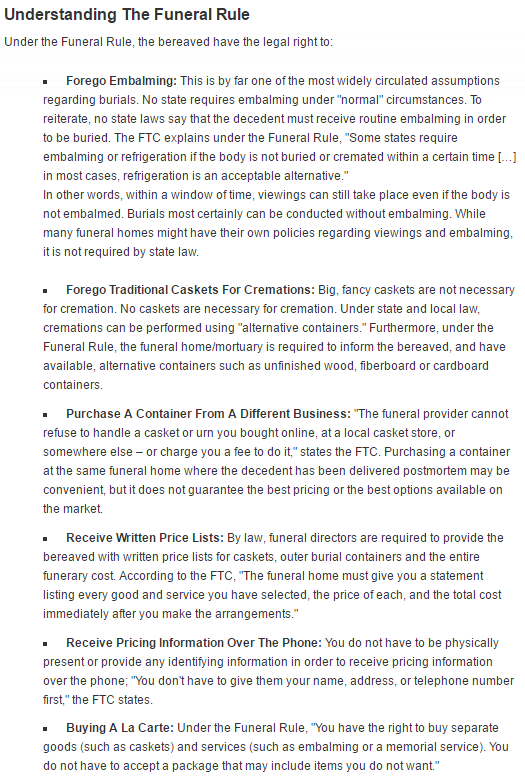 Rebecca Sheppard. Click to enlarge.
Carvaly concluded, "Seriously, we all know we are going to die, and it is a discussion we can have at any time […] Do not be afraid. Do not be afraid of your emotions. Do not be afraid that you are afraid. It's normal and healthy. We are all on some level, a little unnerved, and we find solace for this in many personal and often private ways."
View Comments and Join the Discussion!
Posted-In: Amber Carvaly Budgeting Death death and dying dyingEducation Personal Finance General Best of Benzinga