Easy Money: 5 Simple Ways To Earn Passive Income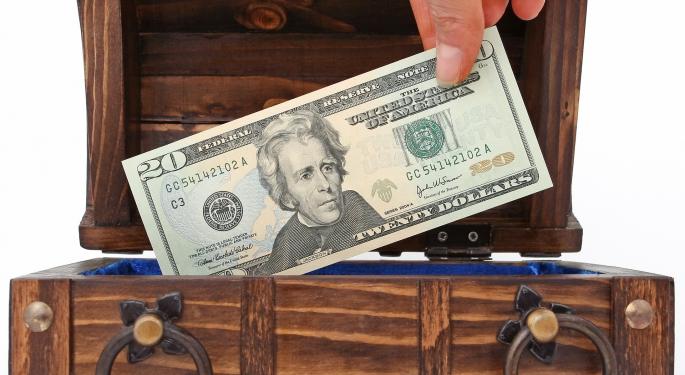 We'd all love to make more money, but we only have a limited amount of time and energy. However, there are a number of ways to supplement your paycheck by earning passive income. Passive income is income you earn from a source that requires little or no day-to-day involvement on your behalf. Here's a look at five common ways to earn passive income.
5 Simple Ways To Earn Extra Cash
1. U.S. Treasuries
Here's how treasury bonds work: You buy them at a discount to their face value, you hold them for as little as 28 days until they mature and then you sell them at face value upon maturity. When interest rates were higher, Treasuries were an extremely safe way to earn decent passive income. Today, the yield on one-year Treasury bonds is only about 0.5 percent.
2. Online Money Market Savings Accounts
The yield on typical savings accounts are extremely low these days, but certain money market accounts can be decent sources of passive income. A money market account is like a hybrid savings/checking account that allows only six transactions per month. According to Bankrate, the national average yield on money market accounts is only 0.11, but certain online banks have higher yielding accounts than others. For example, Dime, Synchrony Bank and Capital One Financial Corp. (NYSE: COF) all currently have accounts yielding at least 1.0 percent.
3. Peer-To-Peer Lending
If the bank won't pay you enough interest on your money, why not act as your own bank? P2P lending sites like LendingClub Corp (NYSE: LC) and Prosper Marketplace allow customers to lend to individual borrowers and/or pools of borrowers based on different financial profiles. Lenders can use data like the credit scores of borrowers to determine the appropriate amount of risk and potential return on their loans. Lending Club's current interest rates range from 5.3 percent all the way up to 30.9 percent depending on how much risk you are willing to carry.
Related Link: A Tale Of 2 ETFs: How GDX And GLD Compare When Gold Shines Or DullsCOF,
4. Cash-Back Credit Cards
The idea of earning income by spending money may not sound like a good idea. In reality, we all eat, drive, wear clothes and pay bills no matter how frugal we are. If you aren't using a cash-back credit card, you are missing out on a decent passive income source. There are number of cards out there, but typical cash-back cards pay 1.0 percent for all purchases and up to 5.0 percent for purchases in specific categories like groceries or gas.
5. AdSense
If you can put together a popular YouTube channel or blog that will consistently engage an audience, you could be earning passive advertising income every day. By using Alphabet Inc (NASDAQ: GOOG) (NASDAQ: GOOGL)'s Google Adsense, you get paid every time a viewer clicks on an ad on your platform. You don't have to create the advertisement or deal with the advertisers in any way. All you have to do is install AdSense and make sure you're getting visitors to your platform.
Do you have ideas for articles/interviews you'd like to see more of on Benzinga? Please email feedback@benzinga.com with your best article ideas. One person will be randomly selected to win a $20 Amazon gift card!
View Comments and Join the Discussion!
Posted-In: AdSense Bankrate easy money p2p lending. peer-to-peer lendingEducation Top Stories Personal Finance General Best of Benzinga