John Oliver Exposes Debt-Buying Industry, Launches Biggest Giveaway In History Of Television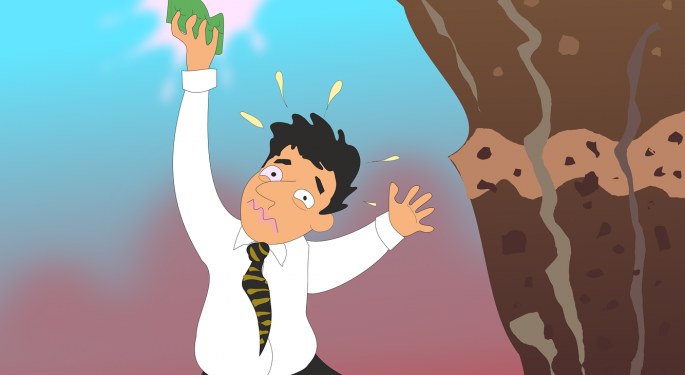 One of the most controversial industries in the financial sector is debt collecting.
Consumers who do not pay off their credit card or other financial obligations for any reason could end up on the receiving end of a dreaded and unpleasant call from a collection agency or debt collector.
A debt collector has the legal authority to collect a consumer's debt on behalf of a bank or on their own behalf if they purchased the rights to do so from the original borrower.
The topic of debt buying was a central theme of John Oliver's "Last Week Tonight" show, in which the host went on a 20-minute rant exposing the unethical practices of the industry.
And then he made television history. As part of his expose on the industry, Oliver detailed how easy it is for anyone to create a debt-buying company.
CARP: 'Bottom-Feeding Fish'
For $50, Oliver registered a company named "Central Asset Recovery Professionals Inc." — or CARP for short — named after "the bottom-feeding fish." Shortly after, Oliver's very real company was offered to acquire a list of nearly $15 million of over-due medical debt from Texas for a cost of less than $60,000.
Related Link: Last Year, John Oliver Went After Stadium Subsidies; Have Things Changed Since?
"If I wanted to, I could legally have CARP take possession of that list and have employees start calling people, turning their lives upside down," Oliver said.
Instead, Oliver made television history by staging what he claimed to be "the single largest one-time giveaway in television history," by acquiring the debt and forgiving it. However, he added that merely forgiving $15 million of debt is just a small step in fixing a broken and unethical industry.
"It is pretty clear by now that debt-buying is a grimy business and badly needs more oversight," Oliver also said. "As it stands, any idiot can get into it, and I can prove that to you, because I'm an idiot and we started a debt-buying company [...] And it was disturbingly easy."
Posted-In: CARP Central Asset Recovery Professionals Inc Debt Buying BusinessEducation Topics Media Personal Finance General
View Comments and Join the Discussion!