The Best Last-Minute Holiday Gift Idea If You're Low On Cash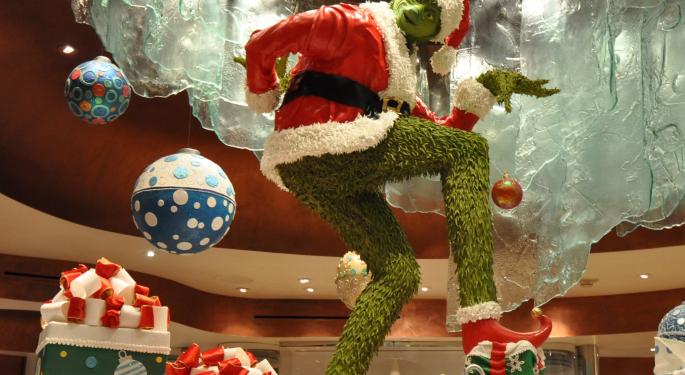 As the most celebrated and expensive gift-giving day of the year peeks eagerly around the corner, last-minute gift ideas are circulating news outlets and social media in earnest. While many of the ideas are ingenious and thrifty, their practicality is not always on point. However, one gift-giving option that keeps in mind both the spirit of the season and your wallet's breadth lacks the popularity it deserves.
Each year, Americans dish out hundreds of dollars specifically for Christmas gifts. According to a recent Gallup poll, the average estimate for Christmas gift spending this year came in at $830.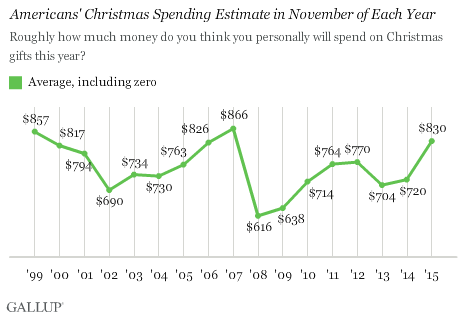 Source: Gallup
In separate research, the National Financial Capability Study conducted by the Global Financial Literacy Excellence Center found that two-thirds of Millennials have at least one long-term debt outstanding, according to the Wall Street Journal.
Combine this with the fact that for Black Friday 2014, Millennials were cited as the largest demographic of shoppers, and it is not surprising that Millennials are the target audience for so many last-minute gifting ideas.
Give The Gift Of Time
Although a mason jar mini-bar is cute and will probably be used, it still can put a ding on your holiday budget and is more novelty than heartfelt.
This holiday season, consider the advantages of giving something a little bit more. So often, generosity comes with a price tag attached, and meaningfulness is associated with how much money was spent. In our commercially motivated world, it is easy to forget how the most treasured memories are rarely things but experiences.
Below are just a few ways you can give the gift of time without breaking the bank:
Plan a dinner date with a grandparent, older relative or elderly family friend.
Let your gift recipient plan an afternoon filled with activities of their choosing. Number of participants: just you and them.
Share a meal with someone you don't regularly spend time with.
Give your parents, aunts or uncles a break. Offer to chauffer a homebound relative to appointments, grocery trips and religious services once a month.
Offer to complete lawn care for the upcoming summer.
Host a movie night. Invite someone who may not get out very often to come to the movies – at your home. Pop some popcorn, share drinks and watch a classic or two.
Offer to spring clean for a family member, friend who recently had a baby, or acquaintance who has been sick or had medical complications.
Share a talent. Are you good at home improvements? DIY crafts? Painting? Music? Make yourself available to others by sharing what you are innately good at with others.
Listen. As we get older, it's easy to lose touch with others who were once so important to our lives. Make a promise to make time to just be there for them.
Start a book club. Make an effort to bring friends together on a regular basis to share your favorite books.
Offer to babysit once a month for a couple who doesn't get to go out very often.
Whether you are done shopping this holiday season, or still looking for last minute gifts, think about how you can give a gift that not only keeps on giving throughout the year, but doesn't put a dent in your budget.
As the great Theodor Geisel wrote: "It came without ribbons, it came without bows. It came without packages, boxes or bags. Maybe Christmas, he thought, doesn't come from a store. Maybe Christmas perhaps, means a little bit more." – The Grinch, Dr. Seuss' "How The Grinch Stole Christmas"
Image Credit: By Marco Verch (The Grinch at Bellagio) [CC BY 2.0], via Wikimedia Commons
Posted-In: gallup Global Literacy Excellence Center millennials USAAEducation Personal Finance General
View Comments and Join the Discussion!