For-Profit Colleges Are Not At All Profitable Investments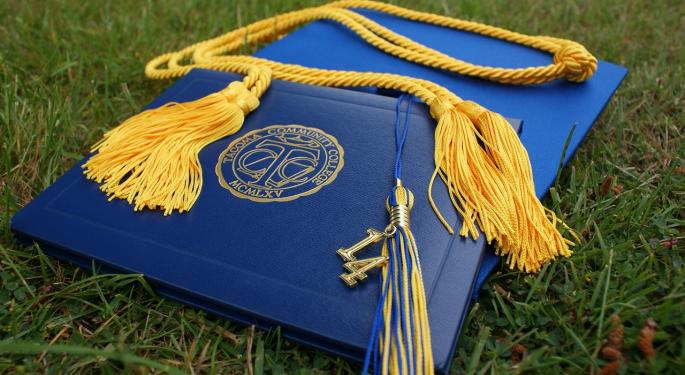 Want to recuperate some of the money invested in education? Think there might be profit to be had from for-profit colleges? Think twice!
Motif Investing constantly looks for "trends, ideas and world events that could create an investment opportunity," and then picks 10 to 30 related stocks to build portfolios around, weighing them based on their exposure to the coinciding idea, event or trend.
Motif has a portfolio of companies that provide post-secondary education in the United States, all of which have delivered negative returns over the past year.
The people behind the For-Profit Colleges motif explained why they built the portfolio.
The experts noted that the golden years of for-profit schools and vocational centers abruptly ended with the Great Recession, or so it seemed. The real-world economy was no longer able "to deliver on the promise of career advancement through more schooling."
Detention May Be Over
To make things worse for these companies, "then came scrutiny from federal regulators, who focused on the mounting debt loads faced by graduates struggling to find jobs."
These factors drove those schools' stock prices down between 32 percent and 86 percent in the two years ending May 2013.
Related Link: How To Short The Global Economy Without Becoming A Short-Seller
Motif Investing added, however, "A recent court ruling may have limited the government's authority to regulate for-profit schools, thereby maintaining the availability of federal loans for students in these schools.
"And, if a recovering economy can spark increased enrollments, longer-term investors may consider pushing these stocks to the head of the class."
Performance And Allocation
As noted above, for-profit colleges have not made up for profitable investments recently. Over the past month, this motif has lost 4.1 percent; over the past year, the portfolio's value declined 28.7 percent. The chart below compares the motif's performance with the S&P 500's returns.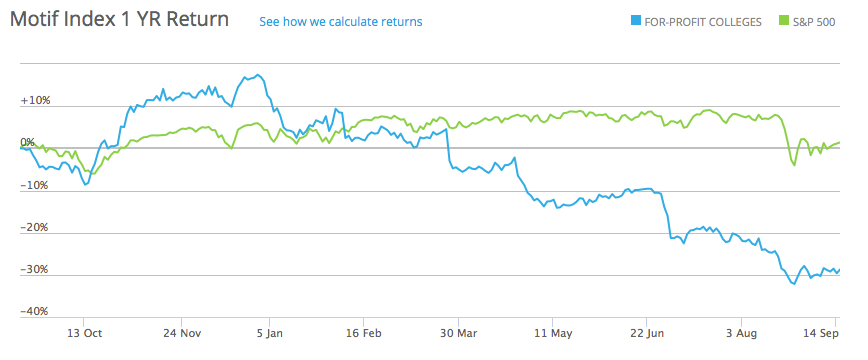 Below is a look at how this motif allocates its assets:
General Education Providers: 84.8 Percent
Specialist Education Providers: 15.2 Percent
Capella Education Company (NASDAQ: CPLA): 6.8 percent
American Public Education, Inc. (NASDAQ: APEI): 4.7 percent
Tarena International Inc(ADR) (NASDAQ: TEDU): 3.7 percent
Disclosure: Javier Hasse holds no stakes in any of the securities mentioned in this article.
Image Credit: Public Domain
Posted-In: JW-A JW.A Motif InvestingLong Ideas Education Trading Ideas General Best of Benzinga
View Comments and Join the Discussion!