The 10 Most Productive Retail Stores In The U.S.
With Internet and e-commerce companies such as Amazon.com Inc (NASDAQ: AMZN), Google Inc (NASDAQ: GOOG)(NASDAQ: GOOGL) and Netflix Inc (NASDAQ: NFLX) drawing more and more attention each earnings season, it's easy to forget that many companies are still doing just fine selling goods and services the old fashioned way: retail stores. Here's a list of the top 10 companies with the most productive U.S. retail stores, ranked by sales per square foot (according to Fortune).
10. Select Comfort Corp (NASDAQ: SCSS)- $1,023/sq ft
The bedding retailer operates 460 U.S. stores and is expecting to increase its store count by 6 percent by the end of 2015.
9. Costco Wholesale Corp (NASDAQ: COST)- $1,032/sq ft
While rival Wal-Mart Stores Inc (NYSE: WMT) dwarfs Costco in total revenue, Costco's 468 stores (compared to Walmart's 3,300 stores) are located in more affluent neighborhoods, making them much more productive in terms of revenue per square foot.
8. Tumi Holdings Inc (NYSE: TUMI)- $1,034/sq ft
The upscale travel company is coming on strong, projecting low double-digit sales growth in 2015.
7. Signet Jewelers Ltd (NYSE: SIG)- $1,035/sq ft
Signet operates mid-tier jewelry stores Kay Jewlers, Zales and Jared.
6. Coach Inc (NYSE: COH)- $1,416/sq ft
Retail store productivity is just one of many parts of Coach's business that has been suffering in recent years, and retail sales/sq ft is down from $1,532 in 2013.
5. Kate Spade & Co (NYSE: KATE)- $1,558/sq ft
Kate Spade is trending in the opposite direction as Coach. The company added 20 new retail stores in 2014, and sales/sq ft is up from $1,280 in 2013.
4. Lululemon Athletica Inc (NASDAQ: LULU)- $1,675/sq ft
Despite blows to its reputation related to excessive sheerness of some of its fabrics and controversial comments by founder Chip Wilson, Lululemon stores continue to rake in the cash.
3. Michael Kors Holdings Ltd (NYSE: KORS)- $1,894/sq ft
Although some indicators show that Michael Kors' growth may be slowing, the fashion company increased its store count from 284 to 337 in 2014.
2. Tiffany & Co (NYSE: TIF)- $3,132/sq ft
Tiffany remains the gold standard in luxury jewelry, and the company's pricy high-end products make its retail stores the second most productive in the U.S.
1. Apple Inc (NASDAQ: AAPL)- $4,789/sq ft
The world's largest public company has dominated the business world like no other in recent years, so it's not surprising to find its stores at the top of the U.S. productivity list. Apple opened its first store in Tysons Corner, VA back in 2001, and the image below from CartoDB shows how Apple has spent the past 15 years expanding its presence to over 350 store locations worldwide.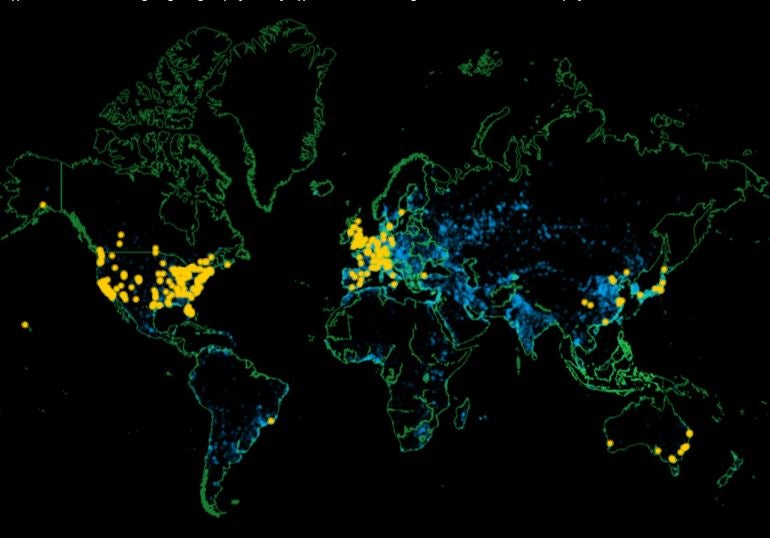 Posted-In: Long Ideas Education Trading Ideas General
View Comments and Join the Discussion!