Too Near-Sighted? Multiple Trading Time Frames Matter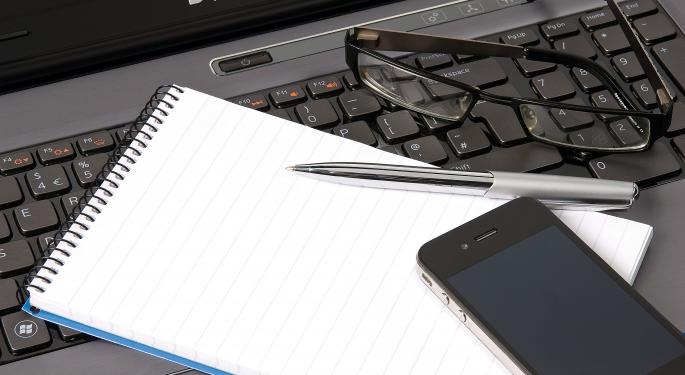 Traders, are you looking only at the trees?
It's important to look at the forest, too. Multiple trading time frames can give your decisions the context they need. So unless you're a day trader, don't get mired in the ultra-short-term price movements of stocks.
Instead, consider looking at multiple chart views to help you understand the primary trend. You'll join the ranks of traders who follow the venerable Dow theory—the seed of modern technical analysis—that was rolled out in a series of Wall Street Journal columns over 100 years ago.
Swim With The Big Fish
Charles H. Dow argued that price movement unfolds in three ways: the primary trend, secondary reactions, and minor trends. He likened these market price movements to major ocean tides, waves, and ripples.
Hang onto your raft. Primary trends can last several years or more. Secondary trends, or reactions, can last from several weeks to several months. Ripples, or short-term minor trends, can last from several days to several weeks.
Newton's Law of Motion
You know it (or you should): an object stays in motion until it encounters a greater opposing force. Technical traders generally believe that this concept applies to market trends as well as falling apples. Some believe that a market trend in motion is more likely to continue than reverse. That means, in theory, that trading in the direction of the primary trend should offer the path of least resistance.
Related Link: Are You Living To Trade Or Trading To Live?
How can investors apply this today? When looking at charts, consider using multiple time frames to decide when you confirm a trend, and choose positions when the trends align. Most traders will start with a top-down approach and then look at a monthly or weekly chart to determine the market tide or primary trend. A daily chart can be used to determine potential secondary market reactions, which are counter-trend corrections. Minor trends can be seen on hourly or even daily charts.
Don't Be Shark Bait
If you are a long-term investor, don't get stuck in a short-term view. Secondary or corrective trends can potentially eat you up. If you are trading a longer-term market trend, consider expanding your time horizon to a weekly or even monthly chart to confirm that all trends align.
Figure 1 and 2 illustrate how too-short time frames can sometimes bamboozle traders.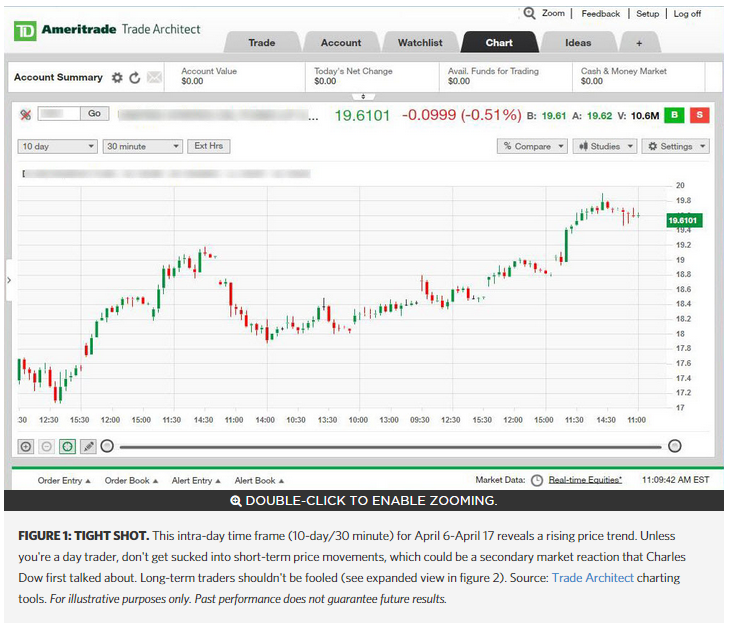 Longer-term investors can expand their chart views to weekly or even monthly time frames to confirm the big picture trend before jumping on board. Looking at the same contract from figure 1, the weekly chart picture in figure 2 reveals a longer-term downtrend.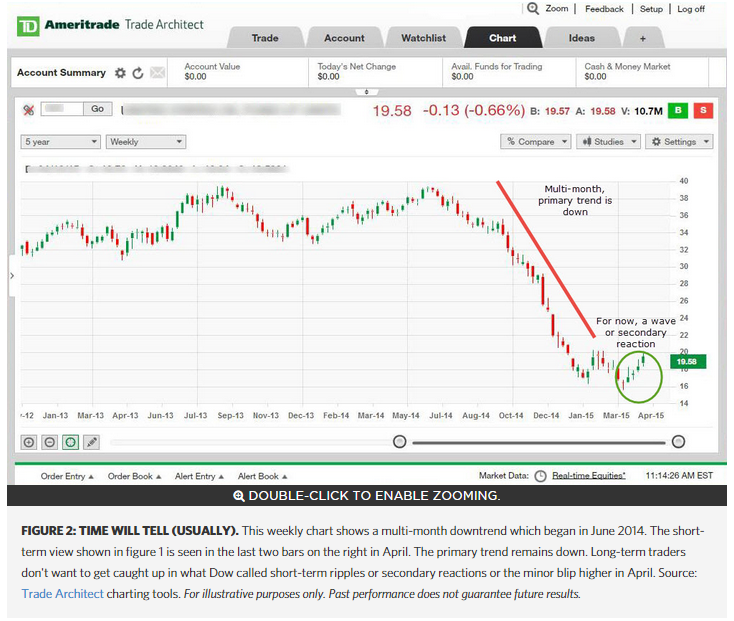 Expanding your view to multiple trading time frames shouldn't necessarily change your strategy; you're simply using more information so your trading decisions aren't made in the dark. What's more, investors who are looking to ride a trend might consider using multiple trading time frames to look for dips to buy in a bull market and rallies to sell in a bear market.
This piece was originally posted here by Kira Brecht on May 5, 2015.
Spreads and other multiple-leg option strategies can entail substantial transaction costs, including multiple commissions, which may impact any potential return.
A rollover is not your only alternative when dealing with old retirement plans. Please click here for more information on rollover alternatives.
Futures and futures options trading is speculative, and is not suitable for all investors. Please read the "Risk Disclosure for Futures and Options" prior to trading futures products.
Market volatility, volume, and system availability may delay account access and trade executions.
Past performance of a security or strategy does not guarantee future results or success.
Options are not suitable for all investors as the special risks inherent to options trading may expose investors to potentially rapid and substantial losses. Options trading subject to TD Ameritrade review and approval. Please read Characteristics and Risks of Standardized Options before investing in options.
Supporting documentation for any claims, comparisons, statistics, or other technical data will be supplied upon request.
The information is not intended to be investment advice or construed as a recommendation or endorsement of any particular investment or investment strategy, and is for illustrative purposes only. Be sure to understand all risks involved with each strategy, including commission costs, before attempting to place any trade. Clients must consider all relevant risk factors, including their own personal financial situations, before trading.
TD Ameritrade, Inc., member FINRA/SIPC. TD Ameritrade is a trademark jointly owned by TD Ameritrade IP Company, Inc. and The Toronto-Dominion Bank. © 2015 TD Ameritrade IP Company, Inc. All rights reserved. Used with permission.
Posted-In: Kira Brecht The Ticker TapeEducation General Best of Benzinga
View Comments and Join the Discussion!