Former Fed Officer On Why Quantitative Easing Won't Come Back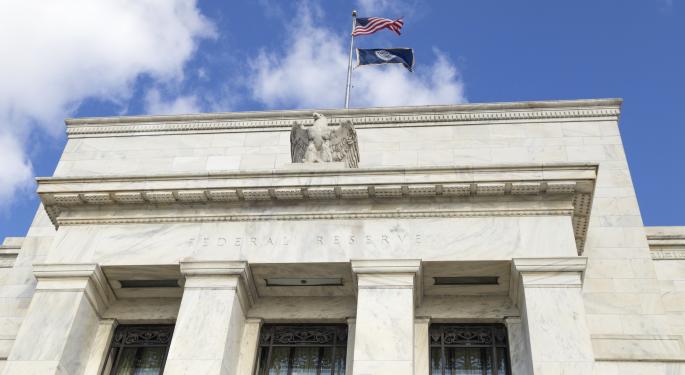 Former Federal Reserve Senior Officer Thomas Simpson thinks that the Fed is finished with quantitative easing.
Simpson is an economist and also been an officer for the Federal Open Market Committee. He recently joined Benzinga's #PreMarket Prep to talk about why the Fed probably won't bring back QE.
First, he explained that it would take a significant weakening of the economy for the Fed to consider bringing it back.
Moderate Growth
"Right now, the economy looks like it's poised for moderate growth, and I think the indicators are fairly solid to suggest that, at least for the next several quarters, we should be getting solid moderate growth," he said.
Related Link: How To Start Investing In Small Banks
In those circumstances, Simpson said it is unlikely that the Fed would bring back QE.
In addition, the Fed also works harder today to be more transparent and clear, as well as provide guidance to the market about its intentions so that there aren't any surprises.
Surprising the market with any tightening measures would cause a significant market reaction, something that Simpson said the Fed does not want.
"At this point, I think the bond market and the stock market have sufficiently priced in this moderate tightening that will take place, this so-called normalization of the federal funds rate, which is likely to start actually in the second half of next year," he said.
Learning From The Past
Simpson does think there will be a small reaction in the market when the Fed eventually does raise benchmark interest rates, but not as extreme as the response to the Fed's tightening two decades ago in 1994.
"I don't think it's going to happen this time because the Fed learned an awful lot from the experience and realized that it needs to be very clear with the markets in terms of its intentions,"
Simpson is also the author of "Financial Markets, Banking, and Monetary Policy."
Check out his full interview here:
Don't forget to tune in to Benzinga's #PreMarket Prep broadcast Monday-Friday 8-9:45 a.m. ET for a live, interactive morning show with veteran traders and featured finance industry experts ready to answer your questions for the trading day.
Posted-In: Benzinga #PreMarket Prep Economy Fed Monetary PolicyEducation Federal Reserve Interview General Best of Benzinga
View Comments and Join the Discussion!