The Ins And Outs Of A Potential AOL-Yahoo Merger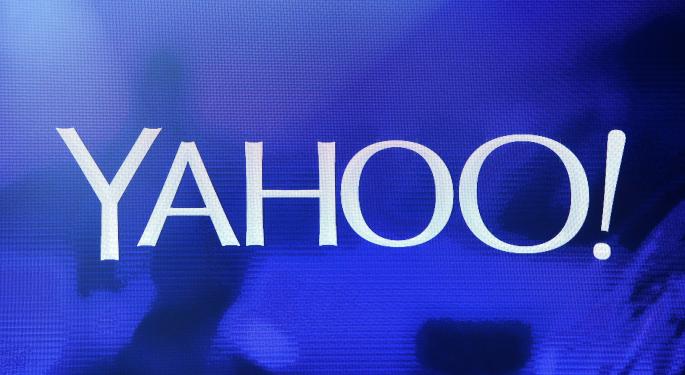 There was a time when a merger between Yahoo! Inc. (NASDAQ: YHOO) and AOL, Inc. (NYSE: AOL) would have inspired antitrust whispers.
The days when these two companies dominated the web are long gone, but could a merger between the two be the best path forward?
Activist hedge fund Starboard Value LP believes so, and it has been pushing the two companies to consider joining forces.
The State Of Affairs
There's no question that Facebook Inc (NASDAQ: FB) and Google Inc (NASDAQ: GOOG) (NASDAQ: GOOGL) have been -- figuratively speaking -- stealing AOL and Yahoo's lunch money for years.
Both AOL and Yahoo have looked to new CEOs with proven track records to save the day. In 2009, AOL turned to former Google executive Tim Armstrong to stop the bleeding. AOL's market cap has roughly doubled with Armstrong at the helm, as key acquisitions like automated video advertising company Adap.TV have kept AOL afloat.
Yahoo, on the other hand, turned to another former Google executive: Marissa Mayer. Since Mayer took over as CEO in 2012, Yahoo's share price has more than tripled, but Mayer still has some harsh critics.
Yahoo has aggressively spent more than $1.3 billion on acquisitions under Mayer, including $1.1 billion for Tumblr. Unfortunately for Mayer, shareholders are not seeing much growth in Yahoo's core advertising, web and email businesses as a result of the strategy.
Related Link: 12 Money Myths Just Debunked By Experts
So, how did Yahoo's share price triple?
Yahoo's large stake in Alibaba Group Holding Ltd (NYSE: BABA) has been a hot topic of discussion in the media lately surrounding Alibaba's recent IPO. Yahoo's holdings in Alibaba and Yahoo Japan Corp alone represent nearly the entire present market value of the company. Recent gains in its share price are attributed almost entirely to the appreciation of these holdings, rather than to improvements in Yahoo's core business.
Starboard's Merger Proposal
Starboard, owner of 2.4 percent of AOL and 0.8 percent of Yahoo, believes that the best course forward for the two companies is a combined entity. According to Starboard's proposal, Yahoo's core web, email and advertising businesses should be merged with AOL. This combination could result in an estimated $1.5 billion in cost-cutting savings for the combined company.
If the merger occurred as Starboard envisions it, a mechanism called a reverse Morris trust would likely be used.
In this scenario, Yahoo's web business would be absorbed by AOL, and Yahoo shareholders would be compensated by receiving a majority stake in the combined company. In addition, Yahoo's stakes in Alibaba and Yahoo Japan Corp would remain on the books of the original Yahoo.
At that point, instead of focusing on acquisitions and growth, focus at Yahoo would shift to determining a way to divest the stakes in the Asian companies without losing an estimated $17 billion in value to taxes.
Merger Critics
Not everyone agrees with the merits of Starboard's plan.
Former Yahoo CFO Sue Decker claims that a merger would not solve any of the two companies' problems. Decker recently expressed her beliefs that a combined company would be little more than a bloated version of the two individual companies and would likely see an even lower growth rate.
Analysts at Cowen & Co. cite the number of large tech mergers in the past that have not gone well as a reason to be leery of a possible AOL/Yahoo merger.
Where Do Things Stand Right Now?
Recently, two undisclosed top-10 Yahoo investors pled their cases for a merger directly to Armstrong.
While the CEO has reportedly been receptive to the idea of a potential merger, both companies are officially staying silent on the matter. Even Armstrong himself believes that any such deal is unlikely. There are currently no ongoing talks between the two companies.
Posted-In: merger and acquisition Yahoo AOL mergerRumors Hedge Funds Trading Ideas General Best of Benzinga
View Comments and Join the Discussion!