The Dark Side Of A Generation's Frugality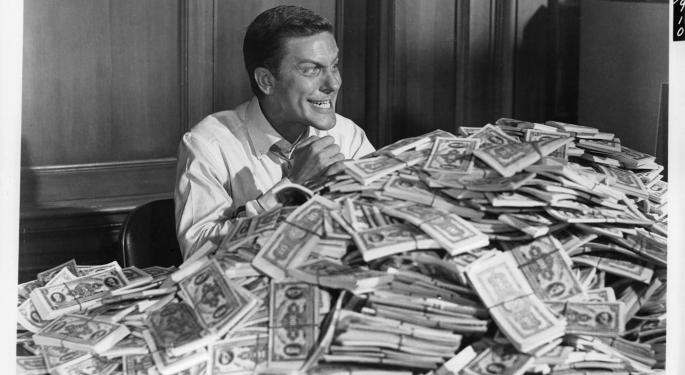 Say what you will about Gen Yers, young adults who have come of age at the turn of the century have a proclivity towards frugal spending.
How is that possible for a generation that has been described as entitled and narcissistic, spenders of tens of thousands of dollars on education and parasitic leeches of technological innovations?
One Strong Cause
While the amount of cash that goes toward education is higher than it was for the previous generation — which could make onlookers view Gen Yers as high spenders —it is the aftermath of these sky-high education costs that has led to a generation of penny-pinchers.
Related Link: Kiplinger Unveils A Different Way To Plan For College
Student loan debt is astronomical and employment prospects are still bleak; Millennials are forced to be frugal in their spending habits post-higher education (which has become a necessity for essentially any job). For the 50 percent or so 18-24 year olds who are employed, virtually all of their income goes to food and student debt repayment.
What's The Big Deal? Hints From Three Sources
Stephanie Landsman from CNBC states, "If Millennials don't break out of this frugal state of mind, the trend could create challenges."
"Think about how crippling student loans will affect the economy in the long run," TheNews.org contributor Zac Garrison adds, "This is all money [Millennials] will not be putting back into the economy."
Matt Townsend from Bloomberg Businessweek summarized, "Millennials were supposed to be the next generation golden ticket for retailers. A cohort of 70 million consumers… this was the first generation of Americans to grow up with cell phones and the Web."
Consumerism Hits
Instead of being that "golden ticket" generation, a generation of easily swayed, easy target shoppers, Millennials are more akin to an untouchable majority, comparatively uninterested in consumerism. Gen Yers are the elusive "untapped" market, not simply because of their spendthrift mindset, but bolstered by their utter lack of spending power.
Millennials are shying from big expenses and favoring "experiences" — things that can be anticipated and enjoyed repetitively as opposed to immediate gratification materials. They favor a $7.99 monthly subscription to Netflix over weekly movie tickets, events over expensive knick-knacks.
In particular, one area of large expenses — transportation — has been hit hard by Millennials' lack of spending. Never having known gas as "affordable," Millennials are driving less, fewer have licenses and even fewer are buying new cars. Therefore, despite gas prices remaining high, Millennials are not contributing to the automotive market's guzzling facets.
Savings Hit
With so much of their limited income going toward debt repayment and survival, Gen Yers are not only affecting the market now with their lack of spending, but also implementing changes that will inevitably affect the market years from now.
Related Link: Private Student Loan Debt: Overlooked 411
Having come to age during the Great Recession, fears have led to a mass exodus away from the market. The group holds their assets primarily in cash, choking retirement portfolios and severely limiting interest growth.
While one hurting area of consumerism might not be enough to rock the market, considering all of the Millennials' micro trends illustrates a different picture.
What Can Be Done?
Despite these micro trends, one area of continued consumption for Gen Y is technology. Perhaps tech's continuous upgrade cycle is part of this standalone trend. As an innately frugal group not as motivated by immediate gratification as previously assumed, the proclivity of technology's lifespan to abruptly end forces continued consumption.
Technology has become not just a staple in the livelihood of society, but a necessity. With tech being housed in cheaper devices, users must keep buying the latest technological innovations in order to stay relevant in today's society.
This planned obsolescence keeps Gen Y's long-term, invested interest.
Perhaps this type of drastic measure will become commonplace as a combatant against Gen Y's extended, far-reaching frugality.
View Comments and Join the Discussion!
Posted-In: Bloomberg Businessweek Gen YEducation Personal Finance General Best of Benzinga