Is Apple A Growth Stock, A Value Stock Or Neither?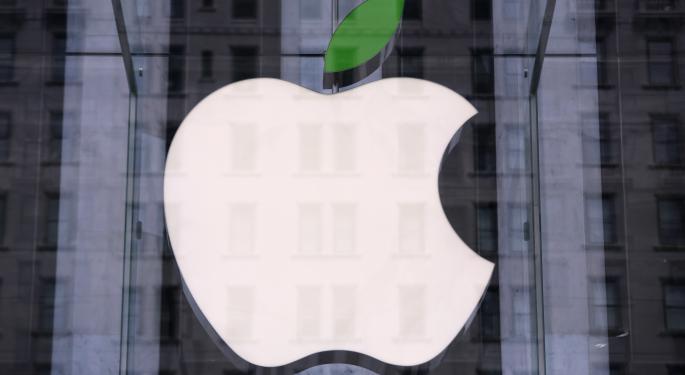 Apple Inc (NASDAQ: AAPL) is one of the most popular and controversial stocks in the market.
In the past, Apple's growth rate was staggering, with products like the iPod, iPhone and iPad taking the world by storm. However, Apple's impressive earnings have also made the stock a very appealing value at times.
After a well-received earnings beat this week, Apple's stock is now trading at new all-time highs. At this point in time and at these price levels, is Apple still a growth stock, is it now a value stock or is it neither?
Related Link: How To Quantify The Volatility Of Your Portfolio
It's a tough job to find peers for comparison to the largest company in the world, but here are four large American technology stocks to look at for comparison when analyzing Apple: Verizon Communications Inc. (NYSE: VZ), Facebook Inc (NASDAQ: FB), Google Inc (NASDAQ: GOOG) (NASDAQ: GOOGL) and Amazon.com, Inc. (NASDAQ: AMZN).
Growth
There's no question that Apple's revenue growth has slowed over time. Just look at this chart: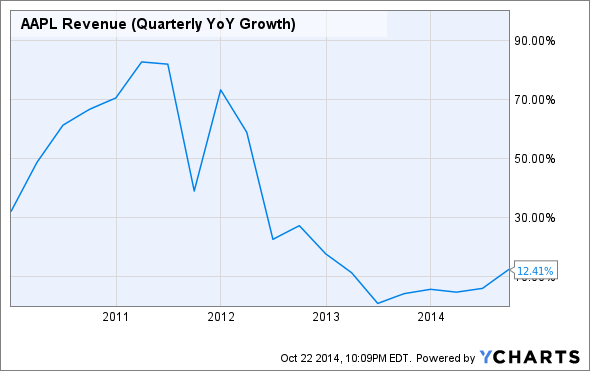 Even though Apple is no longer growing 40 percent annually, how does its 11.5 percent projected growth rate over the next five years stack up against its peers?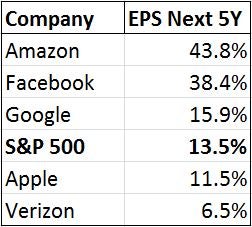 Google, Amazon and Facebook all outshine Apple when it comes to projected growth, but Apple's 11.5 percent rate handily beats Verizon's 6.5 percent clip.
While Apple's growth no longer blows its competition out of the water, 11.5 percent is not too far off the 13.5 percent average earnings growth rate of the S&P 500 as a whole.
For a company with a $610 billion market cap, that's pretty impressive, but it would be hard to argue that Apple is a pure "growth" investment anymore.
Value
Maybe Apple's growth rate is nothing to get worked up about, but what about its stock's current valuation compared to its peers? Take a look at this P/E ratio comparison of the five companies: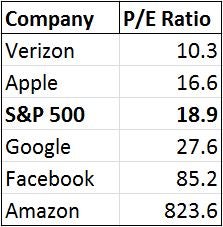 Not surprisingly, the companies with the highest growth rates are the ones with the highest valuations.
Amazon and Facebook have absurdly high P/E ratios of more than 800 and 80, respectively. Google's P/E ratio of 27.6 is still much higher than the S&P 500 average of about 18.9. Apple's 16.6 P/E comes in slightly lower than average, and convincingly lower than all of these peers other than Verizon.
Despite Apple's relatively good valuation when compared to these other large tech companies, a 16.6 P/E ratio is still not much to get excited about, and these numbers are again not convincing that Apple is a pure "value" investment at this time.
Neither?
While Apple may not be the fastest grower or the best value, there are certainly elements of both value and growth to the company. One metric that is appropriate for looking at Apple's combination of growth and value is PEG ratio. Here's a comparison of the PEG ratios of these five companies: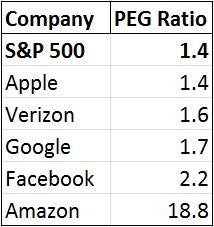 Clearly, the combination of value and growth is one place Apple continues to shine among its peers, setting the standard for this group of five companies at 1.4. It would be tough to argue that any of these other five companies have the combination of value and growth that Apple does. However, when compared to the S&P 500's average PEG ratio of 1.4, Apple is simply average at the moment.
In conclusion, it would be as unfair to say that Apple is "neither" a growth stock nor a value stock at this time as it would be to say that it is "both."
It feels strange to call the largest company in the world, the company that revolutionized communication worldwide, "average" in any way. When it comes down to the growth and value numbers of its stock, however, the numbers don't lie.
Disclosure: Wayne Duggan holds shares of Apple and holds a short position in Amazon at this time.
View Comments and Join the Discussion!
Posted-In: Amazon Apple FacebookLong Ideas Topics Tech Trading Ideas General Best of Benzinga