Why Ebola, China And Market Tumble Shouldn't Affect Retirement Portfolios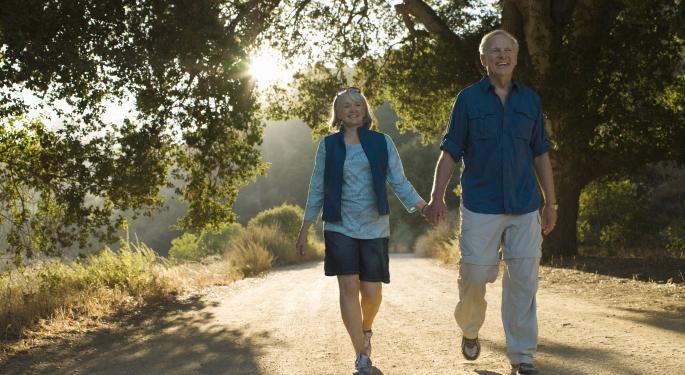 After a blustery week of market volatility attributed to the Ebola crisis, rumors of an extended conflict with ISIS and China's economic falterings, many voiced concerns over long-term effects from the market hit.
Will the skyrockets and skydives of last week obliterate long-term investments? Dara Luber, senior manager of retirement at TD Ameritrade Holding Corp. (NYSE: AMTD), reassures, "Volatility is likely to be a mainstay… Current events will always rock the markets but don't let them rock your retirement."
Benzinga recently had the opportunity to follow up with Luber.
For Retirement: Plan, Diversify And Stay The Course
BZ: I understand that market volatility is often sensationalized, when in reality, the overall trend is much more stable. How does this affect planning for retirement?
DL: The markets are unpredictable and there are going to be up and down periods when investing for the long-term. Regardless of the stage you are in, when planning for retirement: 1) Plan a course of action and stick to it, 2) Ensure that your portfolio is diversified, 3) Stay the course.
Related Link: 4 Things You Can Do Today To Help Keep Your Retirement Goals On Track
BZ: At what point (if there is one) should the spikes and dips of the market in general cause concern when planning for retirement?
DL: If you have a well-thought-out plan, unpredictability of the market should not cause concern. When creating/reviewing your long-term investment plan, consider how near you are to retirement.
Those Closer To Retirement Are OK, Too
BZ: I understand that you should think long-term when investing, but what about people who are close to retirement now? Do these drastic changes need to be interpreted differently for people who have just started investing vs. people who are rapidly nearing retirement (say, within the next two years)?
DL: Markets can be unpredictable and planning ahead of time could set you up for a more enjoyable and rewarding retirement. Those who are nearing retirement may want to think five to 10 years out about their plans for retirement. Overall, those that are nearing retirement should take into account risks and ask themselves a few key questions when planning for retirement.
Goal Of Retirement Is Security
Luber continued by emphasizing the goal of retirement: financial security. This security in your retirement years can be categorized into three "key buckets," as Luber calls them: core needs, nice-to-haves and emergency funds.
Core Needs: food, clothing and shelter. Luber said these "may come from guaranteed sources such as an annuity, social security or pension (if you're lucky enough to have one)."
Nice-To-Haves: hobbies and travel. These should be funded from brokerage accounts and IRAs, etc.
Emergency Fund: resource for life's unexpected expenses. Unlike core needs and nice-to-haves, your emergency fund, Luber suggests, should be in cash and should equal six to nine months of living expenses.
In the end, safeguarding your retirement portfolio does not need to be any more complicated than being disciplined about your well-laid plan. Remember the repetitious mantra: Diversify, Discipline and Don't Stress.
If your portfolio is adequately diversified and if you have maintained a disciplined demeanor, then you may not need to be obsessively concerned with market volatility. Check in on your portfolio annually and take into account whether anything has changed in your personal life that justifies a change in your retirement plan.
Posted-In: Dara LuberEducation Personal Finance Interview General Best of Benzinga
View Comments and Join the Discussion!