How Strangling Your Options Trades Will Help You Sleep At Night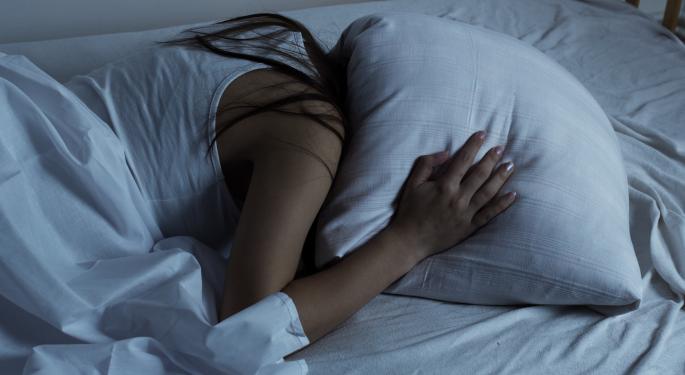 Many options traders may overlook a simple strategy called a strangle when putting on a trade.
Strangles are out of the money purchases of a call and a put. (You can also sell them to collect premium but that is for another article.) Although similar to a straddle, (where traders can buy or sell at the money options for a more neutral trade) strangles can be less expensive.
If the stocks move a fair amount these can be profitable trades. The risk here is that the stock does not move much and the delta and theta decay erode the premium of your options. Risk parameters such as amount of contracts and time to expiration are important.
Let's take an example.
When a squeeze on the volatility bands sets up  a bullish or bearish breakout, the obvious option trade may be to buy a call as the breakout begins. However, the trader who likes to hedge his trade will consider a strangle position, and it's one of the trades to look for.
See also: Is Your Iron Condor Prone To Bulls Or Bears?
The chart below shows a squeeze breakout on AGU around January 21, 2014. The stock initially broke out making a call trade look good; however it then reversed and headed down to the 85.00 area. The call trade would have lost most of its value. The strangle would have been successful.
Below is a snapshot of the closing option prices on January 21. The mid price of the bid/ask is used for the price of the options and were entered on that day. Five contracts of each were purchased. You can then go forward and see what the trades would have made as I went ahead to February 6 to close the trade.
Five contracts February 22, 2014 calls at $3.20
Five contracts February 22, 2014 strangle 95/92.5 call/put at $3.73
For a little more than 50 cents, downside protection was added. Whichever way the stock trades, a trader has the chance to profit.
The long call option lost over $1400.00 while the strangle trade gained over $1300.00. Note the circled notations below of the dates and P/L for reference.
So the next time you are looking to go long but need some sleep, consider the strangle trade. You might just get the rest you need and profit at the same time.
(Chart and option table courtesy of Think or Swim)
Posted in: Education Options Markets General Best of Benzinga